Disclosure: *This post may include affiliate links. As an affiliate, I earn from qualifying purchases.


For more cookie decorating recipes, click here. If you need vegan cookies and icing recipes, click HERE.
Easy Space Invaders cookies, for the 1980s video game buff.
video game cookies
It's that time of year again. January. Also, the month I send my brother his birthday cookies. He's into video games and we're in our 40s, so that means I usually get to do some fun 1980s retro things. (See below for links to past cookies.) We grew up with Intellivision, so I'm afraid we had to settle for "Space Armada," eye roll. But for those lucky Atari-owning families, how about Space Invaders? These Space Invaders cookies are all about honoring the great video games of the past, the ones with pixelated characters and free of all that 3D ridiculousness. Simple, effective. That's how video games used to be.
Of course, decorating pixelated characters on cookies is kind of tedious, so that's the one flaw of those early games. Instead, I decided to un-pixelate the invaders. That's right, Space Invaders… now UNpixelated!! This is how I envision the creators of Space Invaders saw their extra terrestrials. Cute, huh? And quite easy to make, too.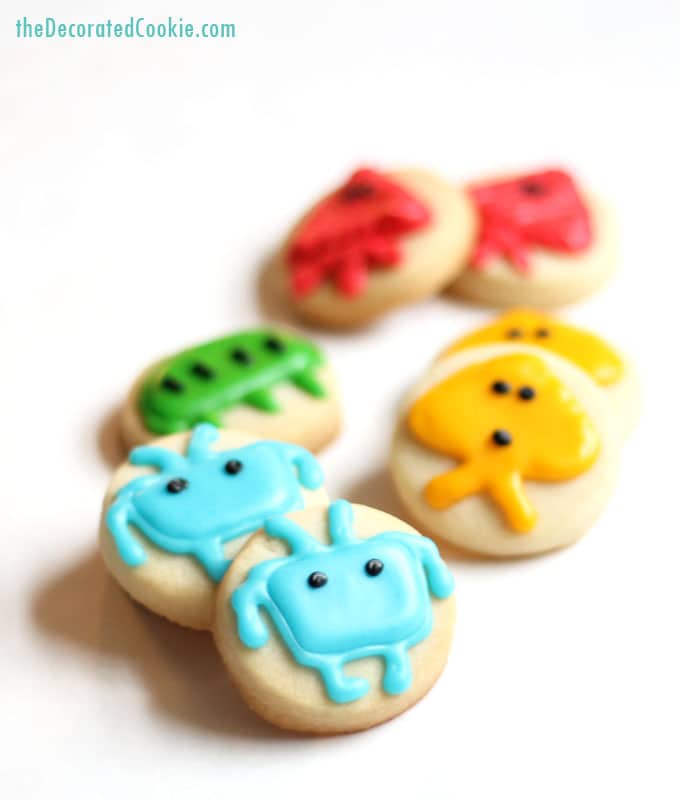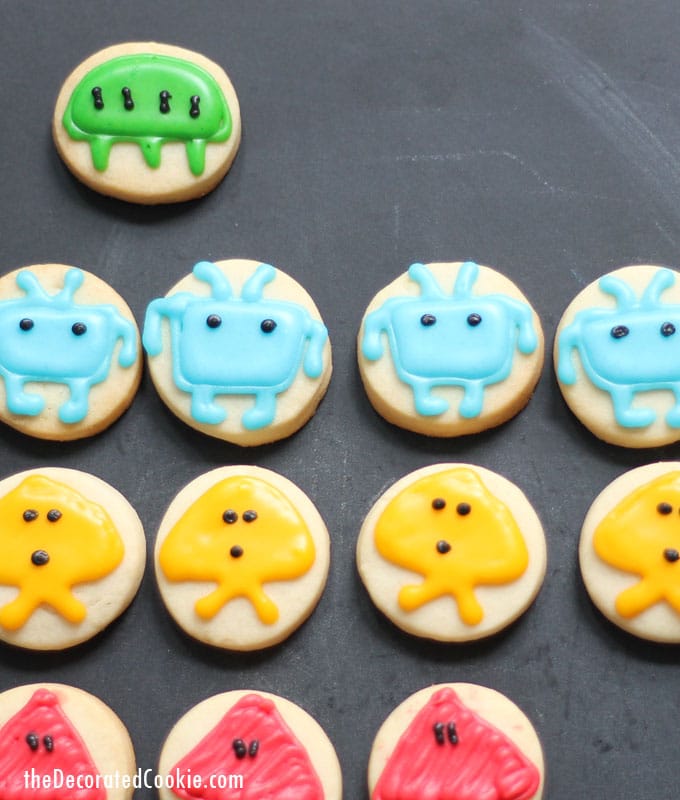 how to make Space Invaders cookies
you will need:*
cookie dough
royal icing
1 1/2-inch circle cookie cutter
food coloring
disposable decorating bags
couplers
decorating tips, size 2 and size 3
*Find much of the above at the craft store, or see the affiliate links for supplies. For more tips on finding cookie decorating supplies, click HERE. For food coloring, I recommend Americolor Soft Gel Pastes (Super Black, Electric Green, Sky Blue, Egg Yellow and Red Red used here). For basic cookie decorating how-tos, click HERE.
For more cookie decorating recipes, click here. If you need vegan cookies and icing recipes, click HERE.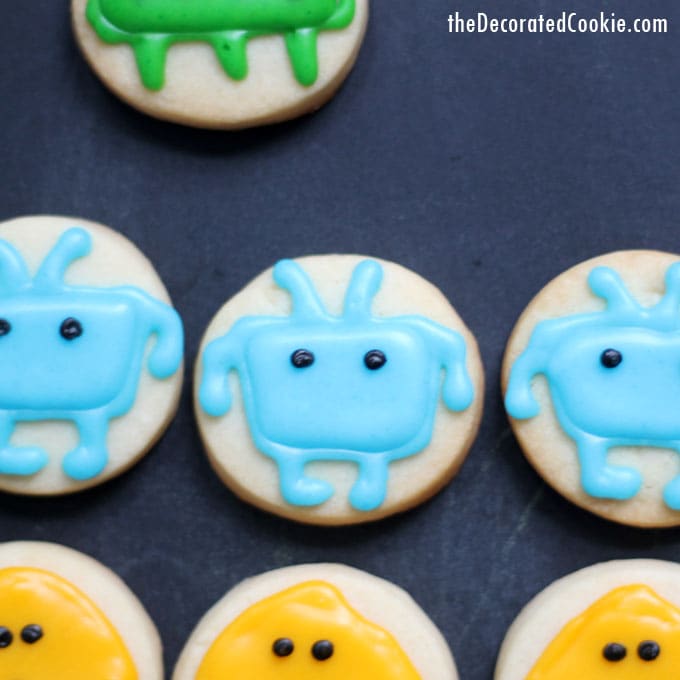 what to do:
Prepare cookie dough according to the recipe. Chill, roll out, cut out circles, bake and let cool completely. Prepare icing according to the recipe (here, I used only one consistency, between flooding and outlining, so I could outline and fill with the same bag of icing), divide and color your preferred colors. Prepare decorating bags with couplers and tips, fill with the icing and close tightly with rubber bands.
Using a size 2 or 3 tip, outline the characters. Pipe back and forth to fill in the outline with the same color. Let set about 10 to 15 minutes. Pipe dots for eyes with the black using a size 2 tip. Let the cookies sit at room temperature overnight before handling and packaging.

Need some more '80s video game cookies inspiration?
Check out these Frogger cookies.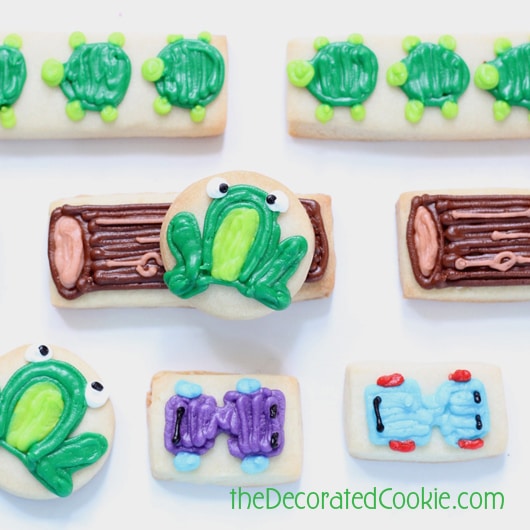 Or these Pac-Man cookies.