Disclosure: *This post may include affiliate links. As an affiliate, I earn from qualifying purchases.


Candy Crush cookies! The popular video game app, only edible! Decorated Candy Crush cookies in bite-size form.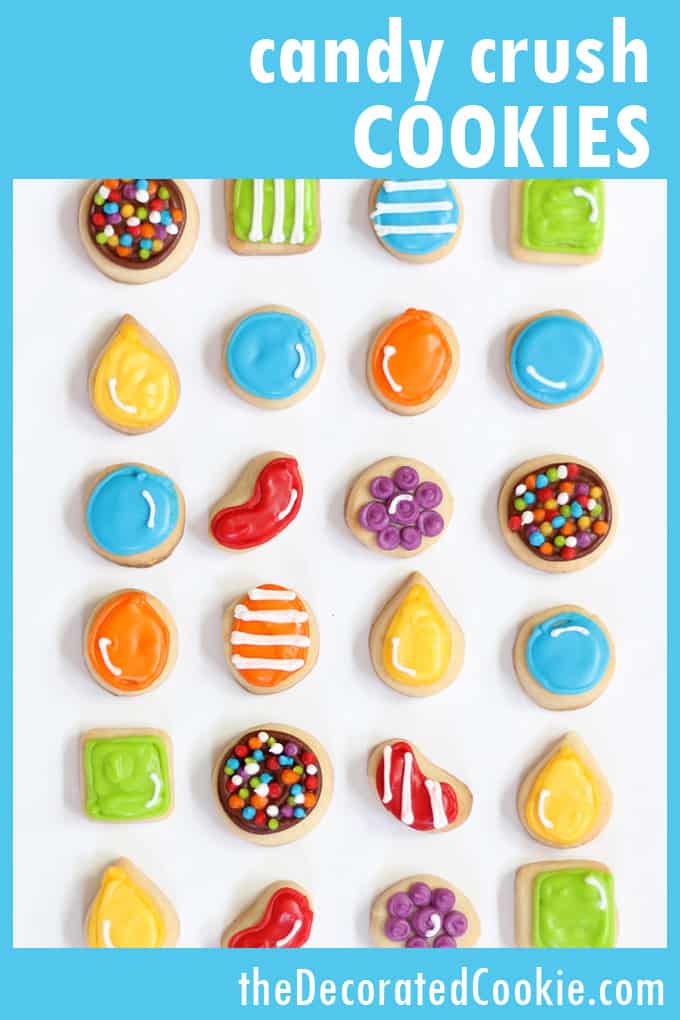 Candy Crush Cookies
Everyone has a vice. Something that creates a gravitational pull on them. For me, that's Candy Crush. (Also, wine, Netflix, and my kindle.) Every spare minute, any time I'm sitting around, when I'm in line at a store… Candy Crush. I'm proud/not proud to say I'm up to level 1800-something (really, I'm so good at it, I don't stay on one level very long). It's such a perfect time-waster/time-sucker. You need never have idle hands with Candy Crush around. You know who got me hooked on the game? My mom. She's just as addicted. So I sent her some Candy Crush cookies.
Do you have a Candy Crush habit? Does anyone you know? Then these Candy Crush cookies might be for you.
If you are a video game fan, check out these Pac-Man cookies or Frogger cookies.
If you know Candy Crush, then you know the pain of playing a level for days (weeks?) and running out of moves ONE MOVE AWAY from winning! AARGH! Or when you get the fish as your prize? Whatta waste. Or when you have to wait three days to play again because you refuse to spend 99 cents to play right away… (Players on lower levels, that wait disappears as you move up into the 1000s.)
how to decorate Candy Crush cookies
you will need*
*Find most of the supplies in the craft store or click the affiliate links above. Food coloring used here is Chocolate Brown, Red, Orange, Egg Yellow, Electric Green, Sky Blue, Electric Purple, Bright White. The circles are the most important cookie cutters, you can always pinch the other ones into shape or cut squares with a knife if you don't want to buy that many cutters.
For basic cookie decorating how-tos, CLICK HERE. For more cookie decorating recipes, click here.
(By the way, if you need vegan cookies and icing recipes, click HERE.)
what to do:
First, bake your cookies. Prepare the cookie dough according to the recipe, chill, roll out, cut out your shapes, bake, and let cool completely.
Next, prepare your icing. Prepare royal icing according to the recipe, divide, and color. Here, I used brown, red, orange, yellow, green, blue, purple and white. Prepare decorating bags with couplers and tips, fill with icing, and close tightly with rubber bands.
Lastly, decorate your cookies. I prepared a decorating bag of brown icing with a size "4" tip. To outline the candies, use the various colors with size "3" tips in a slightly stiffer icing. You'll need to thin a little of the same colors with water (just a few drops at a time, to flooding consistency). You can fill empty bags with the thinned icing (no need to use couplers and tips, unless you prefer to do so). For the white, I prepared a size "2" tip. To pipe the dots on the brown color bomb, switch the tips on the stiffer icing to size "2."
Let the cookies dry well, preferably overnight.
And here they are all wrapped up: