Disclosure: *This post may include affiliate links. As an affiliate, I earn from qualifying purchases.


Unicorn marshmallow pops make the world more magical. Step-by-step instructions with video included, great unicorn food idea.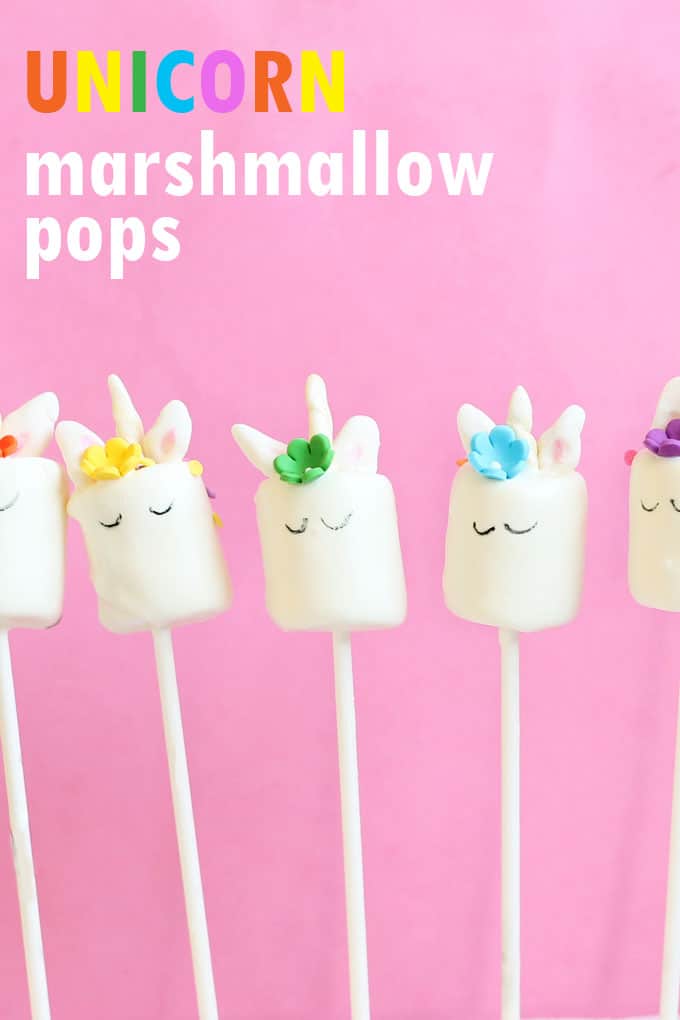 Unicorn marshmallow pops
Oh, unicorns. We all love you so very much, what with your magical goodness. My nine year old daughter has been a unicorn fan for years and years. And the world loves unicorns. I've seen so much unicorn food: Unicorn cookies, unicorn cakes, unicorn cupcakes, unicorn cake pops, unicorn doughnuts, unicorn bento boxes, unicorn everything. But I've not seen any unicorn marshmallows. How can this be? And how can I not have made unicorn marshmallows pops before given that thing I have with marshmallow pops? I've made unicorn cookies and I've drawn unicorns on marshmallows before, but I've never made the marshmallow itself into a unicorn.
(If you like this idea for marshmallows, check out this fun kids' cookie and marshmallow decorating idea: Edible marshmallow paint.)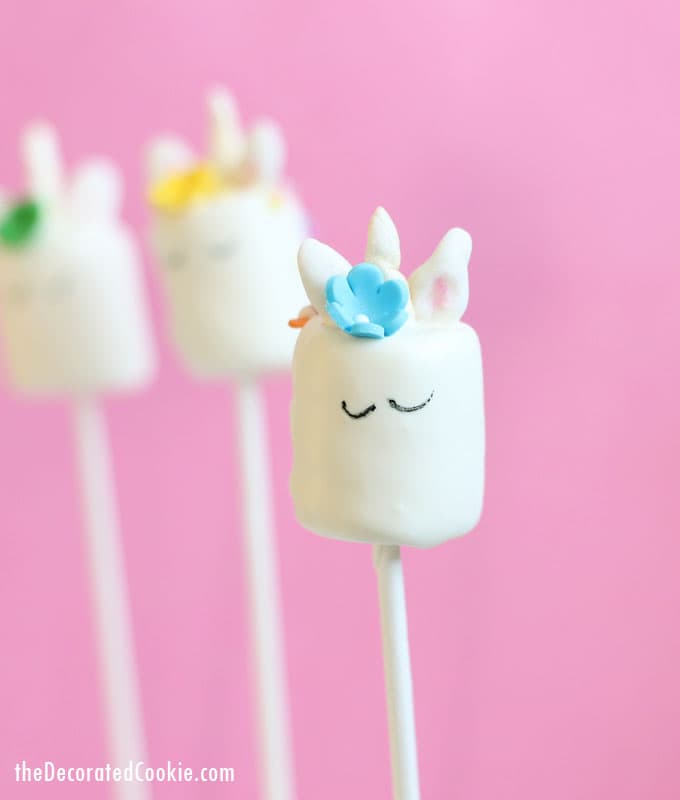 So today, we fix all of that.
Let's make unicorn marshmallow pops.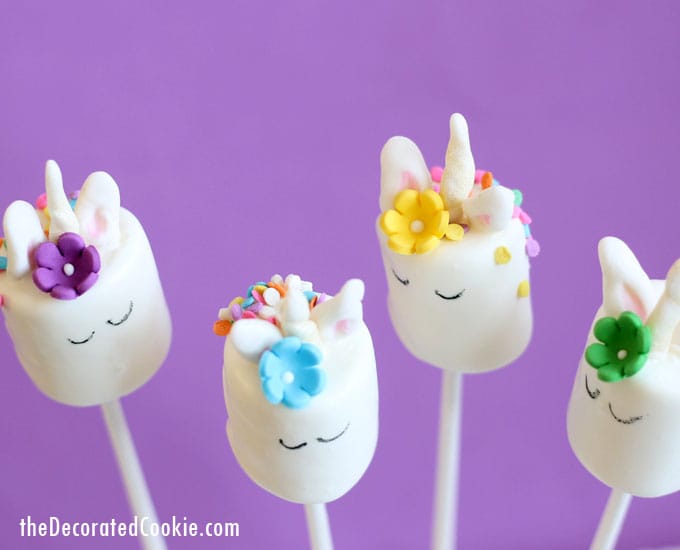 Need more unicorn? Here is a roundup of unicorn food ideas.
how to make unicorn marshmallow pops
you will need:*
marshmallows
lollipop sticks
bright white candy melts
EZ Thins (optional)
white fondant
gold pearl dust
pink edible writer
black candy color
mini flower icing decorations
mini confetti sprinkles
paint brushes
Styrofoam block
*Find much of the above at the craft store or click for affiliate links (craft store prices should be cheaper, but you can click to see what the items look like). Instead of black candy color you can use regular food coloring since you're only using a teeny tiny bit, it just doesn't stick quite as well. The EZ Thins help thin the candy melts for easier dipping, but they are optional.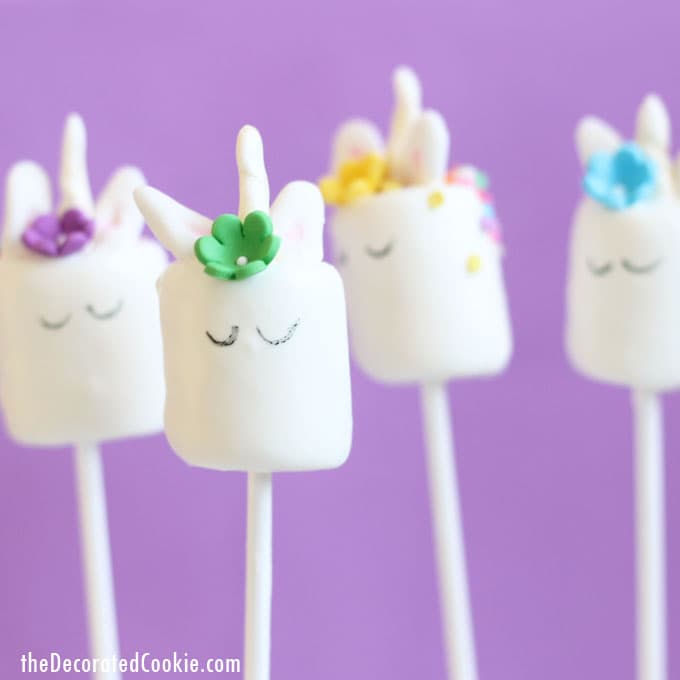 what to do:
First, make your horns and ears. To make a horn, pinch a small bit of white fondant and roll and twist into a horn. Roll around in the gold dust. Use a paint brush to help cover the horn. Set aside to stiffen. To make the ears, pinch a small bit of fondant into an ear shape. Use the pink writer to color inside the ear. Set aside to stiffen.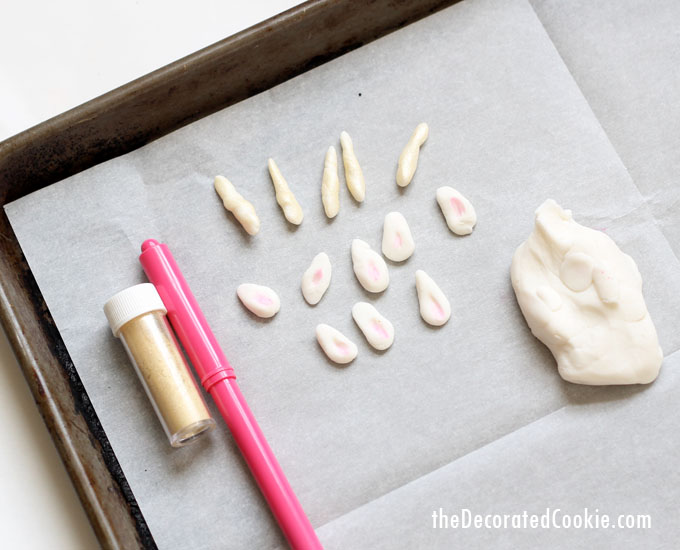 Next, dip your marshmallows. Skewer marshmallows with lollipop sticks and set aside. Pour some candy melts and a few of the EZ Thins (if using) in a microwave-save bowl. Microwave at 70 percent power for 90 seconds. Stir and continue to microwave at 15 second intervals until the candy starts to melt. Stir and use the residual heat to completely melt the candy melts.
Now decorate. As soon as you dip a marshmallow, add the horn and ears. If they fall over, wait a minute or two for the candy melts to start to harden and then attach. Add a little flower icing decoration and some sprinkles on the back. Prop in the Stryofoam to completely dry, about an hour. If you wait too long, us a toothpick and some melted candy melts to adhere the decorations.
Lastly, use a small paint brush to paint eyes with the black candy color.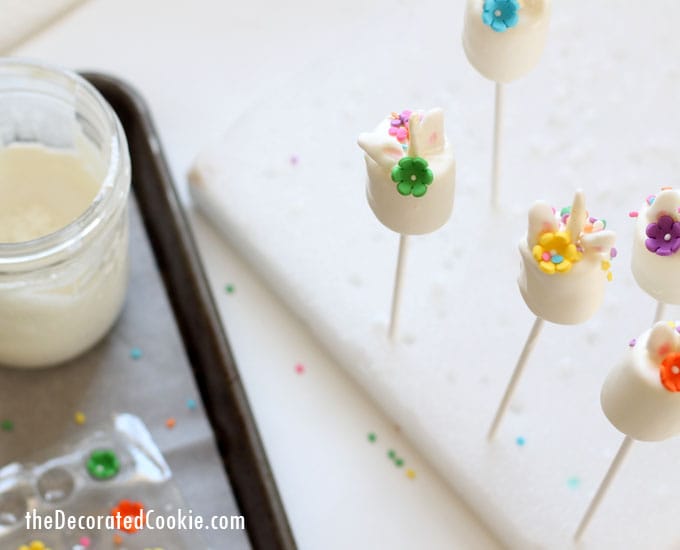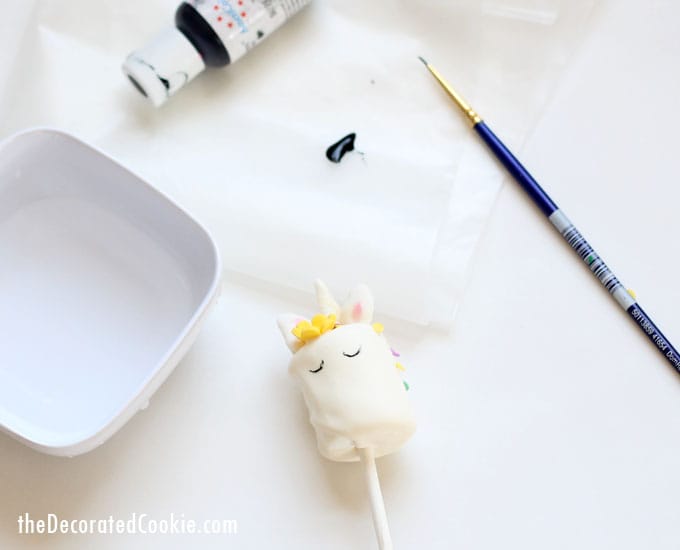 NEED MORE UNICORN??
Be sure to follow me on facebook to get your #DailyUnicorn. And you might like this roundup: