Disclosure: *This post may include affiliate links. As an affiliate, I earn from qualifying purchases.


Back to school snack ideas including FREE PRINTABLE games.
This post is sponsored by Welch's® Fruit Snacks. I am being compensated for this post. All comments and opinions are my own.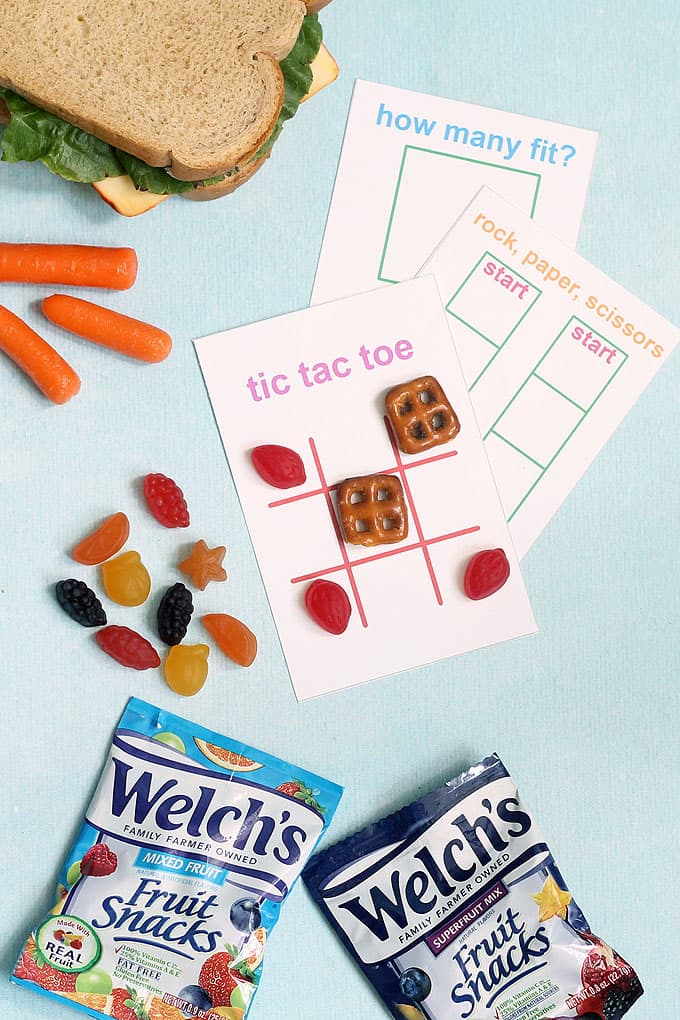 Snack Time Games with Welch's Fruit Snacks
It's the middle of summer and the sun is scorching. You know what that means; Yep, time to start thinking about back to school.
Of course, I've been thinking about back to school for my two kids since the first day of summer. It can be difficult to stay creative when coming up with school snack ideas, but good news!
This Welch's® Fruit Snacks School Snack Idea is super easy to pull together and takes no energy at all. All you need to do is print this FREE SCHOOL LUNCH PRINTABLE with lunch box games.
That's it. (Need more school snack ideas? Check out my other Welch's Fruit Snacks hacks.)
My kids love taking this printable game to school! It makes snack time extra fun and allows them to meet new kids. All they need to play are some Welch's Fruit Snacks, the printable, and another kid.
How to Meet New People at School
Do you have a kid who is nervous about starting school? Have them pull out the lunch box game in the cafeteria as a conversation starter, and they'll even have a delicious snack to share.
Welch's Fruit Snacks are made with real fruit, so kids love them, either as an after-school snack or tucked into their lunch box. Fruit is the first ingredient so it's no wonder why they're America's Favorite Fruit Snacks! Need some help finding the snacks near you? Click here for a Welch's Fruit Snacks product locator.
Back to School Games
You will need:
Welch's Fruit Snacks
Welch's Fruit n' Yogurt Snacks (optional, or other small snack such as mini pretzels or mini crackers)
white letter-size paper (card stock, or a heavier weight works best)
color printer
another kid at the lunch table
What to do:
Print the printable on the paper with the color printer and cut out the games. Pack in your kids' lunch box with a couple packs of the Welch's Fruit Snacks.
How to Play Tic Tac Toe:
I think this game is pretty universal, but just in case… Set up the printable between two kids at the lunch table. Each chooses their snack. Kids take a turn choosing a box with their snack. Three-in-a-row wins!
How to Play Rock, Paper, Scissors Game:
Another classic! Set up the printable board between two kids at the lunch table. For each round of rock, paper, scissors you win, move your snack to the next square. First one to finish wins! And a reminder: rock beats scissors, scissors beats paper, and paper beats rock.
How to Play the Shape Game:
How many snacks can you stack in each shape without going outside the line? The most wins!