Disclosure: *This post may include affiliate links. As an affiliate, I earn from qualifying purchases.


Rice Krispie Treat Christmas trees by Glory of Glorious Treats — Fun food idea for the holidays!
So this is about it for me in the immediate future… on Monday I go in for surgery to have my second daughter. The surgery is a bit more complicated than a standard C-Section (it involves things like other surgeons and main ORs), so I'll be down for the count for quite awhile. Luckily, the clever, amazing, talented Glory of Glorious Treats is taking over today's post to give me a bit of a respite before the big day. I've been a huge fan of Glory's for ages now. She adds a certain magical elegance to all her sweets, even when making a Fruit Pebbles Treat birthday cake, not to mention how she captures the sweet perfection in her photography so beautifully. See? This is just a sampling. (Find Glory's Recipe Index HERE.)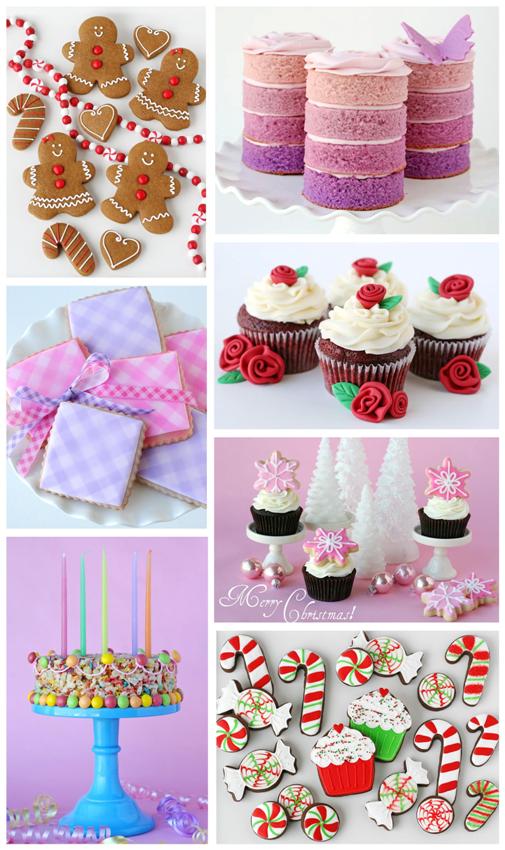 I'm thrilled she's visiting today! Thank you, Glory!!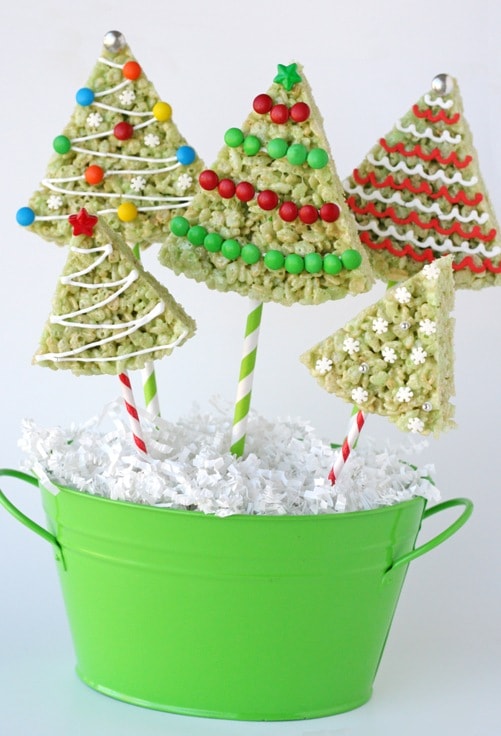 Hello sweets lovers! I'm stopping in to "blog-sit" today and hopefully give Meaghan a few days of rest before her sweet baby #2 arrives.
I love the way Meaghan can take simple sweets and make them into something so cute and creative! I did my best to channel her creative genius, and came up with these Christmas Rice Krispies Trees.
I love the simplicity of rice krispies treats, and like finding new ways to dress them up! Earlier this year I made some
Watermelon Slice Krispie Treats
, and then some fun
Candy Corn Krispie Treats
, and thought the same concept would work perfectly for Christmas trees. The extra fun thing about the trees is, once they are cut, you can have fun decorating them just as you would a cookie. These would be a great alternative for a cookie decorating party.
Let's get started!
how to make Christmas Rice Krispie Treats
You'll need…
9 cups rice krispies cereal
assorted sprinkles, melted chocolate or royal icing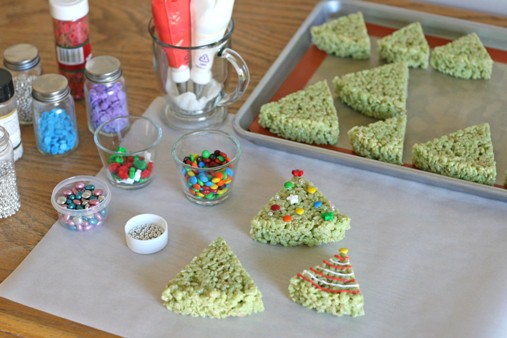 Directions-
Prepare 2- 8″ round cake pans by spraying the with non-stick cooking spray.
Put rice cereal in a large bowl.
In another large bowl, add marshmallow and butter. Microwave marshmallows and butter 3-4 minutes, or until super puffy and the marshmallows are beginning to melt together.
Carefully remove from microwave, and stir well. Add green food coloring (I used a couple drops of Americolor mint green).
Quickly pour green marshmallow "sauce" over rice krispies and stir with a spatula that has been sprayed with non-stick cooking spray. As soon as all the cereal is incorporated, divide mixture between the two pans, and press into the pans until level and slightly compacted.
Allow krispie treats to cool about 30 minutes. When cool and firm, flip pans over onto a cutting board to remove rice krispie round. Cut the large circle into 6 slices (as you would pizza), using a large serrated knife.
Wrap or decorate rice krispie "trees" as desired. If you plan to add a stick (as pictured), I would suggest adding it before adding the decorations. If you add the sticks after they are decorated (as I tried to!), it may disturb your decorations. I used striped paper straws as sticks, but you could also use white cookie sticks (available from any major craft store).
Recipe yields 12-16 trees.
Recipe/idea source- Glorious Treats