white chocolate Christmas tree pops using Hershey's chocolate
chocolate Christmas tree pops
How has it already been three weeks since my fabulous trip to HERSHEY'S headquarters? Sigh. I miss Hershey's. The luxury hotel room, the spa, the royal treatment, the excitement of working with the wow-amazing crew in the HERSHEY'S test kitchens. Oh yeah, and the chocolate. So very much chocolate. At least I have the chocolate in my kitchen. Oh yeah, and I'm going to show you how to make some simple chocolate Christmas tree pops.
My latest chocolate adventure is a super-easy one. What with this baby coming in six days (yeah, SIX days), everything I'm making falls under the category of "super-easy." Chocolate Christmas tree pops. Quick and yummy.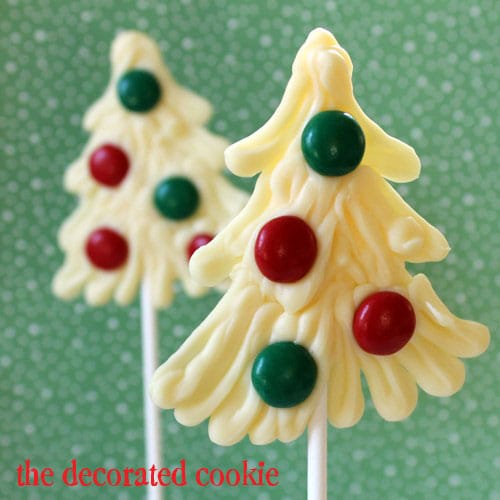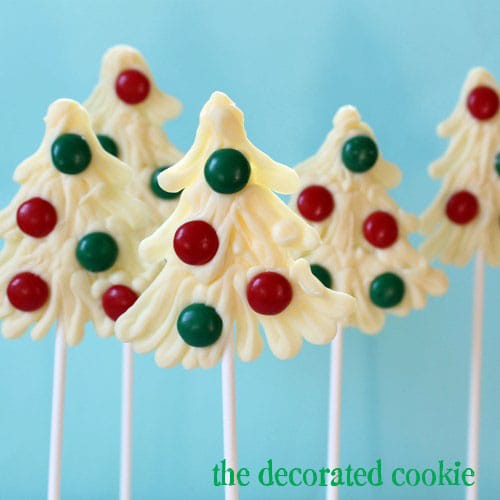 how to make chocolate Christmas tree pops
you will need:*
HERSHEY'S HERSHEY-ETS Candy Coated Milk Chocolates in red and green colors

disposable decorating bags

scissors

baking tray(s)

wax or parchment paper

lollipop sticks
*Find the disposable decorating bags and lollipop sticks (6-inch is best) in the craft store.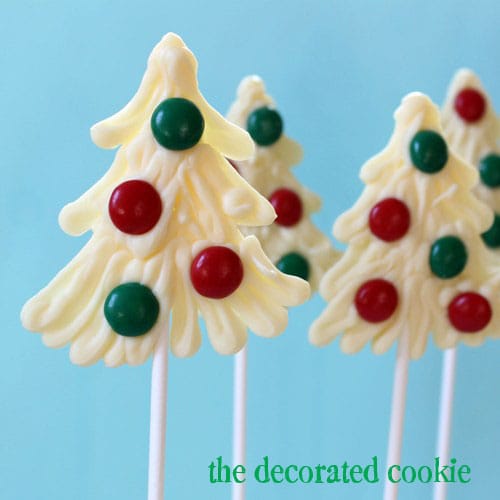 what to do:
Line a baking tray or trays with wax or parchment paper. Place ½ to ¾ cup of Hershey's white chips in a decorating bag. Microwave at 50 percent power for 1 minute, 30 seconds. Massage the bag and continue to microwave at 30 second intervals until the chocolate is melted. Massage the bag to remove any lumps. TIP: Close the top of the decorating bag with a rubber band, if you like. Snip about 1/4-inch from the tip of the bag. Pipe a dot on the baking tray, place a lollipop stick on top, then pipe a tree on top of the stick. Don't worry about precision! I just piped back and forth to make three rows of "branches." Immediately press the green and red Hershey-ets into the chocolate. Fill the rest of the tray(s) and refrigerate until firm, about 2 hours.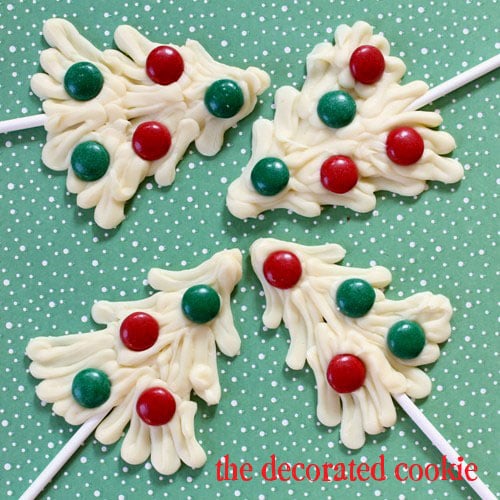 Want more chocolate?
Visit HERSHEY'S Kitchens for tons of recipes and craft ideas.
And if you need more inspiration, I'm collecting holiday goodies made with HERSHEY'S on a Pinterest board.
And now…. THE GIVEAWAY!!!! (GIVEAWAY ENDED)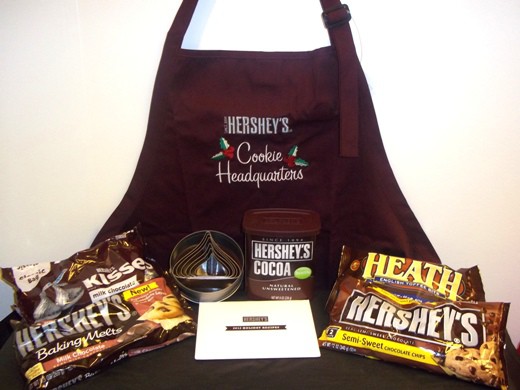 THE PRIZE:
HERSHEY'S apron, cookie cutters, recipe cards and baking products.
TO ENTER:
Leave a comment to this post before Friday, December 7th, 2012, midnight, EST.
THE DETAILS:
Prize ships directly from HERSHEY'S to US addresses only.
Winner has 48 hours to respond after being notified before another winner is drawn.
EXTRA:
If you've baked any goodies using HERSHEY'S products and have blogged about them,
include the link and I'll add to my Pinterest page, if you like.
(This one is NOT necessary to enter the giveaway, it's just for my own collection.)