Disclosure: *This post may include affiliate links. As an affiliate, I earn from qualifying purchases.


Retro homemade candy buttons are a fun, easy, colorful treat to make for any party.
These homemade candy buttons, or candy dots, bring me right back to my childhood… Going straight to the candy store in the mall when I had a dollar in my pocket. I might snatch these up right along with Now-and-Laters and Nerds. Making your own is not only easy, but they taste even better than store-bought.
The original candy buttons were made by the Cumberland Valley brand, but Necco purchased the company in 1980 and took over production, and now they have the monopoly on these strips of candy-dot-filled paper. According to NECCO, they still produce three-quarters of a billion candy dots a year. They flavor the buttons with lemon, lime, and cherry.
If you're into retro candy, check out these Pac Man cookies or this roundup of totally tubular '80s food ideas.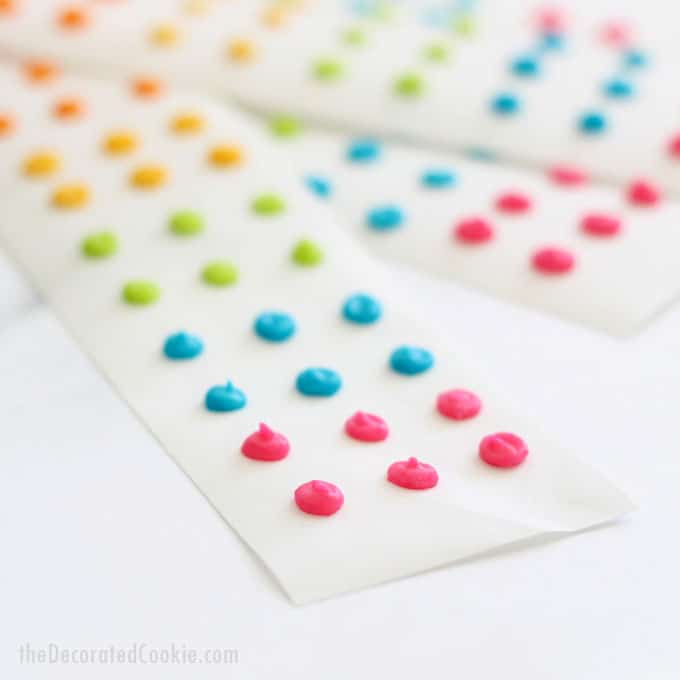 homemade candy buttons
To make your own candy buttons, you'll need to cut strips of paper for the backing. You may use freezer paper, parchment paper, and even white card stock paper. For the candy dots, I use my all-time favorite, best-ever recipe for royal icing. The royal icing dries well enough to handle and package without smushing or smearing, but it isn't has hard and brittle as traditional royal icing, as I add a few other ingredients for better texture. You may also choose to add extracts to the icing for different flavors, such as lime, lemon, or cherry, like the original, or peppermint, orange, or any of your favorites.
Here, I divide the icing into five different colors, but you may choose as many or few colors as you like. Making candy buttons for party favors or the holidays? Use colors to match your theme. Or, add purple into the mix, and make a true rainbow of colors. If you need tips on choosing the best food colors, find all you need to know about food coloring here.
To make all of your candy buttons uniform, I've provided a free printable template. To use the template, tape a strip of freezer paper on top of the template and let the dots show through the paper. Alternatively, you may use a food writer to draw little dots on the freezer paper strip, using the template to trace, and then pipe on top of the food writer dots.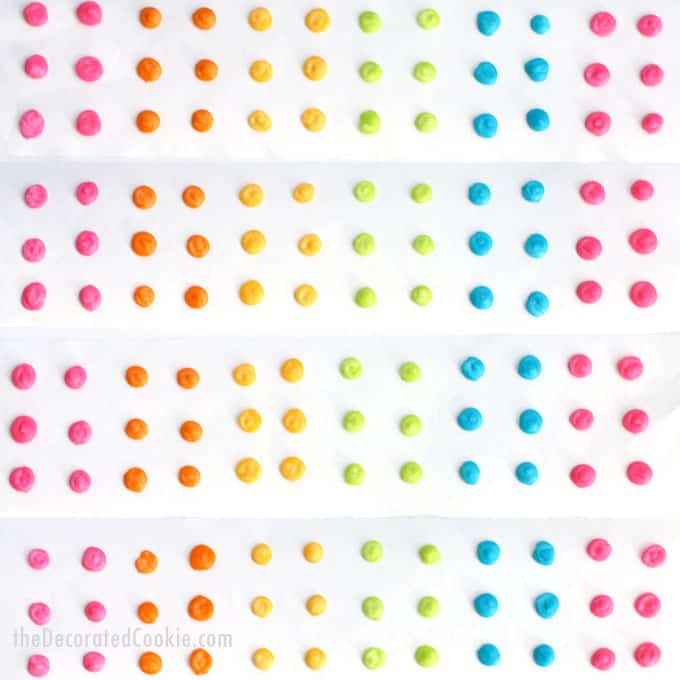 Homemade candy buttons are a perfect treat to make for party favors (roll up the paper and package in little cellophane bags with ribbon) or just for fun any day.
how to make homemade candy buttons
2 tablespoons meringue powder
1/4 cup cold water
3 1/2 to 4 cups confectioner's sugar
1 tablespoon light corn syrup
1 tablespoon vegetable shortening
1/2 teaspoon vanilla extract
1/2 teaspoon fruit extract of your choice (optional)
food coloring
disposable decorating bags
freezer paper
scissors
blue painter's tape
In a standing mixer fitted with the whip, or with an electric hand mixer, beat together the meringue powder and water until stiff peaks form. Blend in 3 cups of the confectioner's sugar. Mix in the corn syrup, shortening, and vanilla extract. Add more confectioner's sugar, 1/2 to 1 cup more, to desired consistency.
Divide the icing into bowls for the number of colors you are making. Add a dash of fruit extract to each bowl of icing if you'd like to add flavoring. Tint each bowl of icing. Fill the decorating bags and close tightly with rubber bands. Snip the tips of the decorating bags.
Cut strips of freezer paper size 2-inches by 8 1/2-inches. Place a strip over the template. Use the blue painter's tape to secure the strip of paper. Pipe dots of icing on the strip of paper, using the template as a guide. (Alternatively, hold the strip over the template and trace the dots with a food writer. Then pipe on the dots.) When finished, transfer the strip to a baking tray, using the blue tape to hold the paper onto the tray. Let the icing dry overnight before handling and packaging.
This post for homemade candy buttons also appears on Food Fanatic.
This post for homemade candy buttons also appears on Food Fanatic.