Homemade Cheez-its, filled with real cheddar cheese and baked to a crisp, are even better than the store-bought crackers.
Homemade Cheez-its
Oh Cheez-its. What magic you've held over my kids. They love you ever so much, if the crumbs in my back seat of my car are any indication. I can't believe I've waited so long to make homemade Cheez-its.
Homemade cheese crackers are made with only three ingredients–flour, cheese, and butter–baked until they puff to perfection, tastes even better than the store-bought crackers.
I ate half the batch in one sitting, and I'm debating hiding the rest from my children.
I'm always going to make my own crackers thanks to this simple, easy recipe that combines a perfect crispy texture with the taste of cheddar cheese.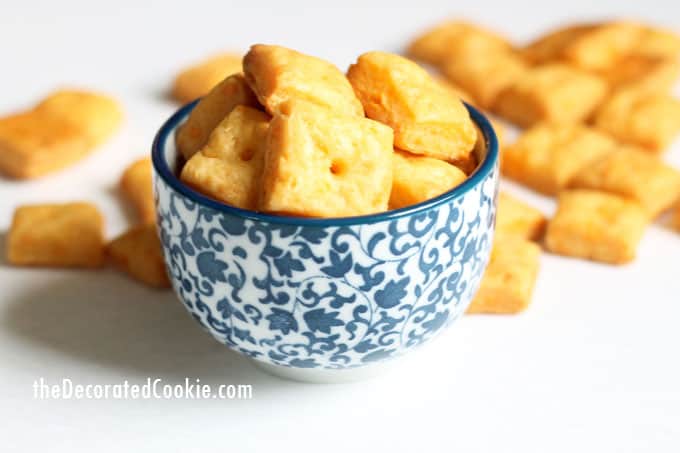 homemade crackers and snacks
Looking for more delicious, homemade crackers and snacks?
Try these keto, low-carb Parmesan crisps. This recipe for homemade Goldfish crackers is very similar, but also has a coating of cheddar cheese powder.
Or, try this shortcut idea for homemade Triscuits.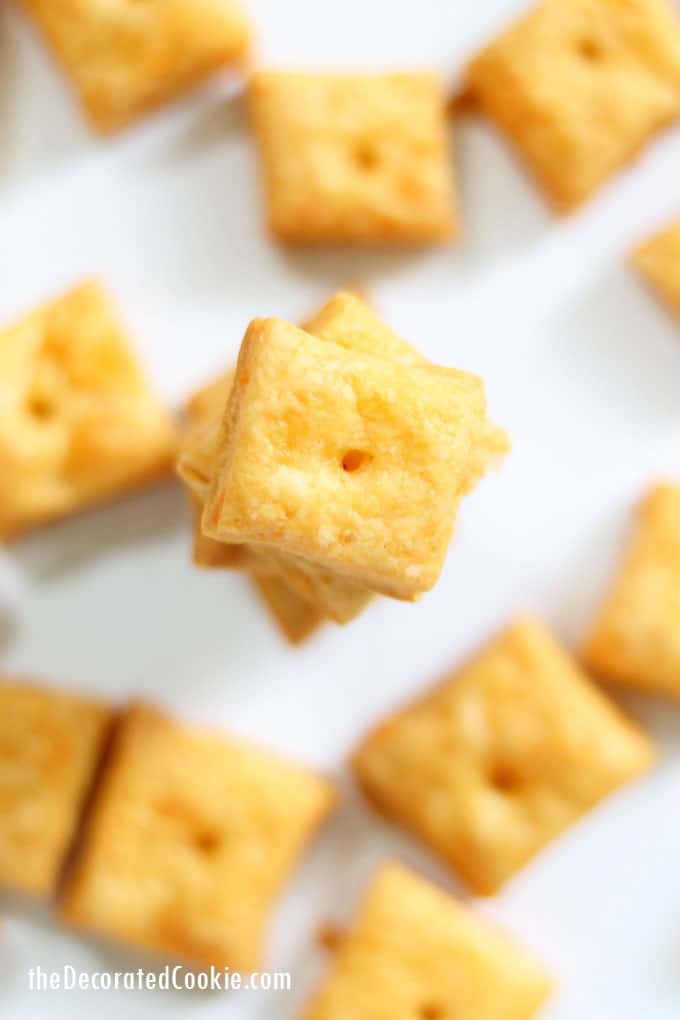 What are Cheez-Its made of?
Store-bought Cheez-Its crackers are also made with three basic ingredients: Flour, oil, and cheese. They add a bit of yeast, salt, and paprika (as well as soy lecithin and annatto extract color).
The oil used is a combination of soybean and palm oil, with TBHQ, a controversial additive. And there it is. Store-bought crackers use preservatives to maintain freshness.
And so enters homemade!
tips on making homemade cheese crackers
As I said above, homemade Cheez-Its are made with three main ingredients: cheese, flour, and butter. I add salt, of course, to enhance the flavor. A bit of water holds it all together.
Sharp cheese works best for the flavor, and I recommend a yellow cheese to really match the store-bought version.
All-purpose flour is also the best choice, although experimenting with whole wheat flour is something I'll do next. Given how simple this recipe is, I'm guessing it will work just fine.
And butter! Nothing beats the taste of pure butter, so I couldn't bear to make a substitute there.
After I prepare the dough, I divide it in half and roll it into logs to chill in the refrigerator for an hour. The logs help the dough to chill more evenly, and they are so much easier to roll out when ready.
When you roll out the dough, you can cut the squares any way that is easiest for you. I used a dough scraper to cut out a bunch of one-inch squares. You can also use a pastry wheel and a straight-edge ruler.
variations
Want to add even more flavor and spice? Try mixing black pepper, garlic powder, paprika, onion powder, chili powder, or dried herbs and spices into the cracker dough.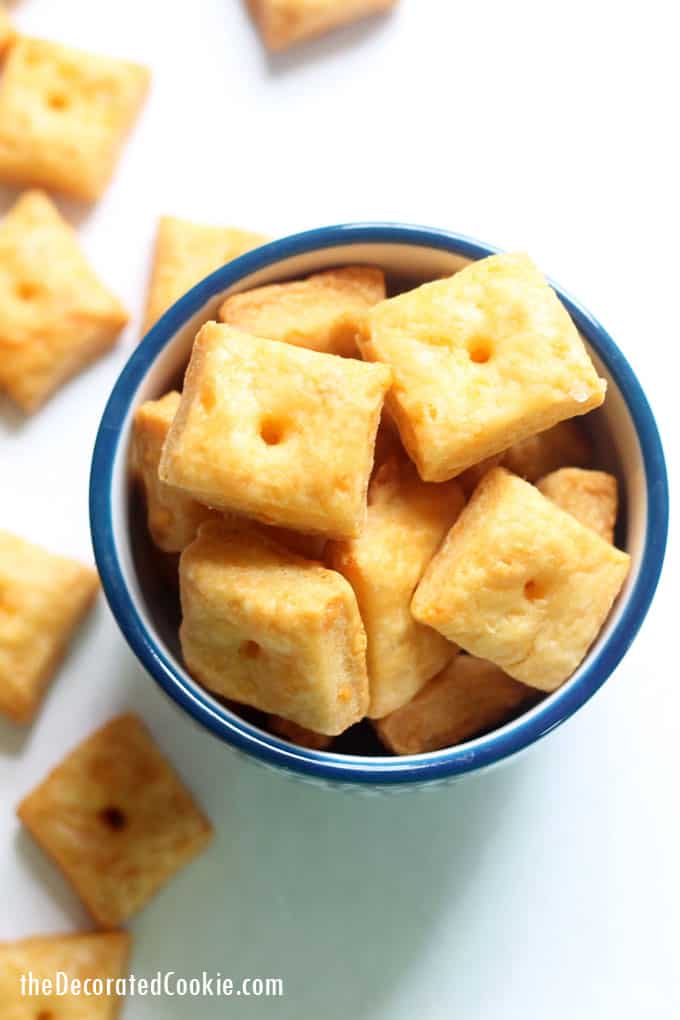 How do you make Cheez-its from scratch?
you will need:
8 ounces freshly shredded extra-sharp cheddar cheese
1/4 cup (one-half a stick) butter, softened
1 teaspoon coarse sea salt
1 cup all-purpose flour
2 to 3 tablespoons cold water
optional mix-ins:
pepper, garlic powder, onion powder, dried herbs, paprika, and/or chili powder
other tools you'll need:
what to do:
Preheat oven to 375 degrees F. Line two baking trays with parchment paper and set aside.
In the bowl of a standing mixer fitted with the paddle attachment, place the cheese, butter, salt, and flour. Stir to combine until the mixture is crumbly. Add 2 tablespoons of water and mix until a dough forms (this may take a minute or so). If needed, add an additional tablespoon of water.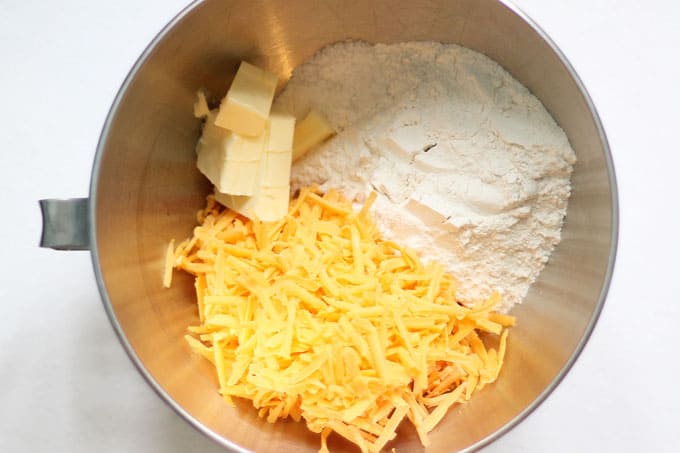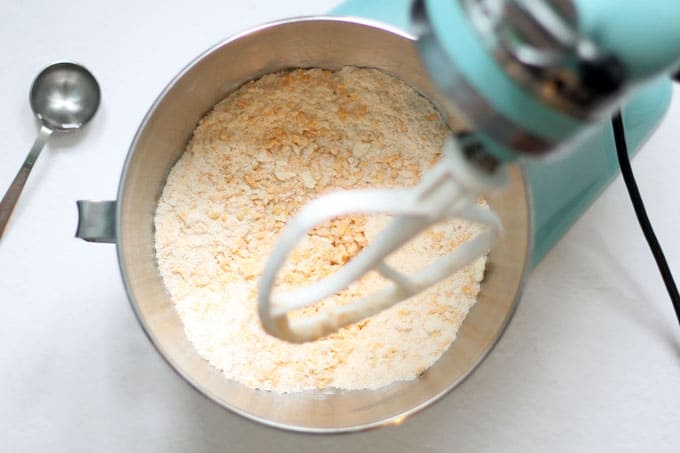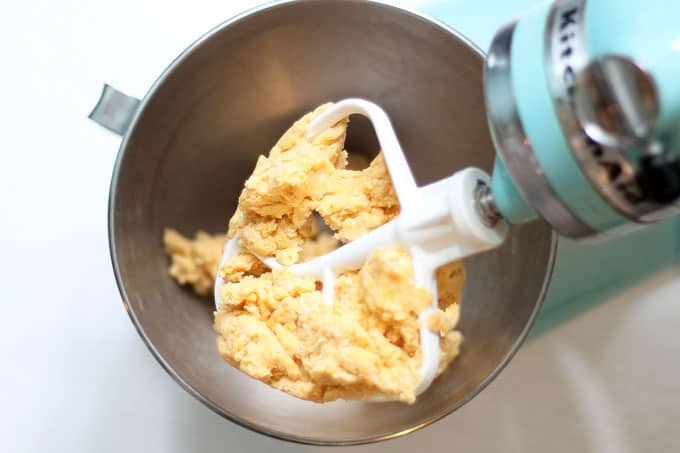 Divide the dough in half and roll into logs. Wrap the logs of dough in plastic wrap and chill in the refrigerator for one hour.
Roll each log of dough out on a lightly floured surface to 1/8-inch thickness. (The crackers will puff up in the oven.) Use a dough scraper or a straight-edge ruler and a pastry wheel to cut the crackers into one-inch squares. Spread on the baking trays with space between the crackers.
With a toothpick, make holes in the centers of each cracker. Bake until the crackers are crispy, 15 to 20 minutes. Make sure the crackers do not overcook and brown too much!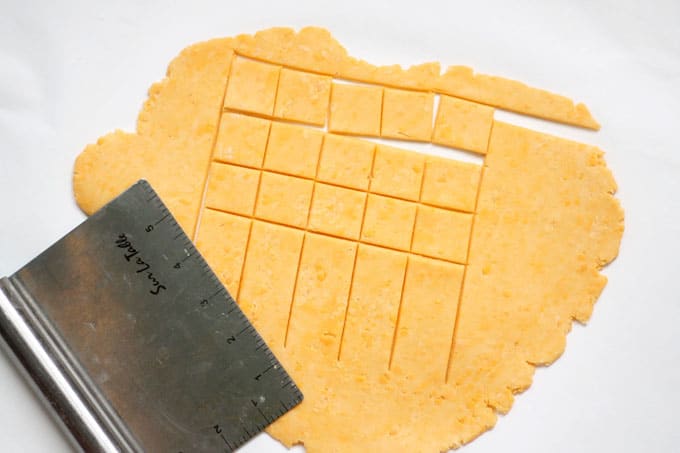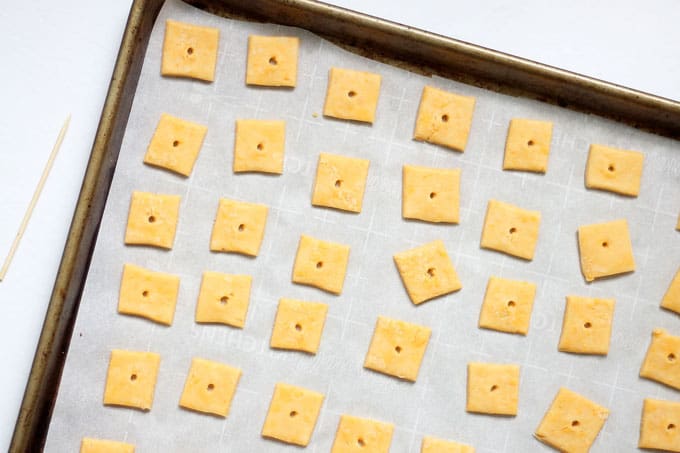 To re-crisp leftover crackers, toss on a baking sheet and heat in the oven or toaster oven for a few minutes.
Makes about 100 crackers. Serving size: 10 crackers have 178 calories.
This recipe for cheese crackers also appears on Food Fanatic.
printable homemade Cheez-Its recipe