Disclosure: *This post may include affiliate links. As an affiliate, I earn from qualifying purchases.


The world's best idea for cereal. Ever. Make homemade Cookie Crisp.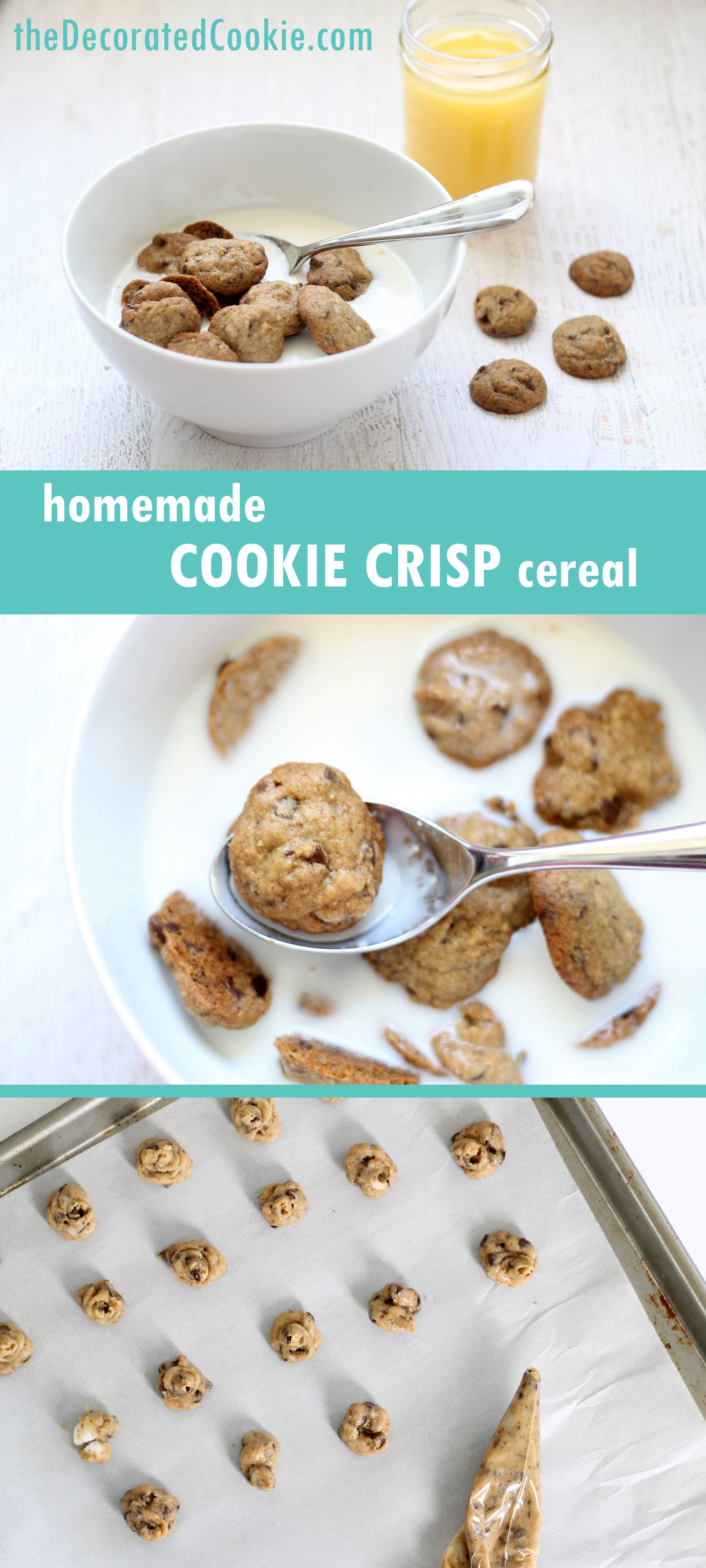 Cookie Crisp cereal
Cookie Crisp cereal is pretty much a kid's dream. Cookies? Sanctioned for breakfast?
If only my mom ever bought them. But the jig was up on that one. We never got to bask in the glow of cookie breakfasts.
Now that I'm a grown-up, I get to decide if chocolate chip cookies are a breakfast item. And I say yes. Actual breakfast cookies are kind of a thing now. But I want chocolate chip cookies in my cereal bowl.
This homemade Cookie Crisp cereal is not exactly health food.
BUT, there is a lot of good stuff in there and less sugar than in not-for-breakfast chocolate chip cookies.
Whereas the original store-bought cereal is fortified with vitamins and minerals, I had to come up with my own way to add those. So coconut oil, wheat germ and flaxseed meal are hiding in this bowl of cookies.
My regular supermarket carries all of those things now, so you shouldn't need an extra trip. Plus, add some milk (or soy milk or almond milk) and you have even more vitamins and minerals. Geez, I can talk myself into anything.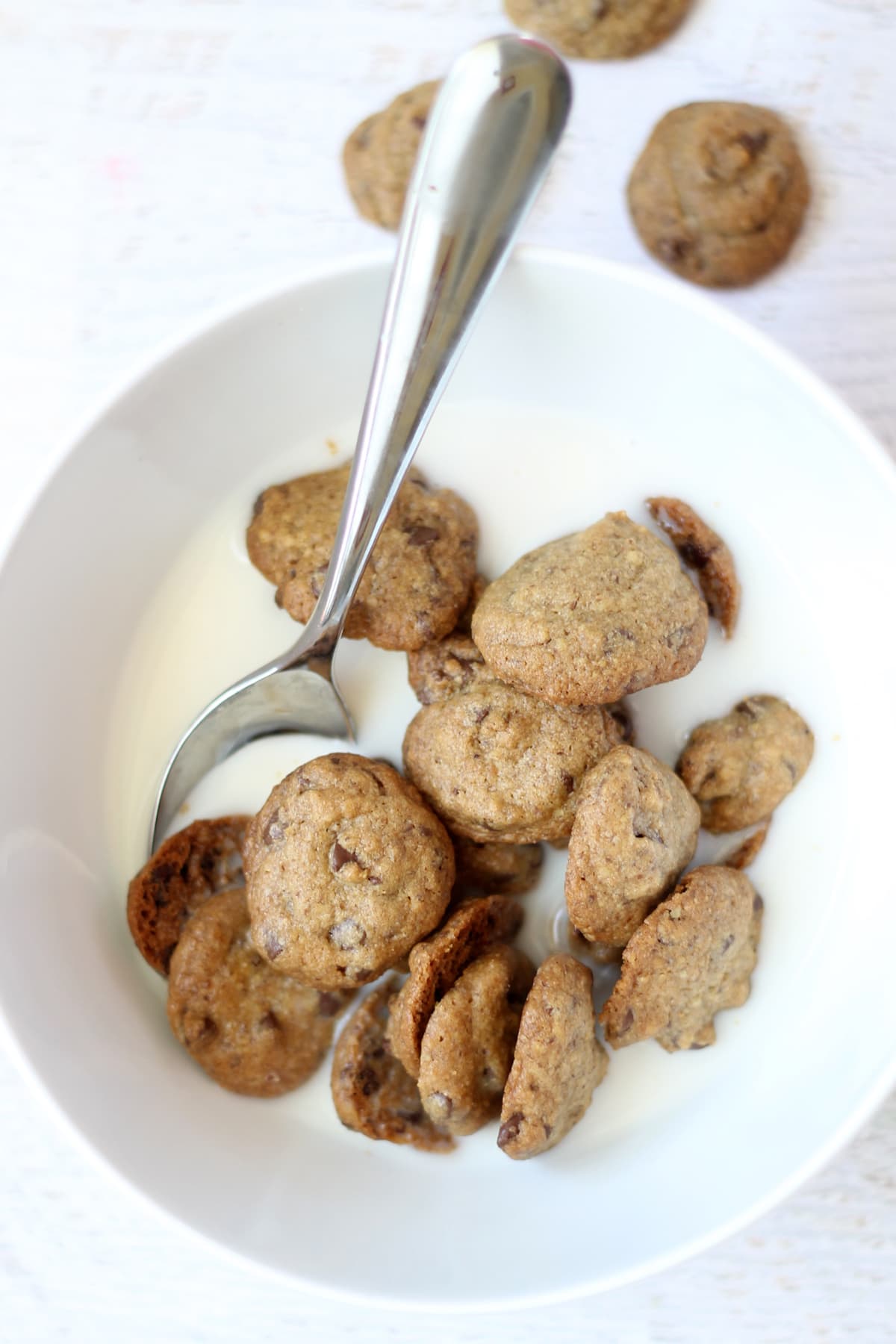 And if you're like my mom and say no to cookies for breakfast, then save this cereal as a treat.
Because it's so so so good. The coconut oil adds just the right flavor to the dough, and it's loaded with chocolate chips.
Or, forget the cereal part and use the tiny size as portion control for snacking. Oh, who am I kidding, I ate about twenty before they even got in the cereal bowl.
how to pipe tiny cookies
To make tiny cookies quickly, I use a disposable decorating bag, found in the craft store.
Be sure to close the top tightly with a rubber band and cut the opening large enough to accommodate the chocolate chips, about 1-inch.
If you don't have any decorating bags, I suggest using a freezer-safe (because it's thicker) gallon size Ziploc bag.
Either of these will save your sanity so you're not scooping out hundreds of little cookies with a teaspoon. Because we're piping cookies, it's best to use the mini chocolate chips, too.
The regular size chocolate chips will overwhelm the decorating bag. And the cookies!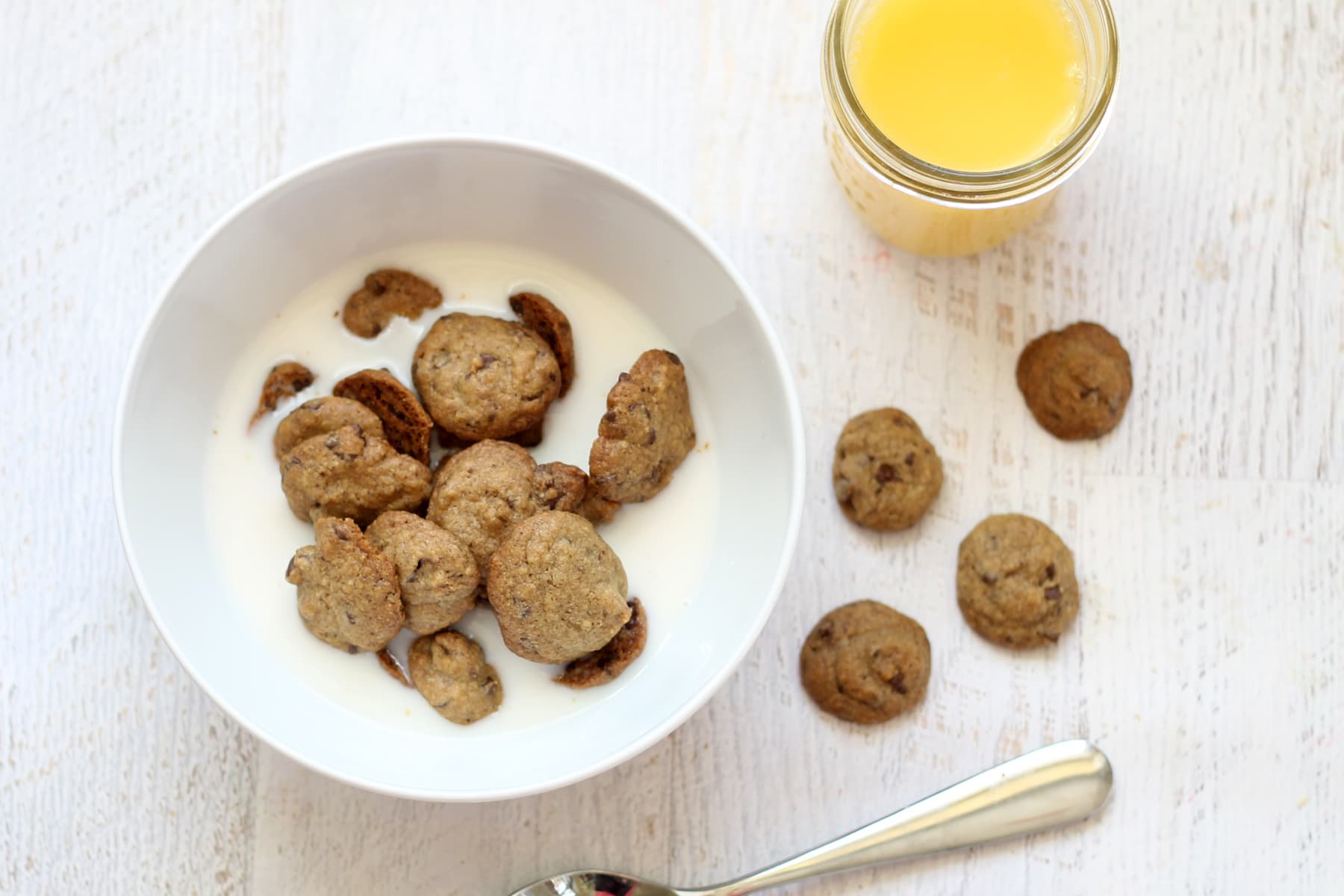 I bake these cookies until golden brown so that when they cool, they are crispy enough to stay crispy in milk.
The longer they can stay in the oven, the longer they will stay crunchy in the milk.
That said, they still will get soggy a bit more quickly than store-bought cereal. If you're a purist with your cookies and milk, you can even serve them in this divided bowl so the cookies don't get soggy. But I'm all about drowning cookies.
Yield: 21 servings
homemade cookie crisp cereal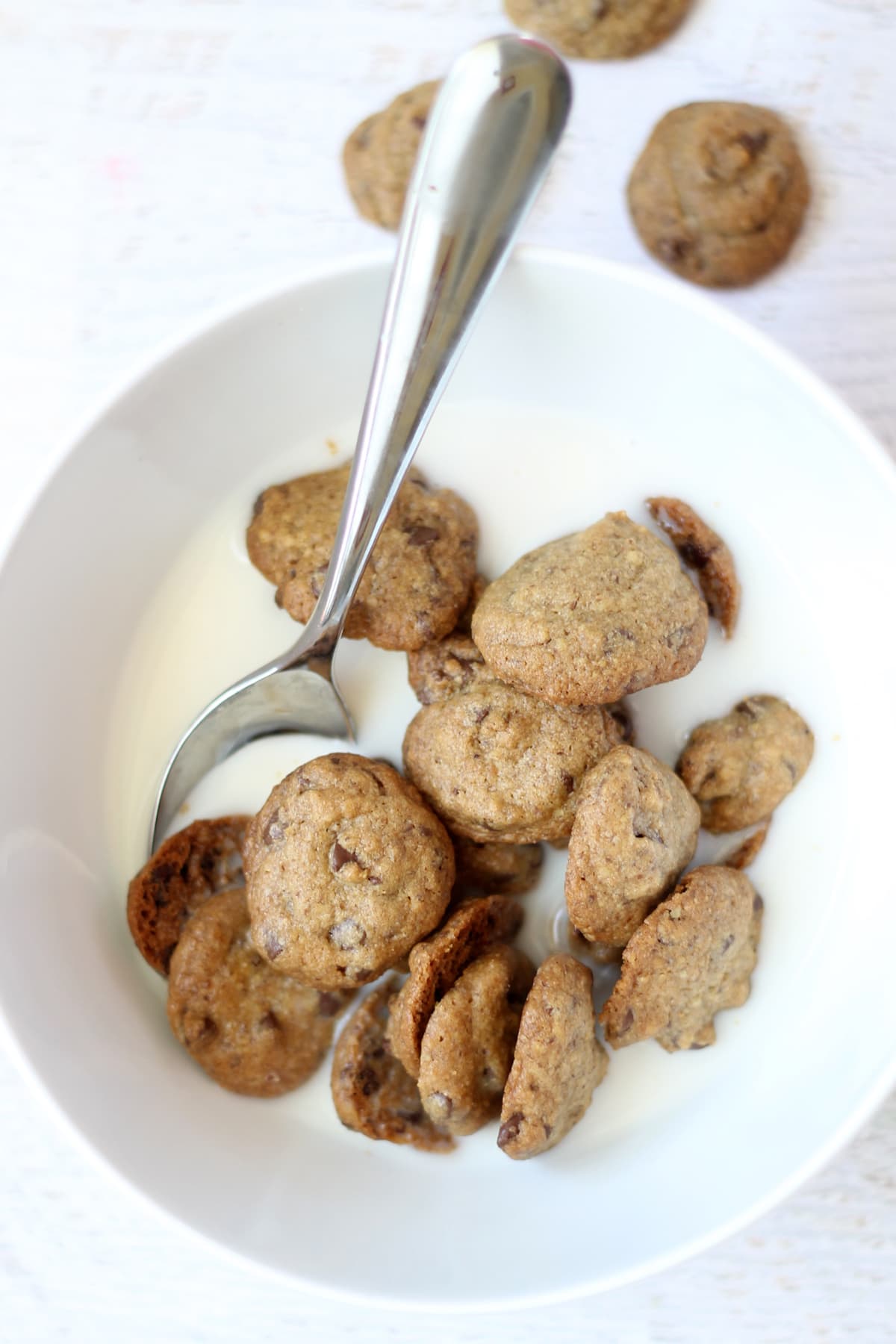 HOMEMADE COOKIE CRISP CEREAL --copycat breakfast recipe. Mini chocolate chip cookies with wheat germ and flax seed.
Total Time
1 hour
20 minutes
Ingredients
1 3/4 cups All-Purpose Flour
1/2 cup Wheat Germ
1/4 cup Flax Meal
1 teaspoon Baking Soda
1/2 teaspoon Salt
1/2 cup Coconut Oil, NOT melted
1/2 cup Butter
3/4 cup Brown Sugar
1/4 cup Granulated Sugar
2 Eggs
1 1/2 teaspoons Pure Vanilla Extract
2 cups Mini Chocolate Chips
Instructions
Preheat oven to 350°F. Line baking trays with parchment paper and set aside.
Whisk the flour, wheat germ, flaxseed, baking soda and salt in a bowl.
In a large bowl with a handheld electric mixer or in the bowl of a standing mixer fitted with the flat beater, mix together the coconut oil and butter.
Blend in the brown sugar and granulated sugar. Beat in the eggs and vanilla extract.
Gradually mix in the dry ingredients.
Stir in the chocolate chips.
Scoop some dough into a disposable decorating bag or freezer-safe Ziploc bag and close tightly with a rubber band. Snip 1-inch from the tip and pipe dollops of dough, 3/4-inch across, on the baking tray.
Bake each tray for 10 to 15 minutes until golden brown. Let cool.
Serve in bowls of milk, if desired.
Nutrition Information:
Yield:
21
Serving Size:
1
Amount Per Serving:
Calories:

261
Total Fat:

16g
Saturated Fat:

10g
Trans Fat:

0g
Unsaturated Fat:

5g
Cholesterol:

29mg
Sodium:

156mg
Carbohydrates:

29g
Fiber:

2g
Sugar:

18g
Protein:

3g
This post for homemade cookie crisp cereal also appears on Food Fanatic, where I create homemade versions of store-bought goodies.