Disclosure: *This post may include affiliate links. As an affiliate, I earn from qualifying purchases.


The secret to making the best chocolate chip cookies.
the best chocolate chip cookies
There are a thousand million billion versions of the chocolate chip cookie, each claiming to the be the best chocolate chip cookies. And for a cookie so easy to make, there sure are a lot of variables.
Here's one to consider that's pretty gosh darn important though: Butter vs. shortening. Which one do you use in your chocolate chip cookies?
more cookie recipes
butter vs shortening
So which is better in cookies? Butter or shortening?
Butter is a semi-solid dairy product made from the solid components of milk or cream (fats and proteins), usually cow's milk.
Shortening is a fat that is solid at room temperature and used in baking. The term actually refers to butter, margarine, lard and vegetable oil, but here, we're assuming shortening is from vegetable oil, such as Crisco.
Can you substitute butter for shortening and shortening for butter? Yes, although the cookie texture will be different.
what does butter do in cookies?
Butter has the better flavor, by far. But it has a lower melting temperature which can make the cookies flatter.
It also contains about 10 percent water, so when the water steams off in the oven, it leaves the cookies crispier.
what does shortening do in cookies?
Shortening has a higher melting temperature and doesn't contain water, so your cookies are taller and softer. But the flavor isn't as grand.
the best chocolate chip cookies
So one way to get the best of both: Use half butter and half shortening. By the way "butter" here is butter. Real butter, not margarine. And "shortening" here is Crisco baking sticks. And by the way, this may be controversial, but I always use salted. I prefer the extra bite it gives.
So use the recipe here (adapted from Nestle's classic) or your own, but try the one-stick-of-each method and see if it makes a difference for you.
Yield: 60 cookies
the best chocolate chip cookies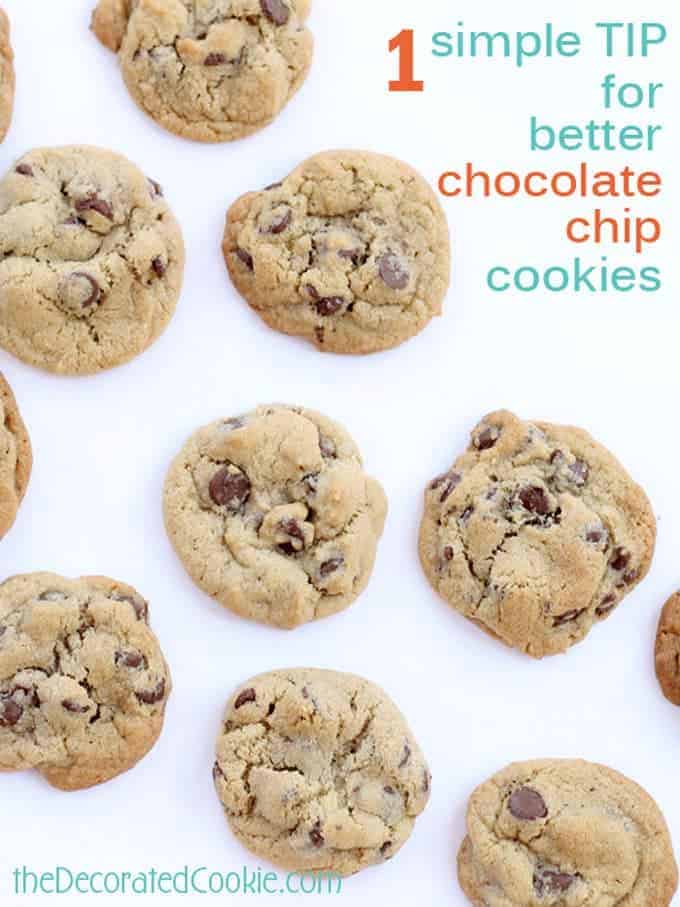 The tip to make the BEST chocolate chip cookie recipe using shortening and butter.
Ingredients
2 1/4 cup all-purpose flour
1 teaspoon baking soda
1 teaspoon salt
1/2 cup (1 stick) butter (I prefer salted)
1/2 cup shortening (Crisco)
3/4 cup dark brown sugar
3/4 cup granulated sugar
2 large eggs
1 teaspoon vanilla
2 cups semi-sweet chocolate chips
Instructions
Preheat oven to 375 degrees F.
In a bowl, briefly whisk together the flour, baking soda and salt.
In a standing mixer or in a bowl with a handheld electric mixer, blend the butter, shortening and sugars.
Mix in the eggs and vanilla. Gradually blend in the flour mixture.
Stir in the chocolate chips.
Drop by flat tablespoons on baking trays lined with parchment paper or Silpat.
Bake for about 10 minutes, or until the edges start to brown and the center is firm. Cool on the tray for ten minutes and transfer to a wire rack.
Nutrition Information:
Yield:
60
Serving Size:
1
Amount Per Serving:
Calories:

81
Total Fat:

4g
Saturated Fat:

2g
Trans Fat:

0g
Unsaturated Fat:

2g
Cholesterol:

7mg
Sodium:

60mg
Carbohydrates:

12g
Fiber:

0g
Sugar:

8g
Protein:

1g
Some other tips for great chocolate chip cookies:
Make sure to use solid, good quality baking trays or cookie sheets and line them with parchment paper or Silpat.
Drop cookies on the sheet by flat tablespoons, preferably with a one-tablespoon ice cream scoop for even baking. If the cookies are too big, the edges cook more quickly than the center.
Watch the cookies for doneness. They are done when the edges start to brown and the middle is firm.
Cool on the sheet for ten minutes, then transfer to a wire rack.
PIN FOR LATER:
This post was originally published in August 2015 and updated in July 2020.