Disclosure: *This post may include affiliate links. As an affiliate, I earn from qualifying purchases.


Homemade Drumsticks ice cream. Your favorite ice cream truck treat… homemade and easier to make and eat and serve in a jar.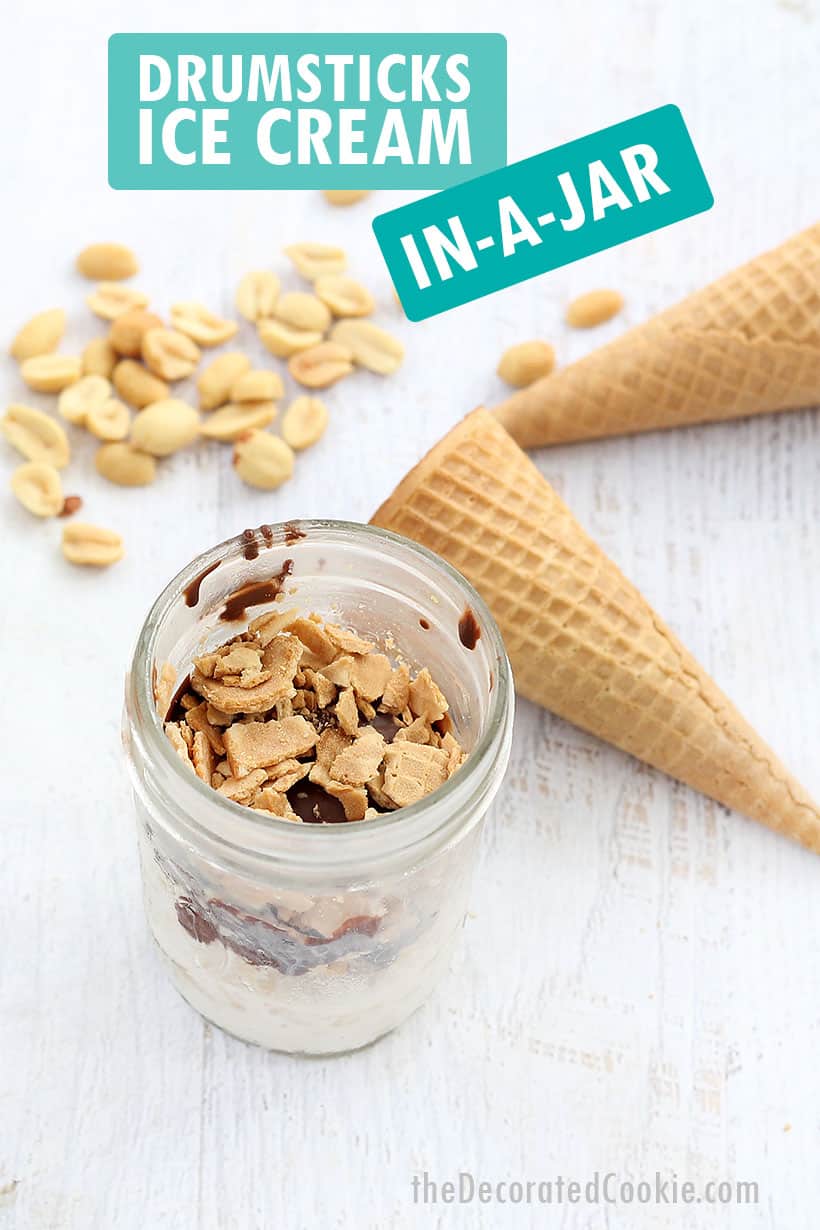 homemade Drumsticks ice cream in a jar
I love this idea of homemade Drumsticks ice cream in a jar.
Oh, Drumsticks. The memories you bring of summer as a kid, when you left the house in the morning and only showed up again at dinner.
Unless you heard the familiar call of the ice cream truck, clanging out its relentless tune that worked as a magnet for all of the neighborhood kids. Then you might rush back home and beg for money to get some Drumsticks ice cream (or any other classic frozen treat).
what is Drumsticks ice cream?
Not just an ice cream cone, but an ice cream cone topped with ice cream and perfectly flattened out at the top to hold all of the chocolate coating and peanuts.
Do you know why it's called a "Drumstick"? Because the wife of the inventor (I.C. Parker, a manager of a Texan candy company who created the dessert in 1928) thought it looked like a chicken leg.
more ice cream ideas
This copycat version, homemade Drumsticks ice cream in a jar, lets you enjoy the tradition any time you like… Made by you in handy, dandy, easy to eat-and-serve jars. These are perfect to have ready in the freezer at any time for summertime parties or just for an everyday treat.
The chocolate sauce is a mixture of chocolate chips and coconut oil, which makes another copycat recipe: Homemade magic shell. You can also use this sauce for Magic Shell marshmallow pops or as a super-easy chocolate fondue-to-go.
(If you love ice cream, you might love this roundup of ice cream sundae bar ideas, too.)
how to make Drumsticks ice cream
Here, I used salted, roasted peanuts, because I like the salty sweet combination. You can also use unsalted, if you prefer.
Chop the peanuts with a knife or just briefly pulse in a food processor to speed things along.
For the ice cream cones pieces (make sure to use the traditional sugar cones), I broke the cones with my hands.
The mason jars here are the small ones, the 8-ounces jars with wide mouths. Make as many or as few as you like.
Note the order I placed the ingredients, too. The ice cream is on the bottom, topped next with the peanuts and then the chocolate. This way the chocolate nicely coats both the peanuts and ice cream, but still allows the cone pieces to stick to the top. The cone is on the top to keep the pieces crispier in the freezer.

This recipe for homemade Drumsticks ice cream cones also appears on Food Fanatic.