Disclosure: *This post may include affiliate links. As an affiliate, I earn from qualifying purchases.


Dinner cookies
Dinner cookies? Alas. These are not savory cookies meant for dinner. It's dinner ON cookies. Specifically, I used food coloring pens to draw dinner on cookies topped with royal icing. Some of my favorite foods are on these cookies. And these are special cookies. Not special because they are unusual to find on this blog. Quite the opposite. Special because they are exactly what is found on this blog. And they are for a contest. I entered the Foodbuzz Project Food Blog!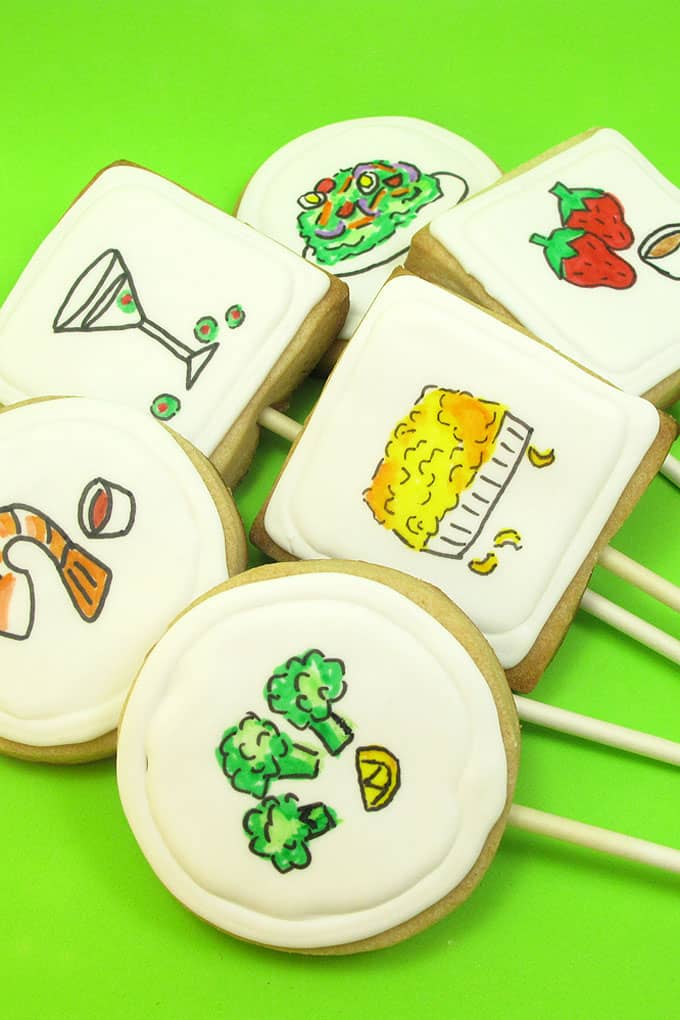 Nearly 2,000 food bloggers vie in a reality show-esque competition to advance to the next level. The final prize is $10,000. Wow. Imagine all the cookie cutters I could buy with that kinda dough. The first challenge? Create a blog post that defines me as a food blogger, that shows what makes me unique and that justifies my advancement. So I thought and thought about what that would be. And I made a list. My blog, food, cookies, drawing, tutorials, lollipop sticks. [UPDATE: The contest is long over, and I'm afraid I didn't win the final prize.]
Of course. My how to draw on food collection epitomizes all of the above. Want even more epitomizing? How to draw food on food. And as a bonus? Lollipop sticks. So here are some dinner cookie pops.
Let's start with some shrim
p co
cktail,
s
hall we?
cut out cookie dough AND royal icing
cookie cutters
lollipop sticks
disposable frosting bags
coupler
decorating tip, size "4"
rubberbands
white frosting color
toothpick
food coloring pens
*Use your preferred size cookie cutter. I used a 2 1/2 inch circle and square. Find cookie cutters, lollipop sticks, frosting bags, couplers, and tips at the craft store. For food coloring, I use Americolor soft gel pastes, Bright White. For food coloring pens, I suggest Americolor Gourmet Writers, fine-line FooDoodlers and/or KopyKake sets. For tips on finding cookie decorating supplies, click here.
the cookies

Roll out chilled cookie dough, according to the recipe, thick enough to accommodate lollipop sticks, about 1/4 inch. Cut out shapes and securely insert lollipop sticks halfway into cookie. Bake and let cool completely.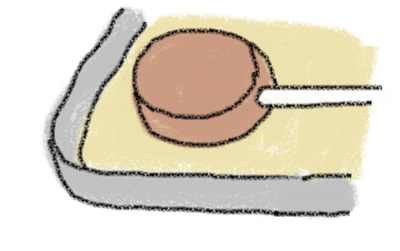 Prepare frosting according to the recipe, and tint about 1 1/2 cups white. Prepare a frosting bag with a coupler and size "4" decorating tip. Fill with about half of your white frosting and tie bag closed tightly with a rubberband. Cover reserved frosting.

Pipe an outline on your shape and let set 15 minutes. Thin reserved white frosting with a few drops of water at a time until the consistency of thick glue. Fill an empty frosting bag, tie closed with a rubberband, and snip 1/8 inch from the tip. Loosely pipe the thinned frosting on the cookie, letting the frosting run to the edges, encouraging as needed with a toothpick. IMPORTANT: Let cookies set overnight to stiffen. Draw your designs (see below for step-by-steps).

the drawings
how to draw shrimp:
1. draw a line with black
2. draw two curved lines
3. draw a trapezoid tail
4. draw curved lines in the shrimp and straight lines in the tail
5. fill the tail with orange and add orange highlight lines
6. add some light pink in front of the orange lines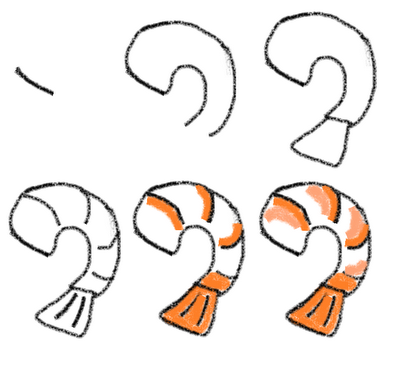 how to draw a martini:
1. draw an oval with black
2. draw two lines that come to a point beneath the oval
3. draw another oval in the glass
4. draw two lines and a triangle for the stem and base
5. draw a red dot
6. draw a green circle around the red dot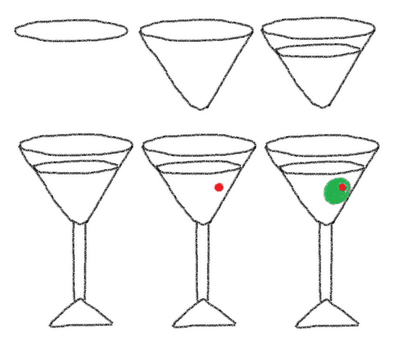 how to draw salad:
You can't layer food coloring pens or the color beneath will show (except black, which can be layered on top), so for the salad, draw all of the toppings first.
1. draw your salad toppings: orange lines for carrots, red semicircles for tomatoes, purple curved lines for red onion, and black circles with yellow circles for eggs
2. fill in around the toppings with two shades of green
3. add black outlines
4. add a plate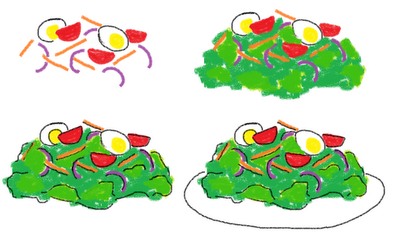 how to draw mac n' cheese:
Unlike the salad, here we're going to layer colors purposely.
1. draw some orange blobs
2. immediately draw a blob of yellow on top so the colors blend, extending the yellow blob bigger than the orange underneath
3. dab the yellow marker tip clean and fill in a rectangle shape of yellow around the blended areas
4. draw the ramekin dish with black and add curved lines for highlights on top of the yellow and orange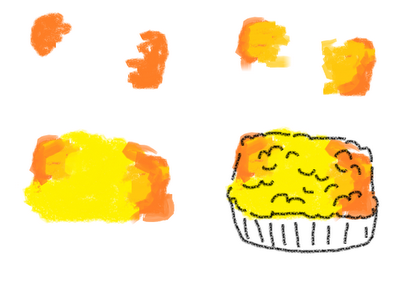 how to draw broccoli:
1. draw a short, thick, vertical line with light green and a blob on top
2. make the blob on top bigger with a darker shade of green
3. add a black outline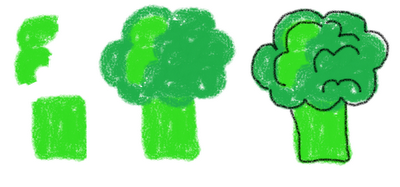 how to draw a strawberry:
1. draw and fill the top with green (a stem and three spikes)
2. draw and fill the strawberry shape with red
3. add a black outline and lines