Disclosure: *This post may include affiliate links. As an affiliate, I earn from qualifying purchases.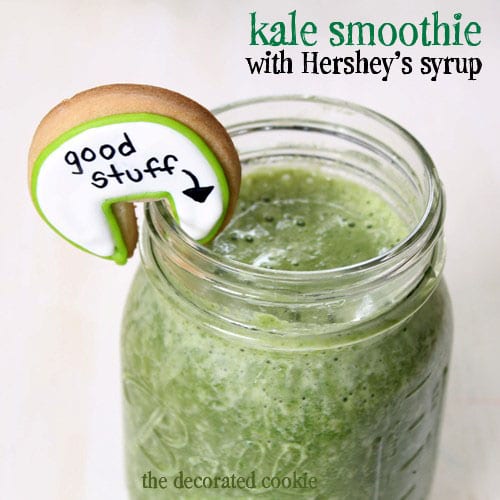 chocolate kale smoothies
Look at me getting all healthy-like. Except for that cookie sitting on the rim. First I had trail mix oat bites. Now kale smoothies. I'm even taking a Baby Fit yoga class with Violet. Next I'm so joining a gym and buying spandex shorts. Probably not that last sentence. But I did buy yoga pants. For real.
I buy the huge bags of pre-washed kale (I'm usually too cheap to buy pre-washed anything, but kale is such a pain to wash, it's worth it to me) and drink a smoothie every day, because these are just that good. And apparently kale is really good for you. Hershey's Syrup must be, too, because it makes these even better. And I added the chocolate syrup on my own volition, by the way. I went to Hershey's last November for a blog baking get together, but these smoothies are in no way even connected to that trip. I'm just a "spoonful of sugar helps the medicine go down" kind of gal.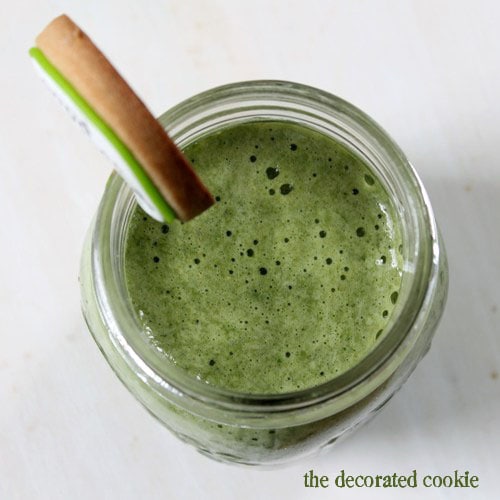 kale smoothies with HERSHEY'S chocolate syrup
Put all these things in a blender and liquify, liquify, liquify until there are no more green bits: Handful of ice cubes (about 5), half a banana, two huge handfuls of kale (washed, torn and stems removed), about 1/2 cup of milk, and 1 to 2 tablespoons Hershey's Chocolate Syrup. Pour in a glass, drink it down and feel like you're being healthy. Because you are, mostly.