Simple monster Jolly Rancher lollipops are a kid-friendly fun Halloween party food or monster party treat.
monster Jolly Rancher lollipops
So Jolly Rancher lollipops and I go way back. I first came up with the idea for simple DIY lollipops from Jolly Ranchers over seven whole years ago, when my first daughter was only two years old and wanted to help me in the kitchen. And we didn't stop there.
We also made more elaborate Jolly Rancher lollipops. And we made some Valentine's Day lollipops and even Christmas lollipops. Since then, I've seen lots of versions of Jolly Ranchers all over Pinterest and the web, so aside from the melting snowman cookie, it's one of my other claims to fame. These monster Jolly Rancher lollipops serve double duty for both Halloween parties and for monster parties.
Oh, and they are super duper easy to make, of course. All you need are some Jolly Rancher candies, some candy eyes and lollipop sticks. That's it. For each monster, choose any three colors of the candy and arrange however you like, horizontal, vertical or a combination of both directions.
This cutie stole two of them.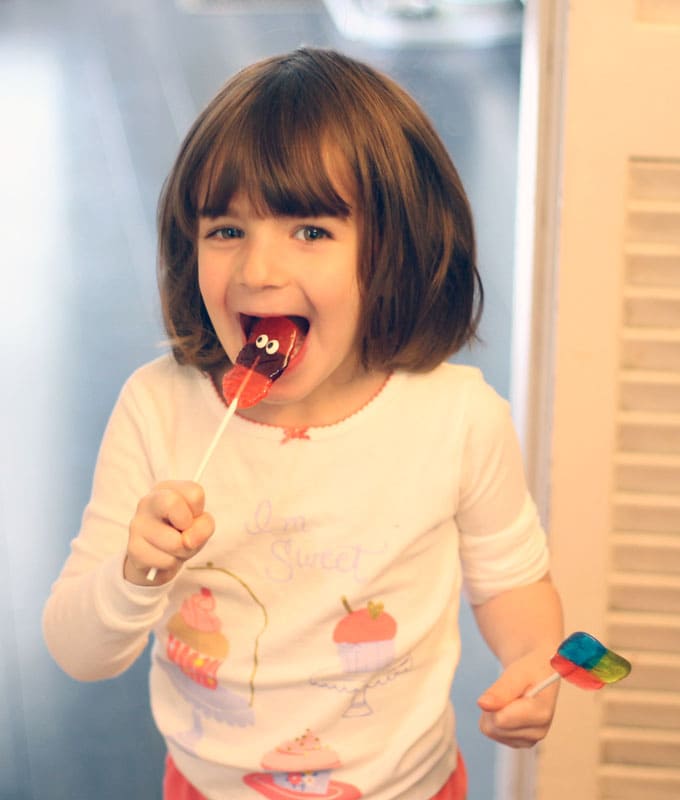 These are cuties too.
how to make monster Jolly Rancher lollipops
you will need:*
Jolly Rancher candies, unwrapped
candy eyes
lollipop sticks
*Find the candy eyes and lollipop sticks in the craft store, or follow the links above to see what the products look like.
what to do:
Preheat oven to 275 degrees. Line a baking tray with aluminum foil, then lay a piece of parchment paper on top of the foil.
Assemble candies as desired. Only put about 4 lollipops per tray (to leave room for sticks later) and arrange a few inches apart. I used three Jolly Ranchers per monster.
Bake about 6 to 9 minutes or until candies melt to desired effect. Make sure to keep your eye on the pops! Don't let them bake too long or they will be too thin and misshapen (although for monsters, that isn't necessarily a bad thing).
As soon as you remove the lollipops from the oven, place lollipop stick at one end, rolling to coat stick with the melted candy. Gently press some eyes on the lollipops, being careful not to burn your hands on the hot candy. Let cool completely on tray, then carefully remove paper from back.