Disclosure: *This post may include affiliate links. As an affiliate, I earn from qualifying purchases.


cookie decorating idea: "Pop" cookies for dad! Or, perhaps these can be 4th of July cookies in red, white, and blue?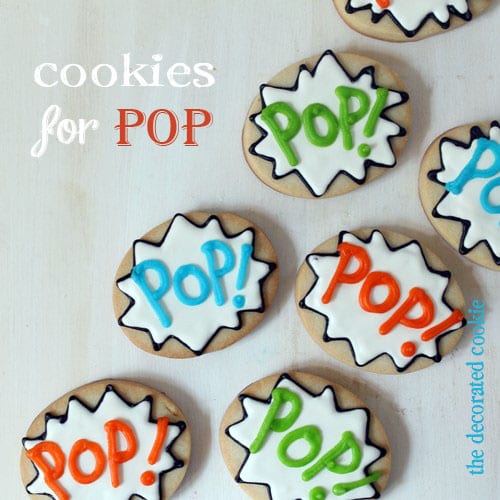 My poor Dad. His birthday falls on or around Father's Day every year. And yeah, I'll admit it. I collapse them into one gift giving occasion. But in my defense, my dad is really, really difficult to shop for. I can't imagine if I had to come up with two great ideas at the same time without months of deliberation between the two events.
Come to think of it, I've only actually come up with one great gift idea for my dad. Ever. And that was to add him as my second card on my Costco membership. Cost to me: Zero. That's the ONLY really, truly, honest-to-goodness-wanted gift I've managed to come up with. See? That's why he gets two for one. (Scratch that, reverse it, one for two.) He's impossible.
If you like this, check out this Father's Day snack mix idea.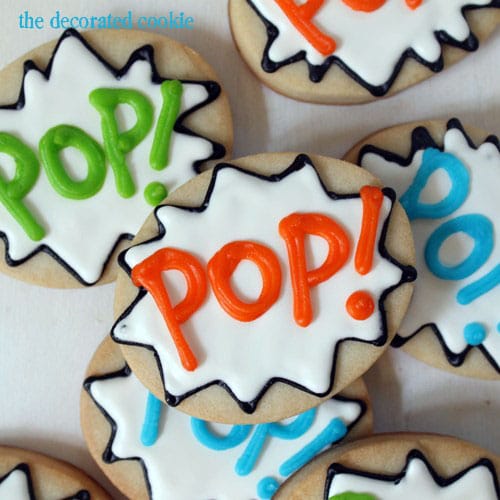 Thankfully, I always have the cookie thing going for me. He LOVES to eat. Fortunately, he loves exercise as much as he loves to eat, so one would never know of this passion for edibles. He also loves all the new gadgets, which makes me proud of my senior dad. I made these iPad cookies for him a couple years ago.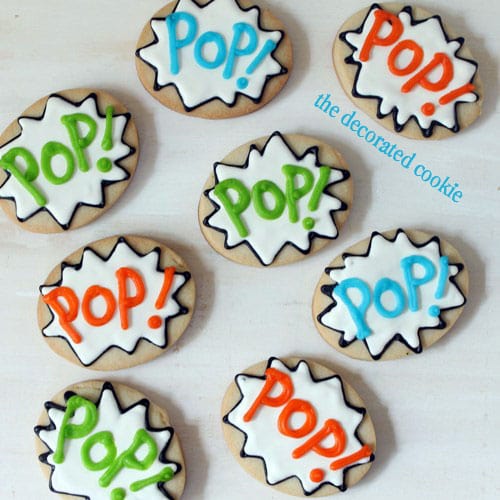 These "POP!" cookies may need some explaining. You see, his grandkids call him "Pop Pop," as I called my grandfather. So get it? Pop. Pop. Pop! But these would also be good for the 4th of July, yes?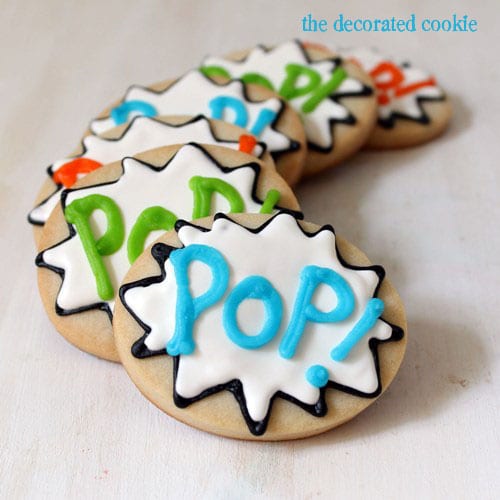 how to make pop! Father's Day "Pop" cookies
To make these, I cut out little ovals of cookie dough, baked and let cool according to the recipe.
I used my royal icing, divided and tinted with Americolor Soft Gel Pastes (Bright White, Super Black, Orange, Electric Green and Sky Blue Egg, but use any colors you like), and filled disposable decorating bags that were fitted with couplers and size "3″ decorating tips.
I thinned the white first before filling the bag.
For Basic Cookie Decorating how-tos, click HERE. For tips on finding cookie decorating supplies, click HERE.
I piped a pop art kinda outline with black. I filled each with the thinned white icing. When that had set an hour or so, I piped the words "POP!" on each. Let the cookies dry overnight before handling or wrapping.