Disclosure: *This post may include affiliate links. As an affiliate, I earn from qualifying purchases.


Pop Rocks shooters is the perfect 4th of July drink idea. You have the classic candy, the fireworks explosion, and the red, white, and blue. Oh yes, and the booze.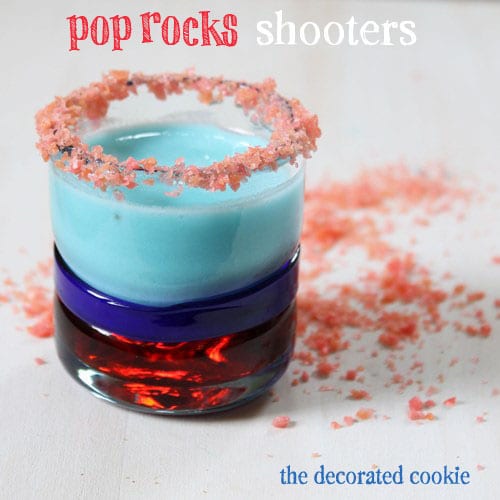 I think every 4th of July needs red, white and blue Pop Rocks shooters. I'm not exactly known for mixology (except maybe in college, wink wink), so if I can make these layered drinks, trust me, anyone can. If I was better at it, I'd have done three layers: Red, white and blue. But I sort of cheated and mixed the white and blue together.
If you like these, be sure to check out these Pop Rocks marshmallow pops or Pop Rocks star cookies.
These are definitely for the non-shot taking types, as the mix of Pop Rocks fizz and yummy, creamy blend of Schnapps and half and half, goes down pretty smoothly.
And I got to buy some grenadine. Sheesh, I haven't had grenadine since I was a kid, in Shirley Temple form. I used to sit at the bar where my uncle tended and order a Shirley Temple with a zillion cherries. But I digress… on with shooters!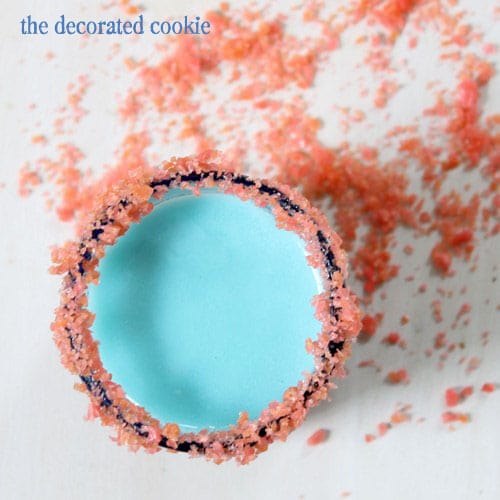 how to make Pop Rocks shooters 4th of July drink
Paint brush
Light corn syrup
Shot glasses
Red or blue Pop Rocks candy
Grenadine
Creamer or sprouted mixing cup
Half and half
Maui Blue Hawaiian Schnapps
Bar spoon
Spread the Pop Rocks candy on a clean cutting board or plate. Use the paint brush to brush light corn syrup around the rim of a shot glass, then dip the rim in the Pop Rocks, twisting to coat. Pour grenadine in the glass until it is 1/3 full.
In a creamer or a spouted mixing cup, mix one part half and half to two parts Maui® Blue Hawaiian Schnapps.
Slowly pour the creamy Schnapps mixture over a bar spoon or over the back of a spoon so that the dense mixture rests on top of the grenadine. Serve immediately.
TIP: For those of you who are skilled in "floating," or layering drinks, omit mixing the half and half and Schnapps and simply layer the white and blue, too.
PIN FOR LATER: