Disclosure: *This post may include affiliate links. As an affiliate, I earn from qualifying purchases.


A fun blue lemonade cocktail (with or without alcohol) with watermelon star stirrers for the 4th of July.
blue lemonade 4th of July drink
First, we had some Pop Rocks Shooters. Next up? A blue lemonade cocktail with watermelon star stirrers. Mix this drink up for the 4th of July with alcohol for the grown-ups or without alcohol for the kids. So everyone is covered. All I did was turn lemonade blue.
For a unique 4th of July idea, make these red and blue dried pineapple flowers to accent cakes, cupcakes, or drinks.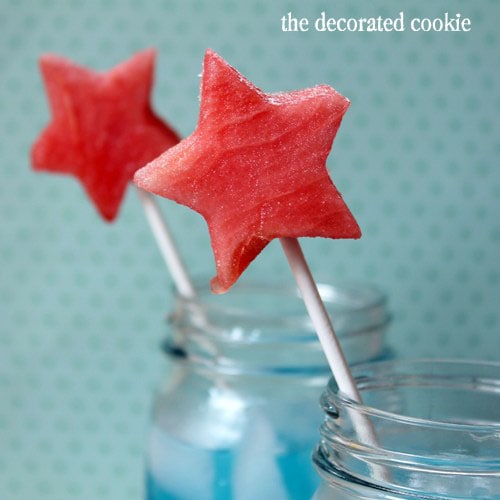 how to make blue lemonade for the 4th of July
6 lemons
6 cups water
1 cup sugar
Cocktail
Lemonade (our recipe or your own)
Watermelon
2-inch star cookie cutter
Lollipop sticks
Blue food coloring (for the kid-friendly version)
Maui Blue Hawaiian Schnapps OR vodka and blue curacao liquor)
To make the lemonade, squeeze the juice from the lemons and strain to remove seeds. Pour the juice into a pitcher and add the water and sugar. Stir well and chill.
To make the cocktail, cut watermelon into slices about 3/4-inch thick. Then, cut out stars using the star cookie cutter and insert a lollipop stick into the bottom of each one. Set aside.
For the adult version, pour about six ounces of lemonade into a glass.Top with two ounces of Maui Blue Hawaiian Schnapps or one ounce each of vodka and blue curacao liquor. Stir with a watermelon pop.
For the kid version, add one drop of blue food coloring to the pitcher of lemonade and stir. Add additional drops if necessary to achieve desired color. Pour into ice-filled glasses and stir with a watermelon pop.