For a festive Memorial Day or Independence Day dessert idea, try red, white, and blue 4th of July milkshakes with marshmallow polka dots!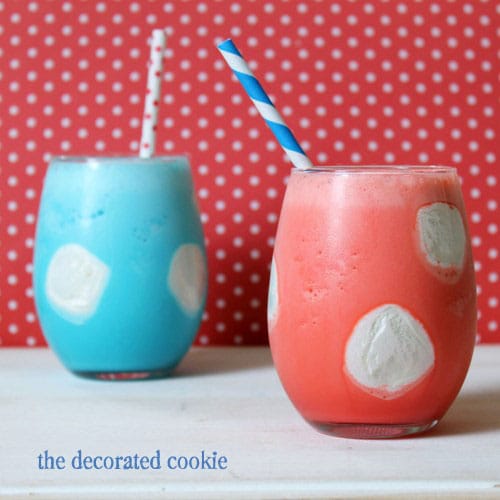 And my last summer drink for the 4th of July (and by "drink," I really mean 4th of July dessert) that I made for Celebrations: Patriotic polka dot milkshakes in blue and red. Sorry, folks, no alcohol in these, but if you want to find a way to add some, I'm totally cool with that.
Just one or two drops of food coloring turns vanilla milkshakes into blue or red. And the polka dots? Marshmallows.
Like these? Check out this American flag s'mores dip or these red, white, and blue marshmallow pops.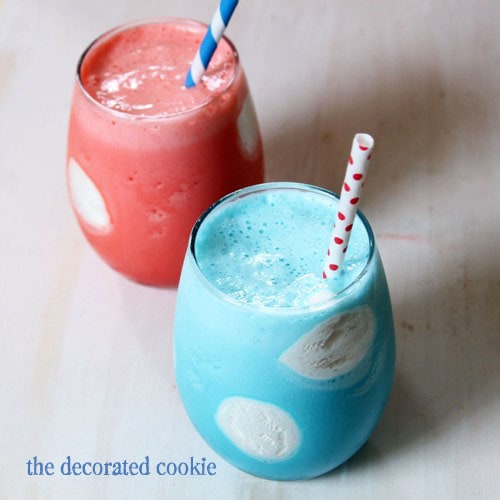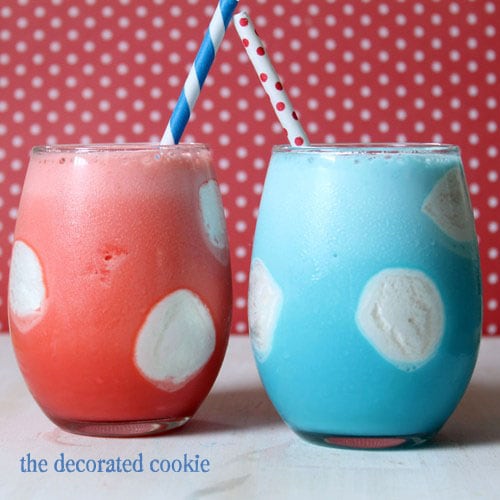 how to make red, white and blue 4th of July milkshakes
Clear glasses
2 to 3 marshmallows per glass
Sharp knife

Vanilla

ice

cream

Milk
Red and/or blue food coloring
Blender
how-tos
Cut the marshmallows in half crosswise with the knife. Adhere the sticky side of a cut marshmallow to the inside of a glass. Repeat with 3 to 5 more marshmallow halves to make "polka dots" on the glass.
Prepare vanilla milkshakes. Simply blend 4 cups of vanilla ice cream with 2 cups of milk, adding more or less ice cream and milk to taste and thickness.
Add a drop or two of red food coloring or blue food coloring and blend. Add more food coloring as needed to achieve desired shade of red or blue. Gently pour into the glass with the marshmallows and serve immediately.
PIN FOR LATER: