Disclosure: *This post may include affiliate links. As an affiliate, I earn from qualifying purchases.


Simple Thanksgiving table idea: Make pumpkin cookies placecards.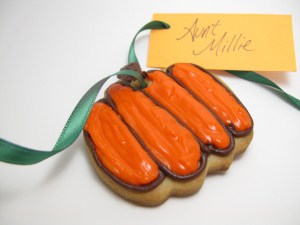 A yummy treat for after Thanksgiving dinner (or before), these pumpkin cookies placecards double as ways to tell your family where not to sit.
how to make pumpkin cookies as placecards
you will need:
small pumpkin cookie cutter
lollipop stick, dowel or straw
2 disposable decorating bags
2 couplers
2 rubber bands
sizes 3 and 4 decorating tips
cut-out cookie dough
frosting
americolor soft gel pastes (Orange and Chocolate Brown)
thin green ribbon
card stock
scissors or paper cutter
small hole punch
For tips on finding cookie decorating supplies, click HERE.
Step One: make your cookies
Roll out your cookie dough and cut out pumpkins. Place on parchment paper lined baking tray. Before you bake, make hole near the top (beneath the stem) with the stick or straw. I used a lollipop stick, but circled it a bit to make the hole larger (about 1/4 inch). Bake as directed and let cool.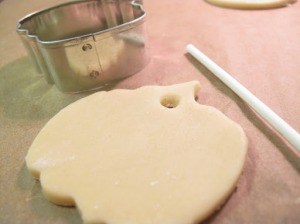 Step Two: decorate your cookies
Make a bag of orange frosting with a 4 tip and a bag of brown frosting with a 3 tip (using the bags, couplers, tips, and closing tightly with a rubber band). Outline the pumpkin with brown 3 tip. Let set. Fill stem with brown 3 tip and fill pumpkin with orange 4 tip. Let dry (overnight preferred).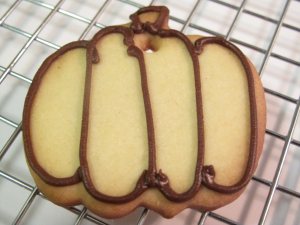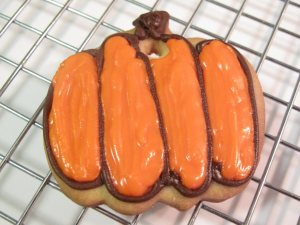 Step Three: attach your card
Cut out rectangles from your card stock and write your guests names on the tags. Punch a small hole in the corner. Thread ribbon through the cookie hole, loop like a vine, and attach the other end through the hole of the card. Arrange on the center of the dinner plate.
Voila! Now you can seat gossipy Aunt Millie at the far end of the table.
Tips: If you have trouble getting the ribbon through the cookie or card, cut ribbon end to a point or use a pin or needle to help you. When you arrange on the plate, try not to let the name tag touch the cookie. Grease from the cookie can damage the paper.
If you're really ambitious: Use one looooooooooooooooooong piece of thin, green ribbon and attach all the pumpkins around the table (as in, the pumpkins are in their pumpkin patch, attached by the vine).