Disclosure: *This post may include affiliate links. As an affiliate, I earn from qualifying purchases.


Rudolph cookie sticks are a simple, easy decorated Christmas cookie.
Rudolph cookie sticks
I've gone cookie stick crazy, and these Rudolph cookie sticks are more evidence. First the monster cookie sticks. Then the turkey cookie sticks. And of course, snowman cookie sticks.
I think you knew Rudolph was on his way. It's pretty astonishing how you can put pretty much any design for any season or any holiday on a stick. Sure, Rudy might have some extra long antlers, but… I have nothing after that admission. Maybe they grew because he lied to Clarice. "I was helping Santa, not downing egg nog at the Elf Pub with Fireball. Really. I swear."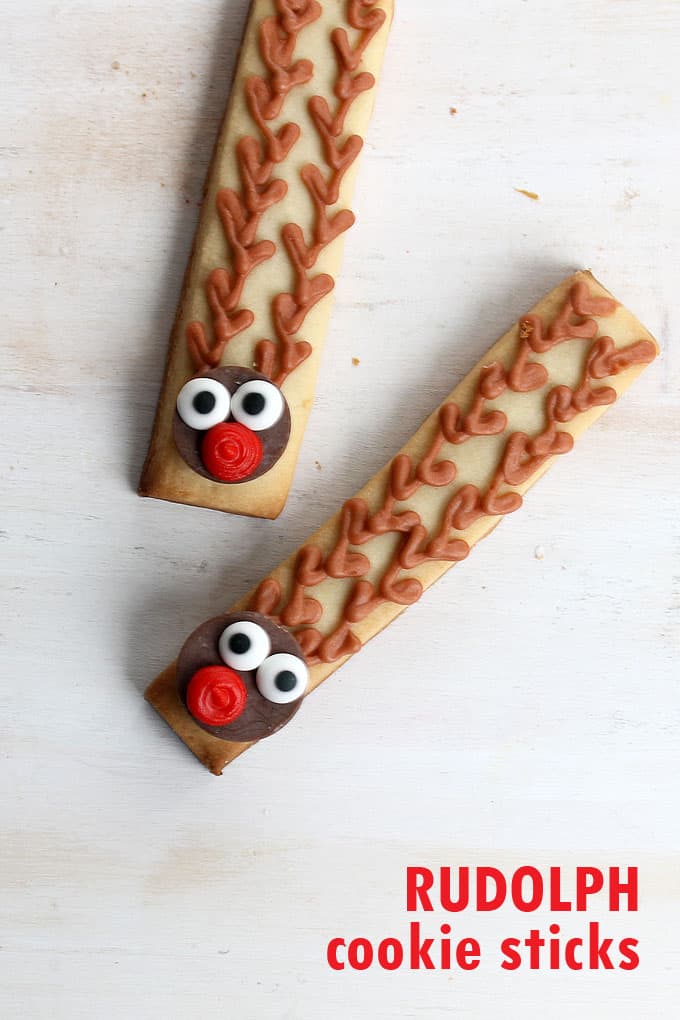 more Rudolph Christmas treats
Rudolph has graced these blog posts before. Check out these other treats:
how to make Rudolph cookie sticks
you will need:*
cookie decorating tips
Find the decorating bags, couplers, tips, candy eyes and candy melts in the craft store.
For food coloring, I suggest Americolor Soft Gel Pastes, available in specialty stores and online (Red Red and Chocolate Brown used here).
Learn the basics of cookie decorating.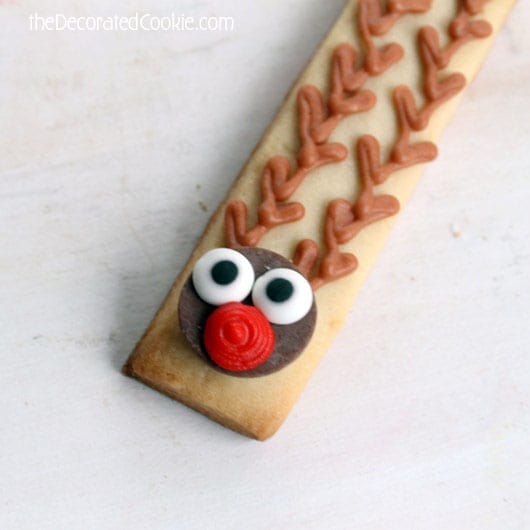 step one: make your cookie sticks
Prepare the cookie dough according to the recipe, chill for a couple hours, roll out 1/4-inch thick and use the dough scraper or knife to cut out sticks. My sticks are about 4 1/2 inches long by 3/4 inch wide.
Place the sticks on a baking tray lined with parchment paper and bake according to the recipe. Let cool completely.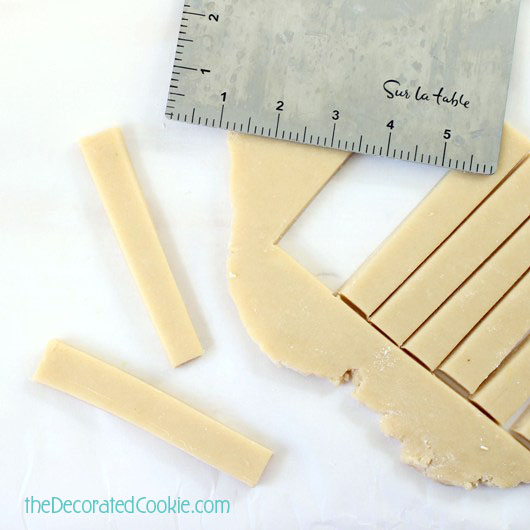 step two: prepare your royal icing
Make royal icing according to the recipe. Divide the icing and tint your colors. For Rudolph, I used light brown and red.
Assemble decorating bags with couplers and tips, fill with icing and close tightly with rubber bands.
step three: decorate your cookies
To decorate, fit the brown icing with a size 3 tip. Pipe a blob of brown on the bottom of the stick and press a candy melt on top.
Pipe the antlers up the stick however you like, then pipe two tiny dabs of icing on the candy melt and adhere the eyes.
Fit the red icing with a size 4 tip and pipe a big dot for a nose.
Let the cookies dry well, preferably overnight, before handling and packaging.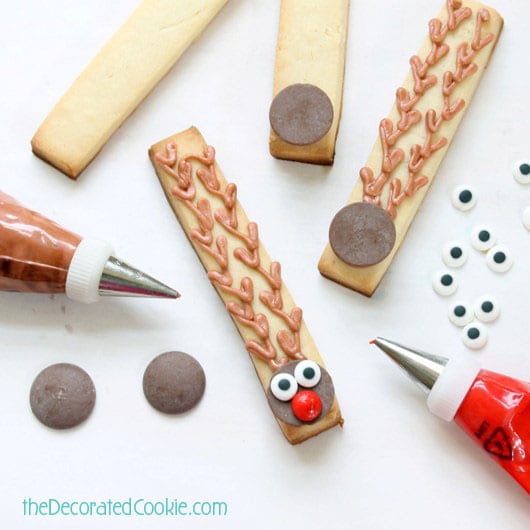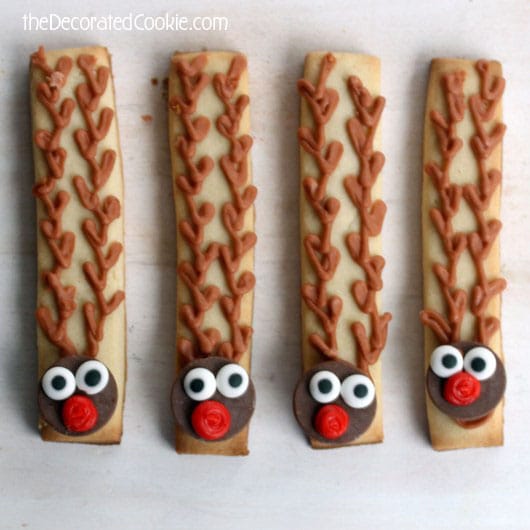 SOME SUPPLIES: