Disclosure: *This post may include affiliate links. As an affiliate, I earn from qualifying purchases.


how to make snowmen cookie sticks AND a bonus snowman box game, a fun Winter carnival game for kids.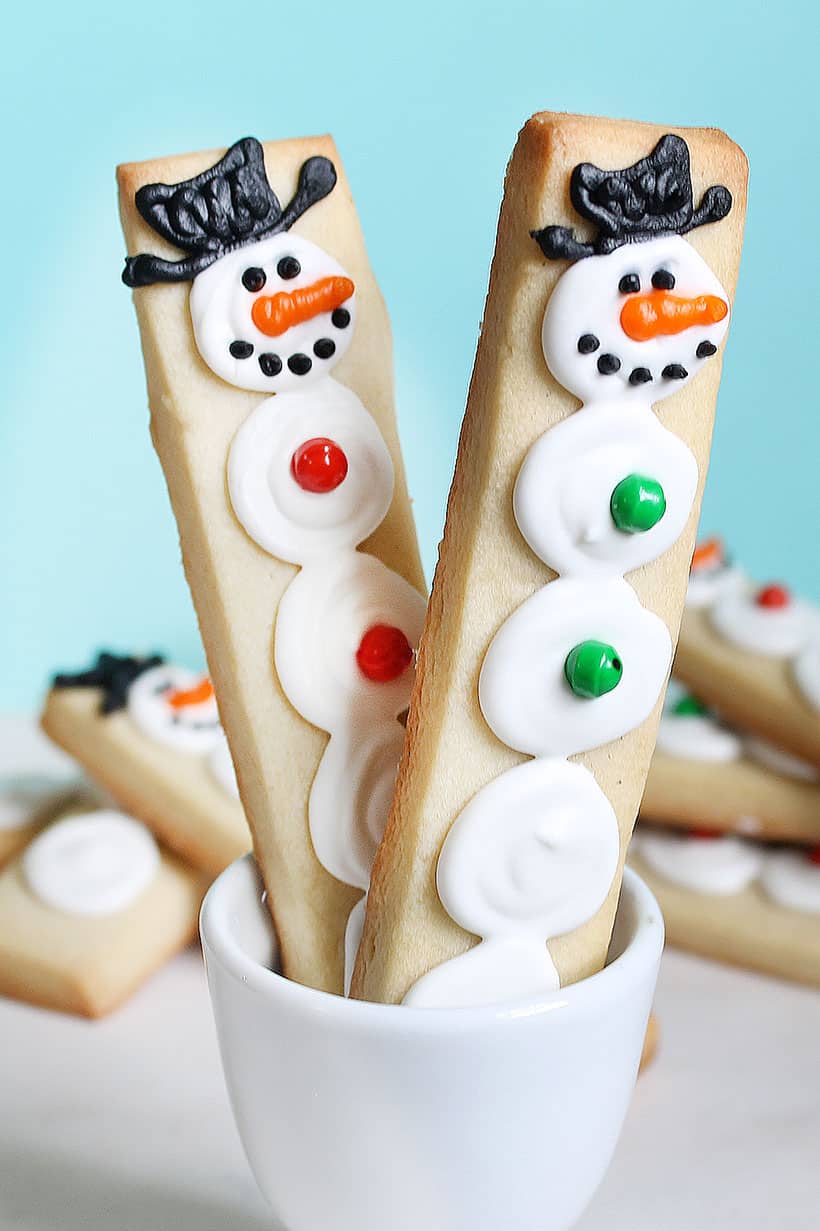 snowman cookie sticks
Why do I so love cookies in stick form? Because you don't need any special cutters, they are an interesting shape for a cookie and they are easy to hold, thus eat.
So first I made monsters, then turkeys, then Rudolph and now… snowmen cookie sticks! Snowmen were begging to be made as sticks.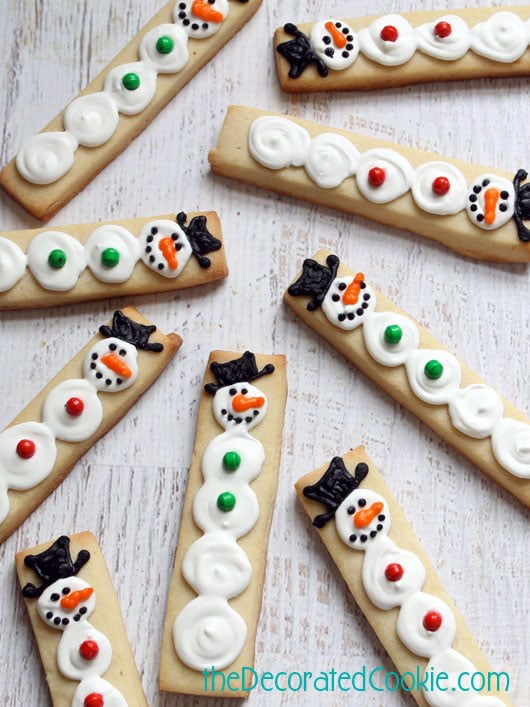 winter fest ideas
I made these guys for my daughter's school bake sale. Which was held at the Winter Fest. Which I ran. Well, co-ran. But yeah. I ran the Winter Fest.
AND I made snowman cookie sticks for it. I'm impressing this upon you so you recognize me as the martyr I am. And I did it all with little to no apparent stress or anxiety. (That part isn't true.)
We had tons of winter-themed crafts (paper snowballs ornaments, cranberry and popcorn bird feeders, snowmen paint sticks, snow fairies, DIY luminaries), a chili cook off, some contests (a marshmallow igloo contest, a coloring contest and a graham cracker house contest) and a few games.
I'll share this game I whipped up at the last minute. He lasted about halfway through the event, before some boys decided to play snowman kickball.
This guy was shredded by the end. But I was planning on disposing of poor box Frosty, so I accepted the loss.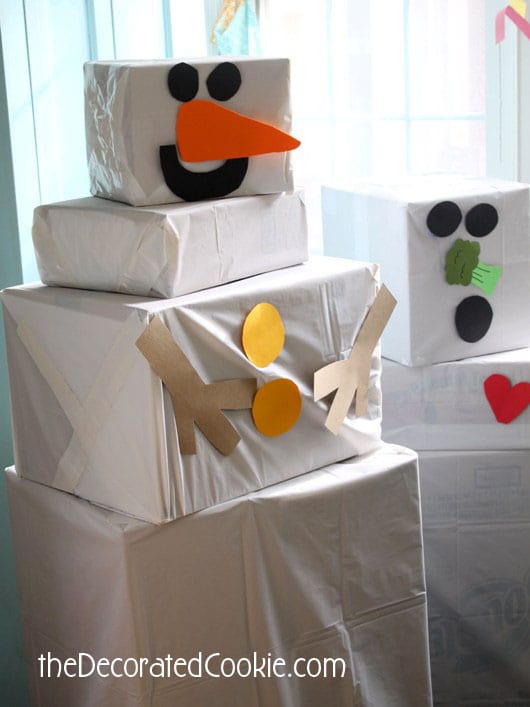 To make the snowman box game:
Buy some cheap white rectangle plastic tablecovers from the party store (3 covered all the boxes here).
Use the tablecloths to wrap up old boxes of varying size, like wrapping a present. I wasn't careful at all, since I didn't expect these to last beyond a day.
Seal all the edges of the tablecovers with white duct tape.
TIP: Because I had to transport these to the school, I left the bigger boxes open at top so I could put the smaller boxes inside.
Then, cut out shapes for decoration from colored cardstock. Put blue painters tape on the back of each piece.
I wrapped a board with wax paper to use as the staging area. I cut out mittens, sticks, circles, carrots, smiles, hearts. This guy has a broccoli nose.
You could also have real scarves and hats. Either have kids race to dress up their snowmen or just let them go nuts on their own.
You could also use those snow blankets (clearly, you can see the prints on the boxes through the table covers), but that would have been much more expensive.
Since I had the tape and the paper, I only spent 6 bucks on the table covers. That's it. Did the job.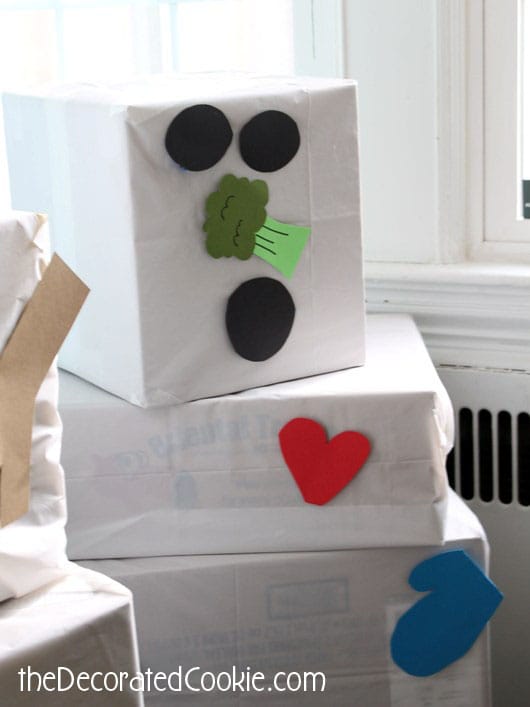 Back to cookies now.
to make snowman cookie sticks
you will need:*
cookie dough
royal icing
dough scraper or knife
food coloring (white, black and orange)
decorating bags
couplers
decorating tips (sizes 2, 3 and 4)
sprinkles for buttons
*Find the disposable decorating bags, couplers, tips and sprinkles in the craft store. You'll also find food coloring there, though I prefer Americolor Soft Gel Pastes (Bright White, Super Black and Orange), found in specialty stores and online. For tips on finding cookie decorating supplies click HERE. For basic cookie decorating instructions, click HERE.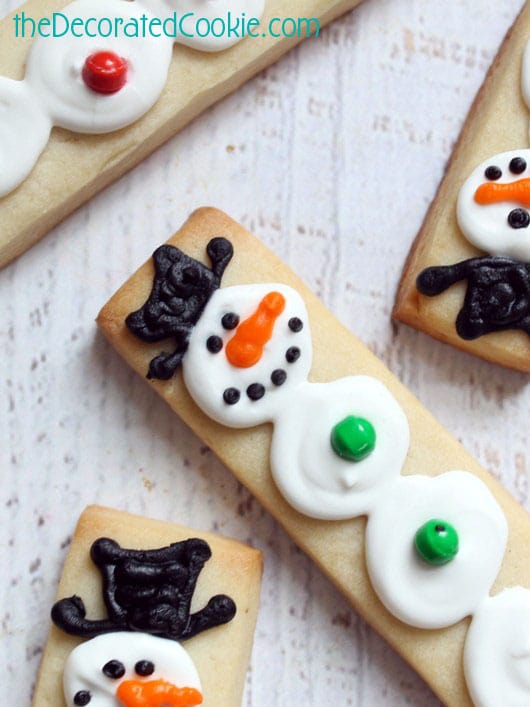 step one: bake your cookies.
Prepare cookie dough according to the recipe, chill, and roll out. Cut sticks using a dough scraper (as shown) or knife about 4 1/2 inches by 1/2 inches, or whatever size you like. Place on a baking tray lined with parchment paper, bake according to the recipe and let cool completely.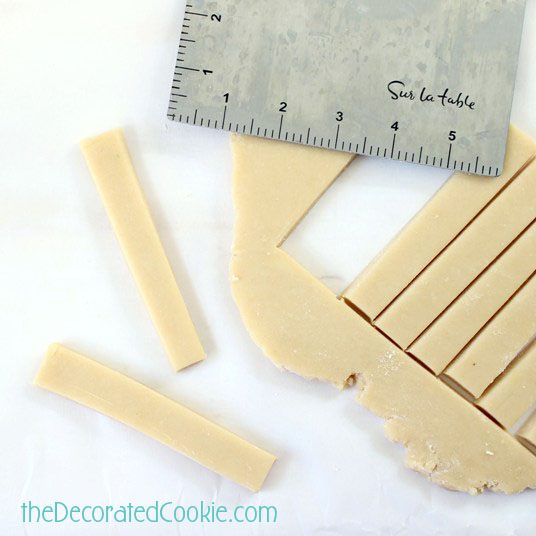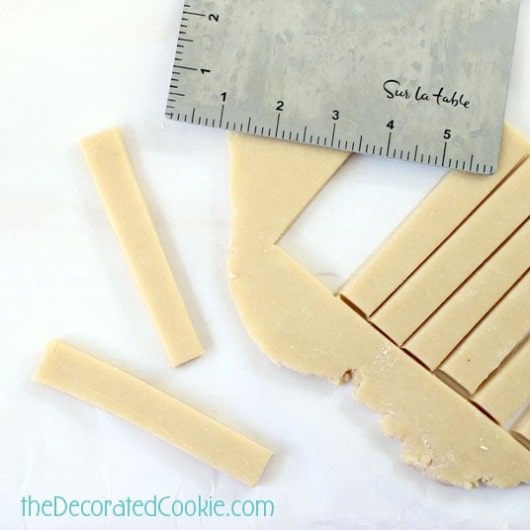 step two: prepare the icing.
Prepare royal icing according to the recipe. Divide it and tint white, black and orange. Prepare decorating bags with couplers and tips, fill with icing and close tightly with rubber bands.
step three: decorate your cookies.
With a size 3 tip, pipe and fill a hat at the top of the stick (this part is optional if you want to simplify the decorating).
Using a size 4 tip on the white, pipe dots for the snowman's body.
Stick a couple sprinkles on some of the dots for buttons, if you like. Using a size 2 tip, pipe black dots for eyes and pipe the smile.
With a size 3 tip, pipe the orange carrot nose. Let the cookies dry overnight before packaging or handling.
TIP: I packaged mine in those pretzel treat bags from the craft store.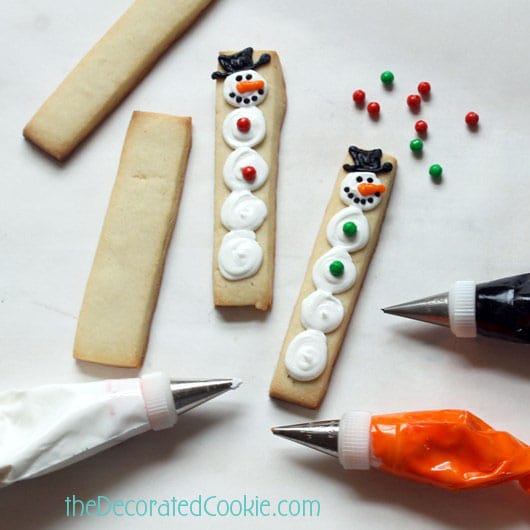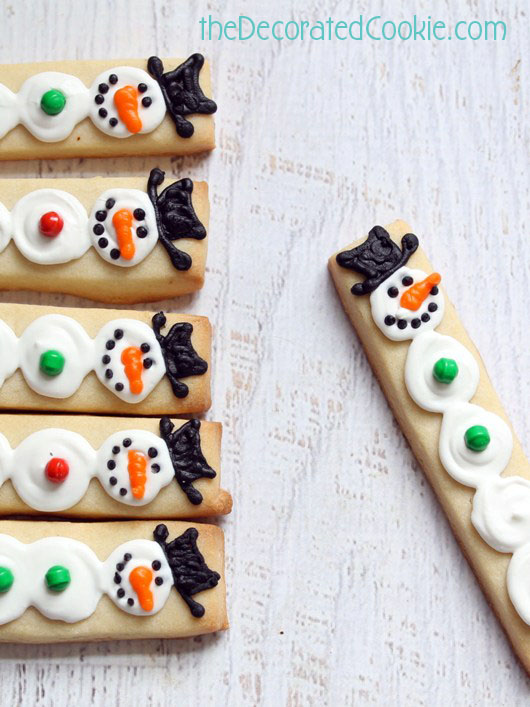 If you liked these, you might like: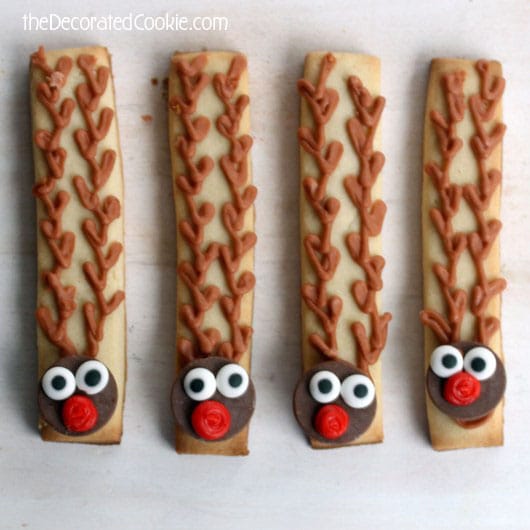 Or perhaps these snowman and snowflake cookie pops: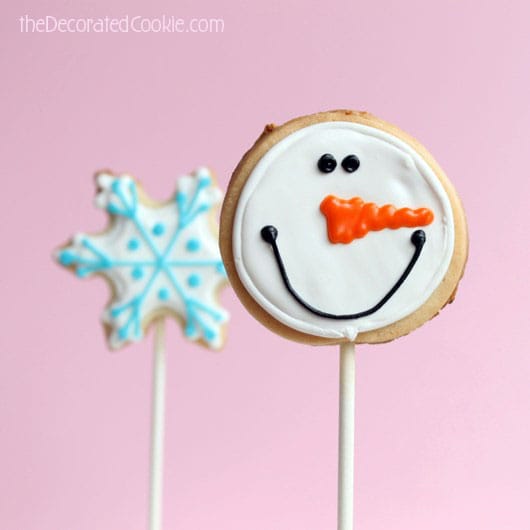 SUPPLIES: