Disclosure: *This post may include affiliate links. As an affiliate, I earn from qualifying purchases.


How to decorate unicorn cookies on simple circle or oval cookies. Video tutorial included.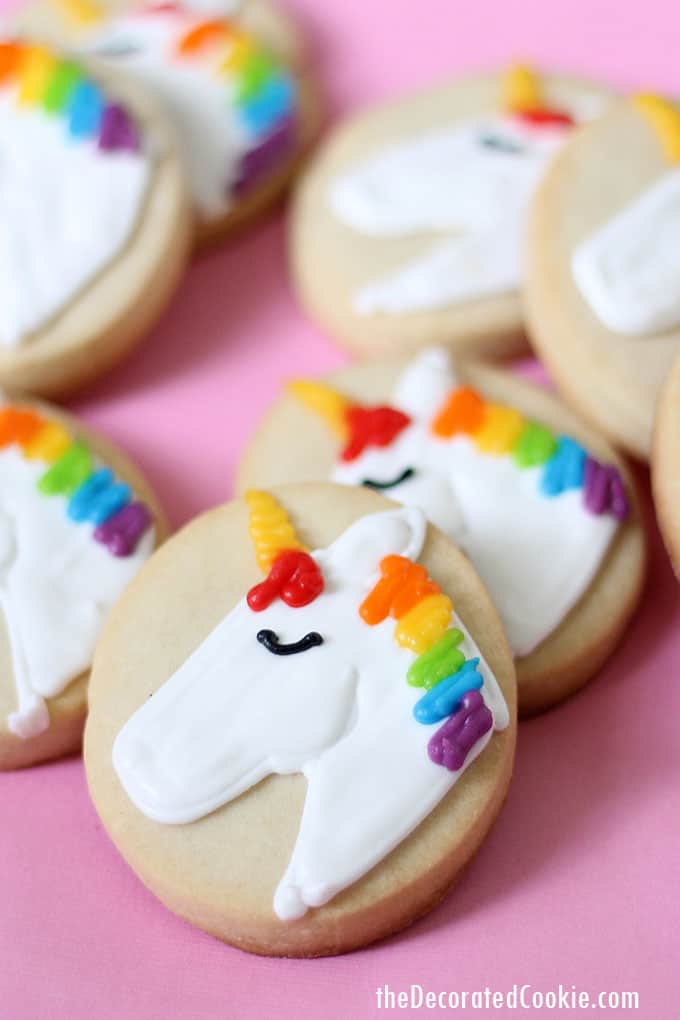 Unicorn cookies may be the world's most perfect food, yes?
how to decorate unicorn cookies
I'm so, so, so NOT new to the unicorn food trend. I first made unicorn cookie pops for my daughter's birthday party way back in 2011 when she was a wee lass of four. And I've made unicorn marshmallows, unicorn chocolate bark, unicorn smoothies… I even feature a #DailyUnicorn over on my facebook page. In fact, I'm just about so so OVER the unicorn food trend. (Even though I round up unicorn food.) And yet, when a friend requested cookies just because he was craving my recipe, I went right to more unicorns. But that's mostly because I wanted to find a way to simplify decorated unicorn cookies.
Here, I just use an oval cookie cutter (a circle would work too) rather than a specific unicorn cutter. The design really is quite simple. I had a lot of icing colors on hand, but to avoid having to make icing in each color of the rainbow, you can also just pick a couple of bright colors. Or, instead of the rainbow mane pipe with icing, you can use sprinkles to make the main or that rainbow sour belts candy cut to shape.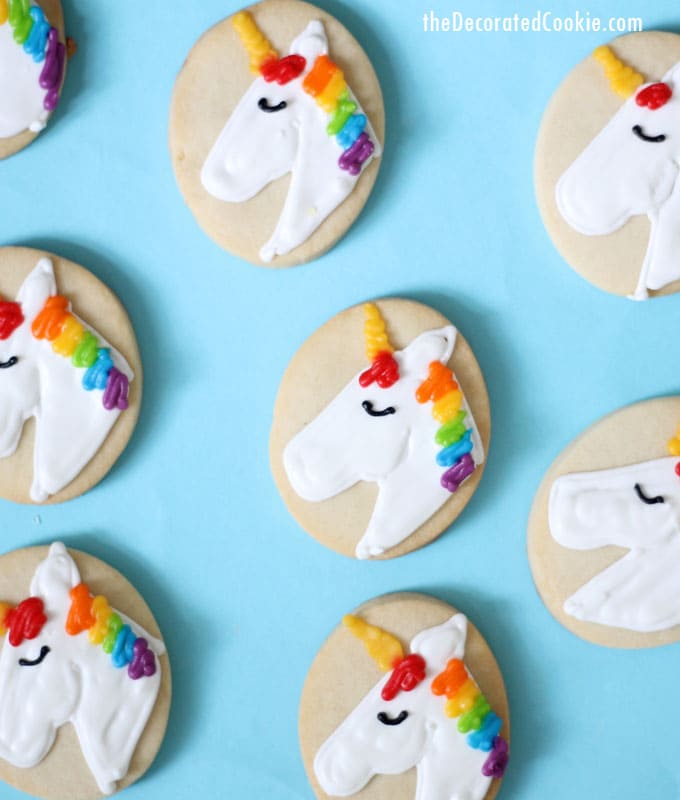 Have a lot to do? Not only can you substitute sprinkles or candy for the rainbow mane part, but here are some tips on breaking up the decorating. Make the icing and all the colors a day or two (or three) ahead of decorating. Make the cookie dough the day ahead, too, and refrigerate it. Let it sit at room temperature until it's still cold but easily pliable.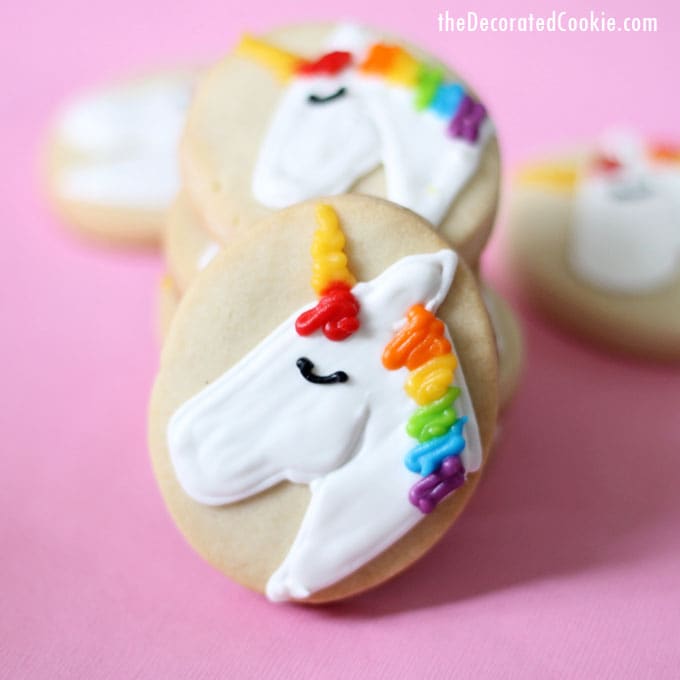 Need more unicorn? Find lots of unicorn food ideas in this roundup.
how to decorate simple unicorn cookies
you will need:*
food coloring
rubber bands
* Find most of the above at the craft store, or click the affiliate links. For tips on finding cookie decorating supplies, click here. For food coloring, I suggest Americolor Soft Gel Pastes, available in specialty stores and online. You will need Super Black, Bright White, and Egg Yellow. For the mane, you may substitute rainbow sprinkles or rainbow candy, OR use icing tinted with Red Red, Orange, Egg Yellow, Electric Green, Sky Blue, and Electric Purple.
For basic cookie decorating how-tos, click here. For more cookie decorating recipes, click here.
(By the way, if you need vegan cookies and icing recipes, click HERE.)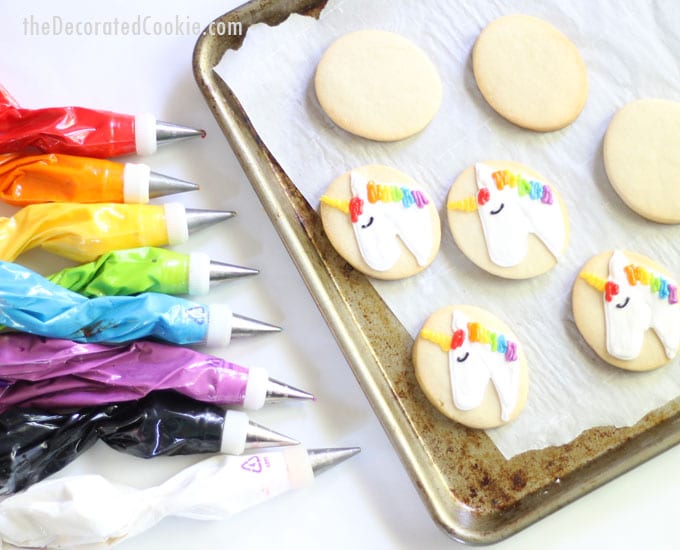 what to do:
Prepare the cookie dough and royal icing according to the recipes. Chill the cookie dough, roll out, cut out the ovals, bake and let cool.
Divide the icing (you'll need the most of white, of course) and make white, black, and yellow. If you're using sprinkles or candy for the mane, you won't need additional colors, but if you're piping the mane, you'll need red, orange, green, blue, and purple as well. Thin two-thirds of the white icing with drops of water until it's a good flooding consistency (that is, just to the point where the icing folds into itself when overturned). Prepare decorating bags with couplers and tips, fill with the icing, and close tightly with rubber bands. For the black, use size 2. For the other colors, use size 3 or 4, whatever your preference. For the rainbow colors, I used size 3 tips. For the white, sizes 3 and 4.
Pipe the outline of the unicorn with the stiffer white icing. Let set a big. Pipe the horn in yellow. Fill the unicorn with the thinned white. When set, pipe an eye with black and pipe the mane with rainbow colors. If you're not using the rainbow colors, trim some sour rainbow belts or use rainbow sprinkles. After the white icing has fully set, brush a bit of light corn syrup on the mane area to adhere the candy or sprinkles.
Let set overnight before packaging and handling.