Disclosure: *This post may include affiliate links. As an affiliate, I earn from qualifying purchases.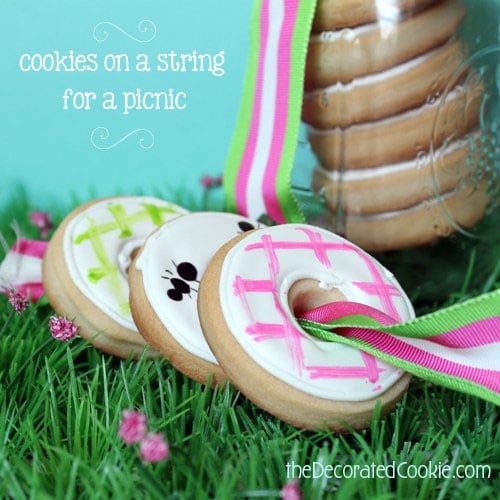 summer picnic cookies on a string
Oh, Summer. I'm trying to love you. I bring my daughters to the pool. I grill more (by which I mean, my husband grills for me). We catch fireflies as the sun sets. I grew up on a beach, so I have that covered.
I'm even trying to work a lot less so I can understand what "lazy days of summer" means without thinking of all the work I should be doing. But you are so darn hot. And sticky.
And Fall is so lovely. But I hear great things about you. I know you can make wonderful, lifelong memories from lounging on a hot day. I know it's possible to feel the warm grass 'neath your feet without stepping on a bee. I'm inching my way there.
I find some joy in all of the above, but I can't help longing for cool breezes and blankets. I think a picnic will help me. One good, solid, classic, awesome picnic. So I'm going to a Summer Picnic Party. And I won't even wear my full-body mosquito shield.
Beth from Hungry Happenings and Hani from Haniela's are hosting a Summer Picnic blog party, wherein all kinds of clever, talented bloggers share a picnic-themed something.
Food, crafts, decor, anything goes. So this is your place for the best summer picnic inspiration, I just know it. Oh, and did I mention there's a giveaway??
Supplies from Wilton, a new book from The Marshmallow Studio, store credit to Restaurant Ware, The Cookie Cutter Company and Mary Had a Little Party, and a year's digital subscription at King Arthur Flour.
Scroll to the end to see what everyone brought AND to enter the GIVEAWAY!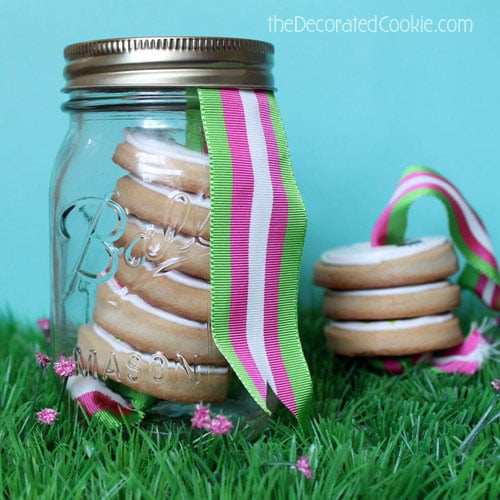 Me? I brought cookies on a string packed in mason jars. I wanted to make something that really would make life easier on a picnic, not just prettier.
When I made these mason jar meals for a picnic, they were a huge hit on internetland. Why? Because you are practical folks who like things that make sense, I'm guessing.
These cookies are meant for sharing. Pull out the string and snack away. When you're done, pack what's left back in the jar.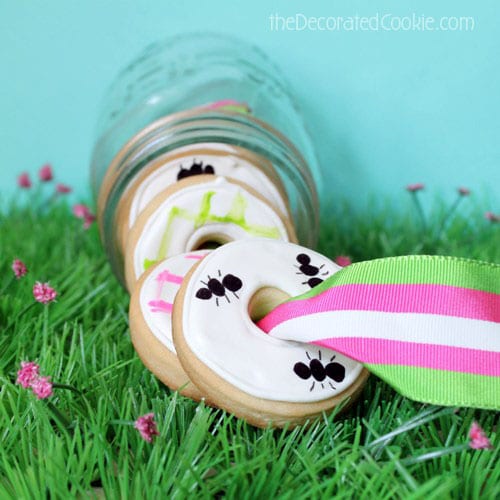 how to make cookie stacks on a string for a picnic
you will need:*
2 1/4-inch circle cutter
1/2-inch circle cutter, a straw OR a lollipop stick
white food coloring
2 disposable decorating bags
1 coupler
1 size "3" decorating tip
rubber bands
edible writers
mason jars
1 1/2-inch wide grosgrain ribbon
*Find the circle cutters, decorating bags, couplers, tips and ribbon in the craft store. For food coloring, I suggest Americolor Soft Gel Pastes , Bright White. Find mason jars in the hardware store, supermarket or craft store. Find the edible writers in the craft store or online. Note that the 2 1/4-inch circle cutter is just a bit smaller than the opening to a standard mason jar. Make sure your cookies will fit in the mason jars you buy!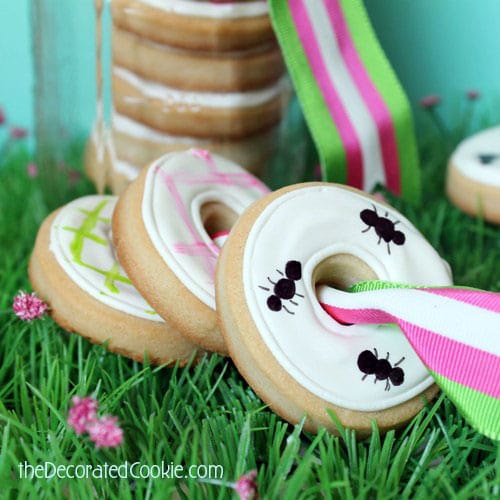 step one: bake your cookies.
Prepare cookie dough according to the recipe, chill, cut out 2 1/4-inch circles, about six for each jar. Cut out centers in the cookies with the 1/2-inch circle, or use a straw or lollipop stick to make the holes, wiggling around until the opening is about 1/2-inch wide. Bake according to the recipe and let cool.
step two: prepare your icing.
Prepare royal icing according to the recipe and tint white. Fit a decorating bag with the coupler and tip, fill with some of the white icing, and close tightly with a rubber band. Thin additional white icing (I usually work with one cup at a time) with drops of water until the consistency of thick glue. Fill an empty decorating bag and close with a rubber band.
step three: decorate your cookies.
Pipe an outline on a cookie, including the inner circle. Let set for fifteen minutes. Snip about 1/4-inch from the tip of the bag of thinned icing and pipe to fill the cookie. For tips on basic cookie decorating, click HERE. Let your cookies dry well, preferably overnight. When dry, draw designs with the edible writers.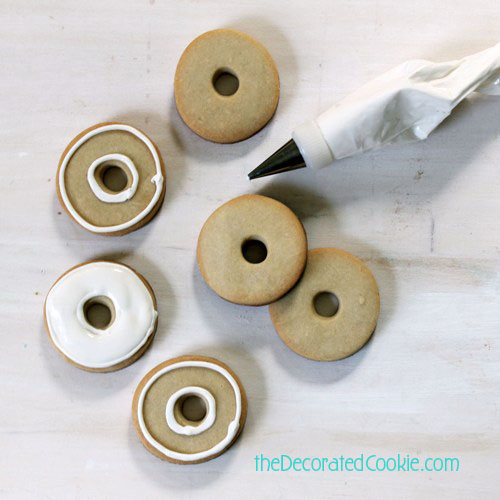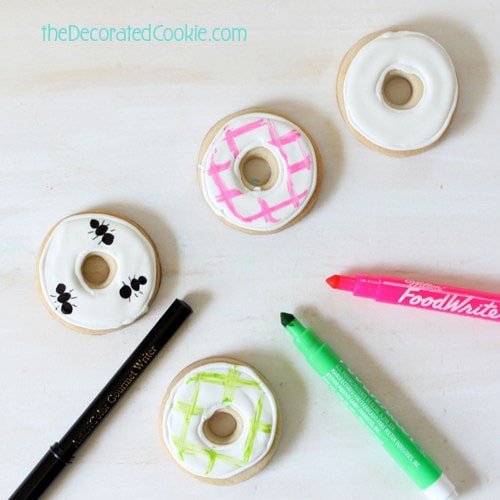 step four: package your cookies.
Cut a piece of ribbon about 10 inches long. Tie a double knot at one end Thread the other through five cookies. Lower into the mason jar and close the lid, keeping the end of the ribbon outside of the jar.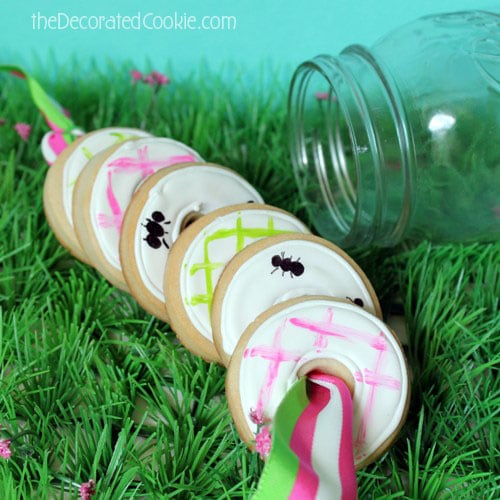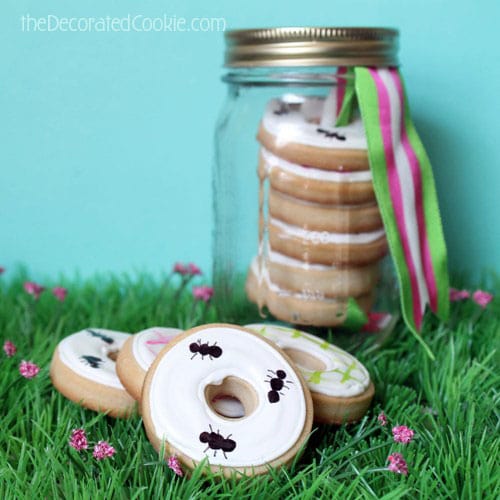 Check out what everyone brought:
The Marshmallow Studio – Buzzy Bee Pop Tutorial
Sam's Kitchen – Elderflower Cordial
Lila Loa – Sandwich Picnic Cookies
Pink Little Cake –Shortbread Cookie Tart with Caramel Bits
Hungry Happenings – Ketchup and Mustard Push up Pops
The Partiologist – Ant on a Log
Kitchen Fun with My 3 Sons – Picnic Blanket Treats
The Baked Equation – Lemon Cookie Cake
The Decorated Cookie – Cookies on the String
Not Your Momma's Cookie – Ant Attack Cupcakes
Creative Fun Food – Picnic Blanket Sandwich
Pint Sized Baker – Picnic Cupcakes to Go
Roxana's Home Baking – Apricot Orange Kugelhopf
Created by Diane – Luau Pasta Salad
Munchkin Munchies – Checkerboard Tablecloth Picnic Cookies
Sugar Swings – Deviled Egg Mini Cakes
Trilogy Edibles – Chocolate Mousse
Sugarkissed.net – Watermelon Cupcakes
Haniela's – Roasted Chicken Green Bean Salad Sandwiches
and now… THE GIVEAWAY!!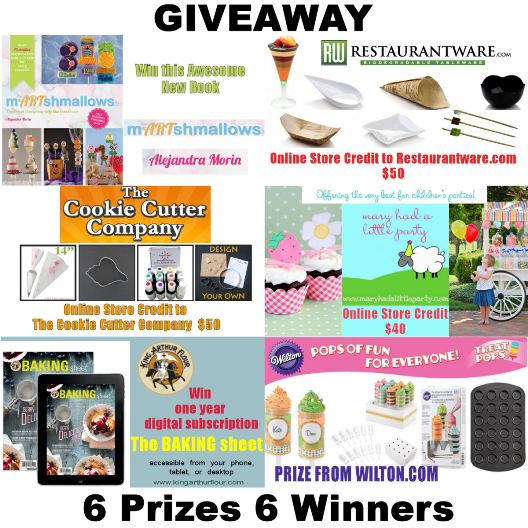 GIVEAWAY SPONSORS
Thank you to all the amazing Giveaway Sponsors. Be sure to check out their websites below.
The Marshmallow Studio
Restaurant Ware
The Cookie Cutter Company
Wilton
Mary Had a Little Party
King Arthur Flour
To enter giveaway please use the Rafflecopter below. Giveaway will run from July 20th, 2013 till July 27th, 2013. 6 Winners will be picked using the Rafflecopter widget. Prizes will be picked in the order of sponsors you see above, starting with The Marshmallow Studio and ending with King Arthur Flour. Winners will receive one email from hanielas@yahoo.com. Winners will have 48 hours to respond. New winner(s) will be picked if we don't hear from you. Thank you and good luck.