Disclosure: *This post may include affiliate links. As an affiliate, I earn from qualifying purchases.


WOW! OK, people, now I cry easily, so you know I was bawling when I turned on my computer and realized that the most awesome and sweet sweets bloggers created a virtual baby shower–in rainbow, my favorite and my first daughter's favorite, no less–just for me!!! Every time I think the blog world is too overwhelming, when the competition seems to be too much, I'm reminded of what goodness and kindness and thoughtfulness exists in the same place to completely smush anything negative. And now I have a bright, colorful, roundup of all that sweet goodness forever online for Violet to see as she grows older.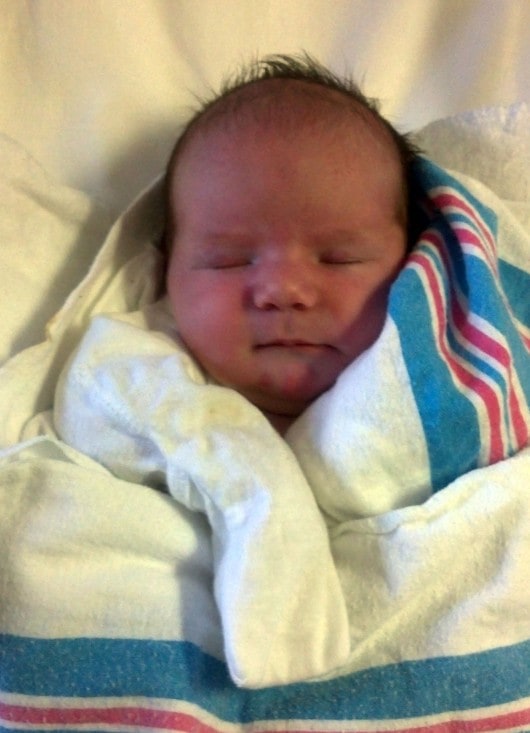 As many of you know who follow me on facebook, I gave birth to my second daughter a few days early. Violet Lake (Lake is my mom's maiden name), arrived on December 7th. She weighed in at 8 pounds 8 ounces (that's nothin', I was almost 10 pounds). She has super dark spiky hair and very cute, flat ears, both of which make me question her DNA. She has blue eyes, a big nose, skinny legs and an expression like she thinks the world is nuts, which sounds more in line with her genes.
A gigantic THANK YOU! to all these ladies for making my day today!! A special thank you, too, to Michelle at Sugar Swings and Kathia at Pink Little Cake for organizing such a colorful sweetfest!! I wish we lived in the same town so I could give everyone a big, non-virtual, teary-eyed hug. You've got to take the rainbowy tour, because these women are freakin' talented!!!
1. Vanilla Bean Baker – Baby's First Christmas
2. Not Your Momma's Cookie – Rainbow Swaddled Baby Cookies
3. Crazy for Crust – Rainbow Peanut Butter Cookie Cups
4. Dollhouse Bake Shoppe – Rainbow Sprinkle Sugar Cookies
5. Creative Food – Rainbow Pancakes
6. Hoosier Homemade – Rainbow Jar Cupcakes
7. Kitchen Fun with My 3 Sons – Rainbow Smores Pops
8. Pink Little Cake – Baby at the End of the Rainbow Cake
9. Love From the Oven – Rainbow Cake Pop Cupcakes
10. Munchkin Munchies – Rainbow Balloon Cookies
11. The Baked Equation – Rainbow Baby Shower Cookies
12. Sweetology – Marshmallow Baby Pops
13. Sugar Swings – Rainbow Madeleines
14. Pint Sized Baker – Rainbow Meringue Tarts
15. Bird on a Cake – Rainbow Petal Cake
16. Haniela's – Rainbow Centerpiece
17. Miss Candiquik – Marshmallow Baby Bottles