Disclosure: *This post may include affiliate links. As an affiliate, I earn from qualifying purchases.


Tiger King cookies because the world is currently obsessed with Joe Exotic, tiger villain.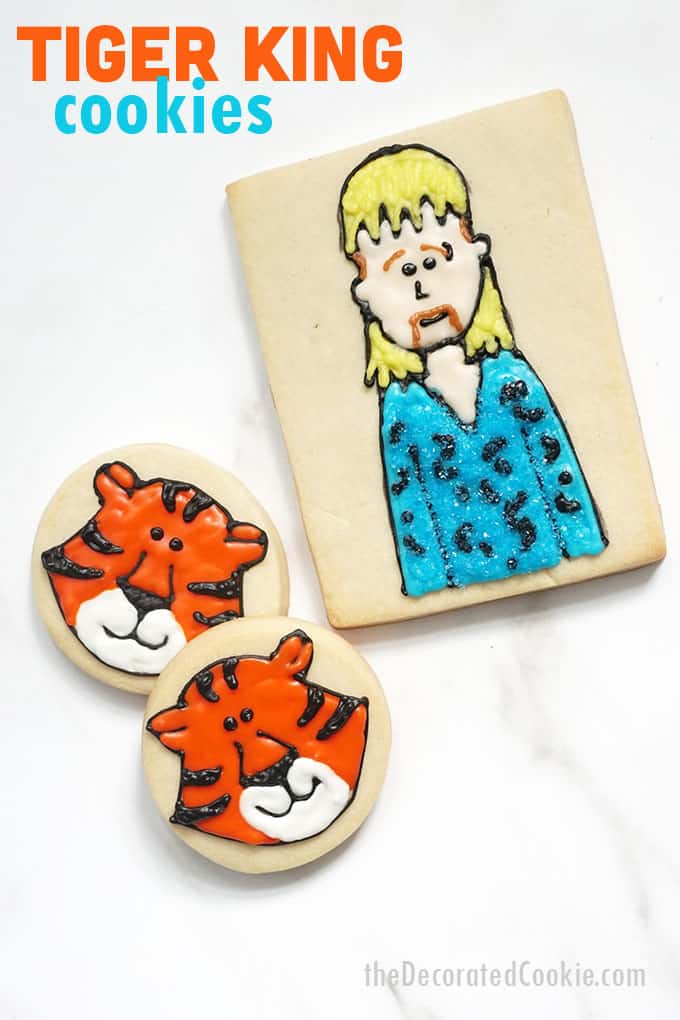 Tiger King cookies
To be clear, these Tiger King cookies are not to celebrate the man, Joe Exotic, but to bring attention to something greater, namely, the love and care of big cats.
As far as villains go, Joe Exotic is certainly fascinating. His kitsch is fun to mock, and I sanction the "mock" part only because he truly is a villain. Said kitsch makes for great TV, and exploiting that kitsch creates a community of kitsch-sharers, and hopefully THAT will bring awareness to the bigger problem.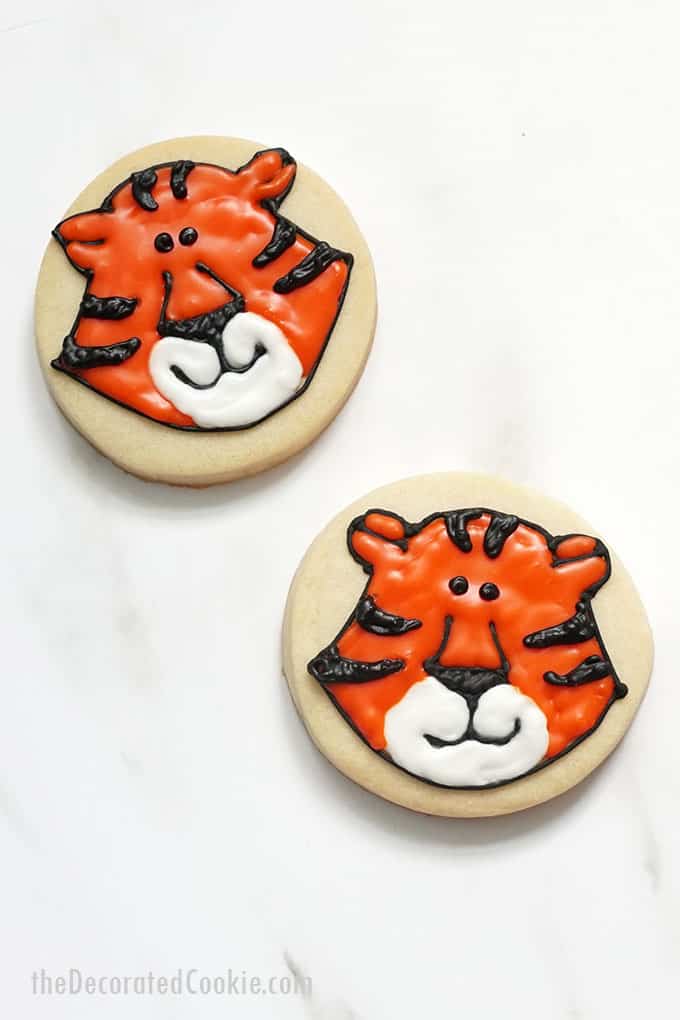 Tigers in the US
A friend of mine, a reporter for The Washington Post, spent a year studying and reporting on tigers in the US, which prominently included an inside look into Joe Exotic's tiger breeding operation. The story was published the year before Tiger King premiered. The true battle gets lost in the televised version in favor of the flamboyant characters that draw viewers: Who should be able to keep tigers and how tigers should be treated.
To read more, check out Karin Jacobson Brulliard's article, The Trouble with Tigers in America, HERE. You'll get the inside scoop on Joe Exotic, patchy oversight from the government, the constant breeding of tigers for their 100 days or so of cub-petting value, and yes, Carole Baskin.
This Q and A with Brulliard and the Tiger King directors is also a must-read. Before she can finish the question of whether Joe loved his animals, one director responded with "Of course not."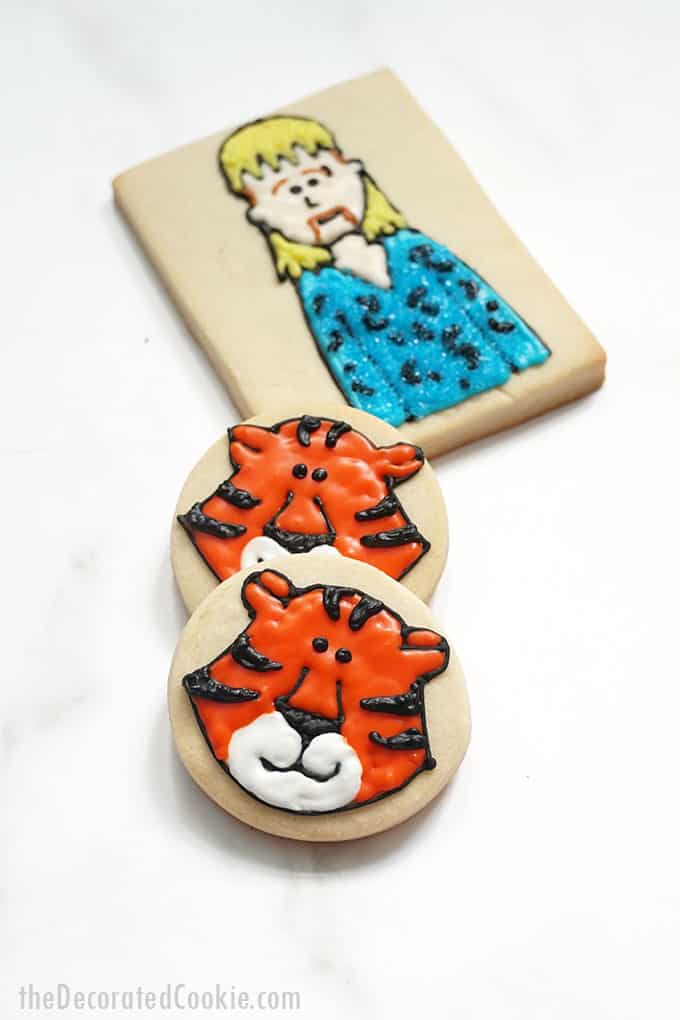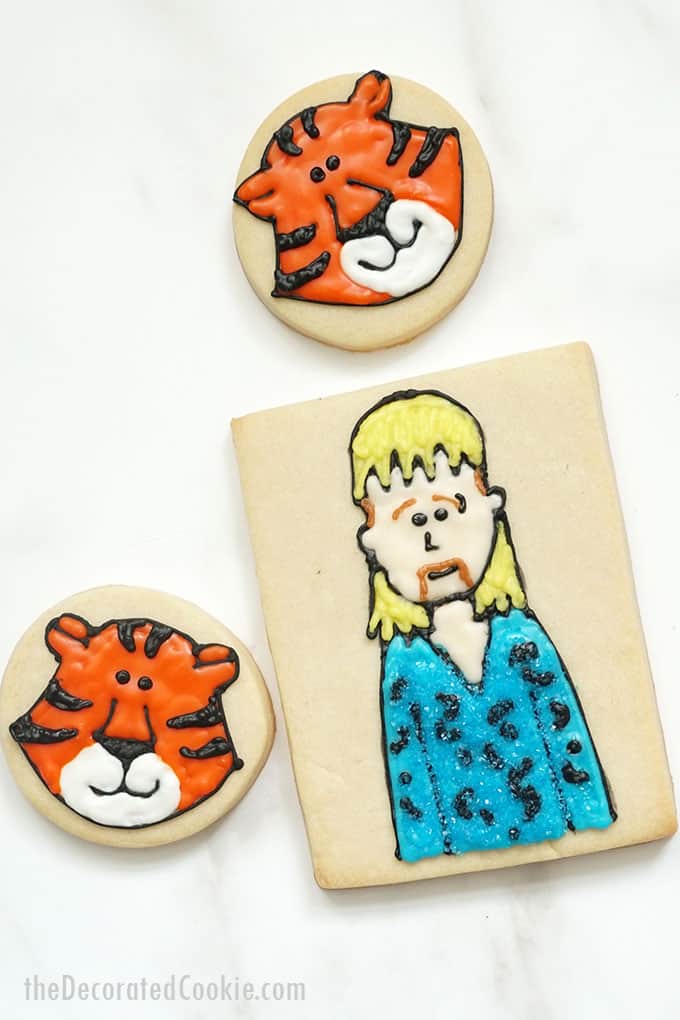 how to decorate cookies
But on to the cookies. Below are some general how-tos for decorating.
you will need:
*colors used here are Super Black, Orange, Bright White, Peach, Sky Blue, Chocolate Brown, Lemon Yellow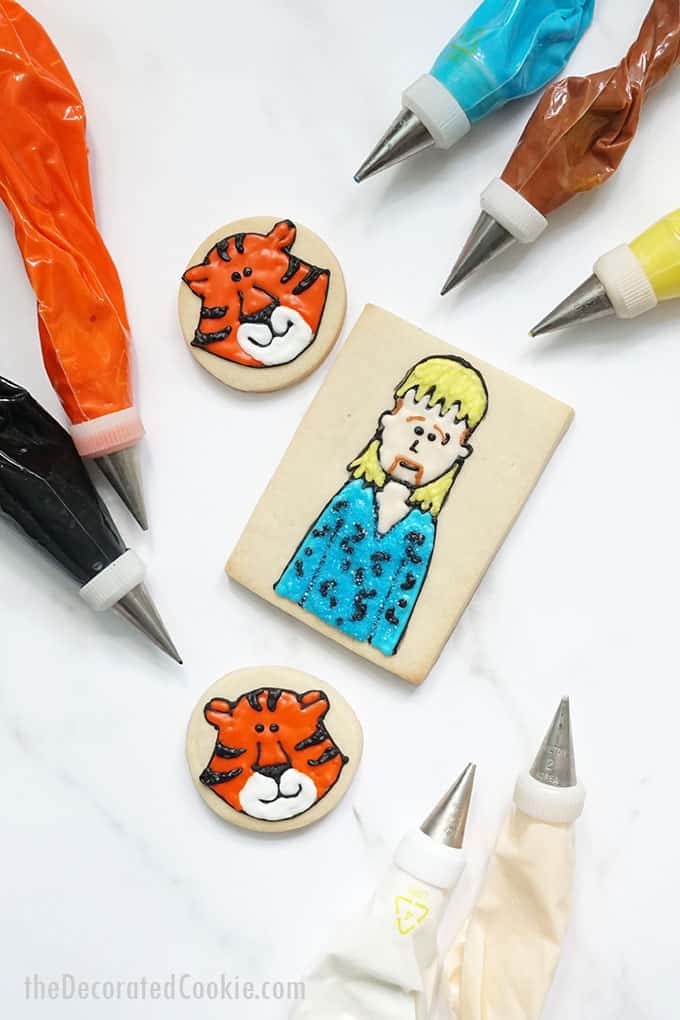 what to do:
Prepare the cookie dough according to the recipe. Chill, roll out, cut out shapes, bake, and let cool.
Prepare royal icing according to the recipe. Divide and tint colors. For most of the colors, I added drops of water until achieving an "in-between" consistency, that is, if you overturn a spoonful, the icing lines disappear in 15 to 20 seconds, and it's used for outlining AND filling. I made the black, yellow, and brown a bit thicker, so it held its shape.
If you like, draw the design with a black food coloring pen. Pipe with black to outline. Use any tips that work best for you. I outlined and added small details with a 1 tip. For filling, I used the 2 and 3 tips. Let the outlines set before filling. Let the filling set a bit before adding details on top.
For Joe's jacket, I used blue and black icing and covered with blue sprinkles.