These zombie mason jars (with FREE brains printable!) are a great Halloween decor idea or fun container for packaging Halloween treats.
Halloween mason jars
These zombie mason jars are pretty scary, huh? Especially with an unobstructed view of brains. BRAAAINS!! For your Halloween party, The Walking Dead viewing, an impending apocalypse, or just for every day scaring, this easy mason jar craft has you covered.
zombie food ideas
Need more zombies? (Who doesn't?) Make some zombie candy pops or zombie pretzels to match. Or try zombie cookies, zombie marshmallows, or zombie chocolate chip cookies.
video how-tos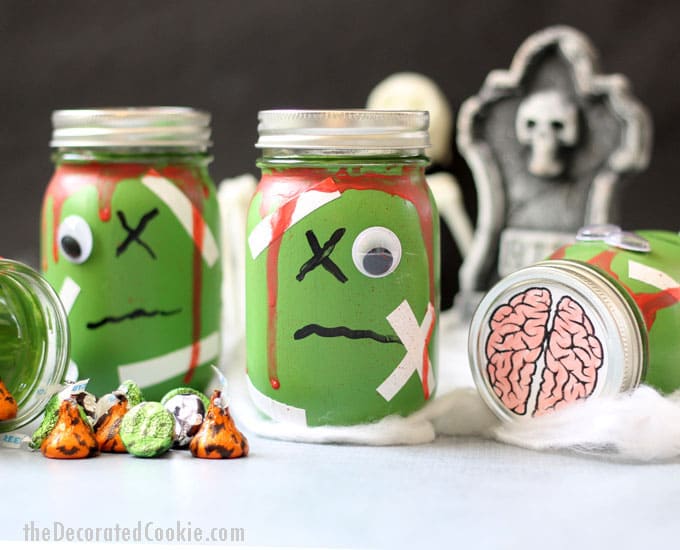 tips on paint
These scary Halloween mason jars use easily-available supplies, and you can add more or less of anything to create your own zombies. Here, to paint the mason jars green (you may also try purple or gray), I used simple acrylic craft paint, available from the craft store. For a more permanent paint, consider using acrylic enamels or chalk paint, also available from the craft store, both of which work very well on glass surfaces.
I stuck with acrylic craft paint because I figured if the paint chipped away over the years, the effect would be even more zombie-like.
The provided free brains printable is optional, but I think it adds a perfect finish. As long as the paint and decorations are toxic-free, you can use these jars for giving Halloween treats, or fill them with scary toys.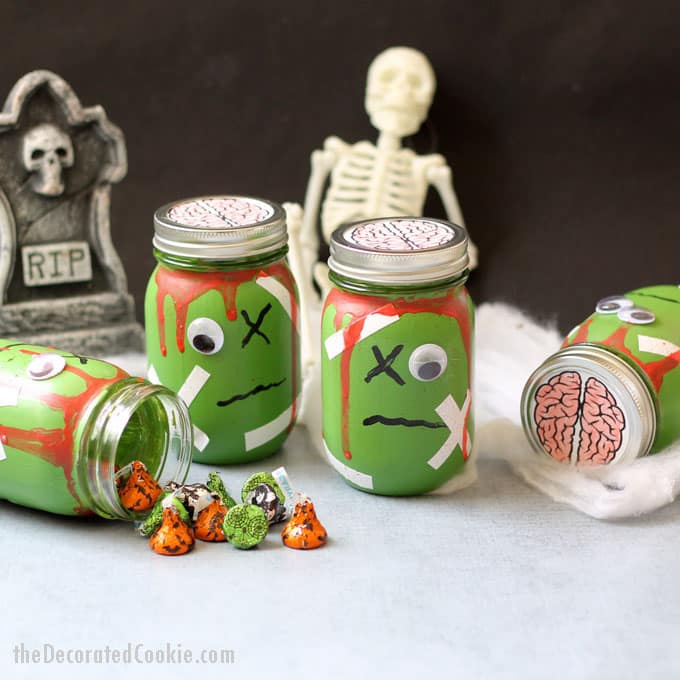 how to make zombie mason jars
you will need
Paint the mason jar with green paint. Let dry completely. You may need to use 2 to 3 coats of paint.
Use the hot glue gun to attach one or two googly eyes. With the black paint, paint an "X" for an eye and paint a mouth or any other marks you'd like to make. Cut strips of white duct tape and adhere to make "bandages."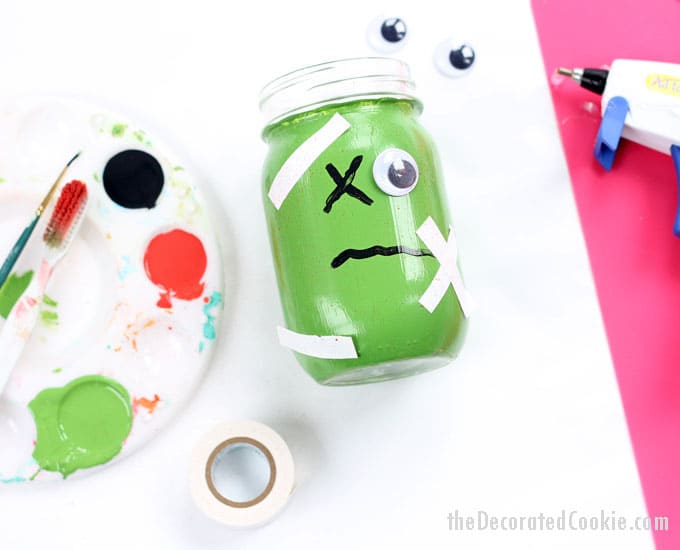 For the dripping blood, mix a few drops of red paint into some school glue. Use the stick or straw to drape the glue mixture around the top of the mason jar, just under the lid. Let the glue mixture drip down the sides of the jar.
If desired, dip a toothbrush in red craft paint and use your thumb along the brush to splatter red paint on the jars.
Let dry completely.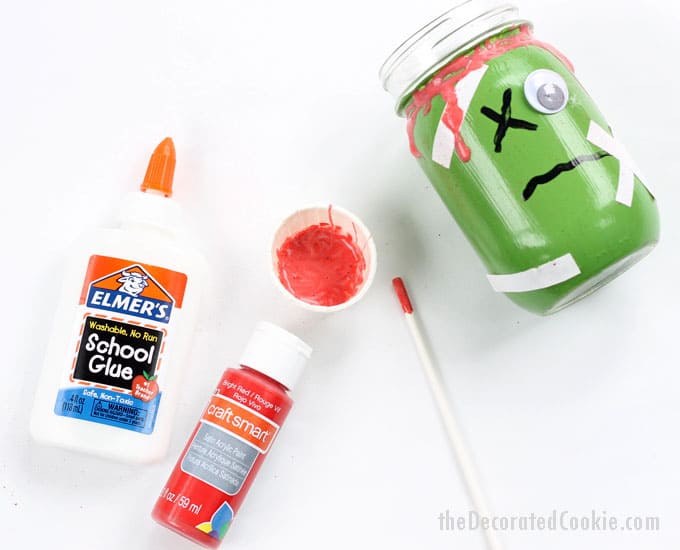 Print the printable on the cardstock paper and fill the brains in with the marker. Cut out the circles and attach to the mason jar lids.
Fill with Halloween candy or spooky toys.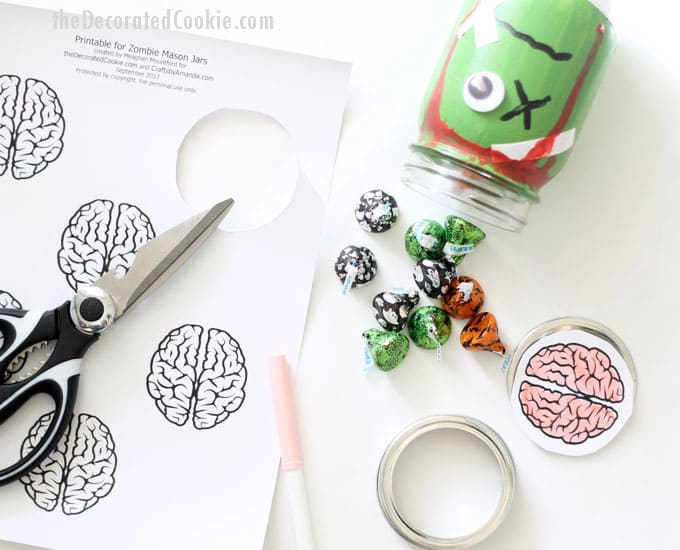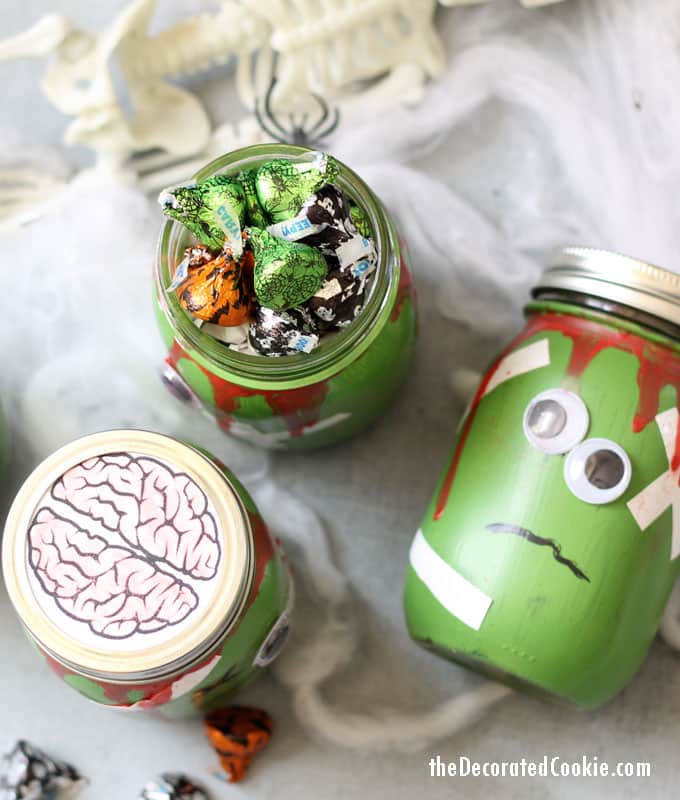 This craft for zombie mason jars also appears on Crafts by Amanda.