Disclosure: *This post may include affiliate links. As an affiliate, I earn from qualifying purchases.


Bite-size superhero cookies are a fun decorated cookie idea for a superhero party or your superhero fan.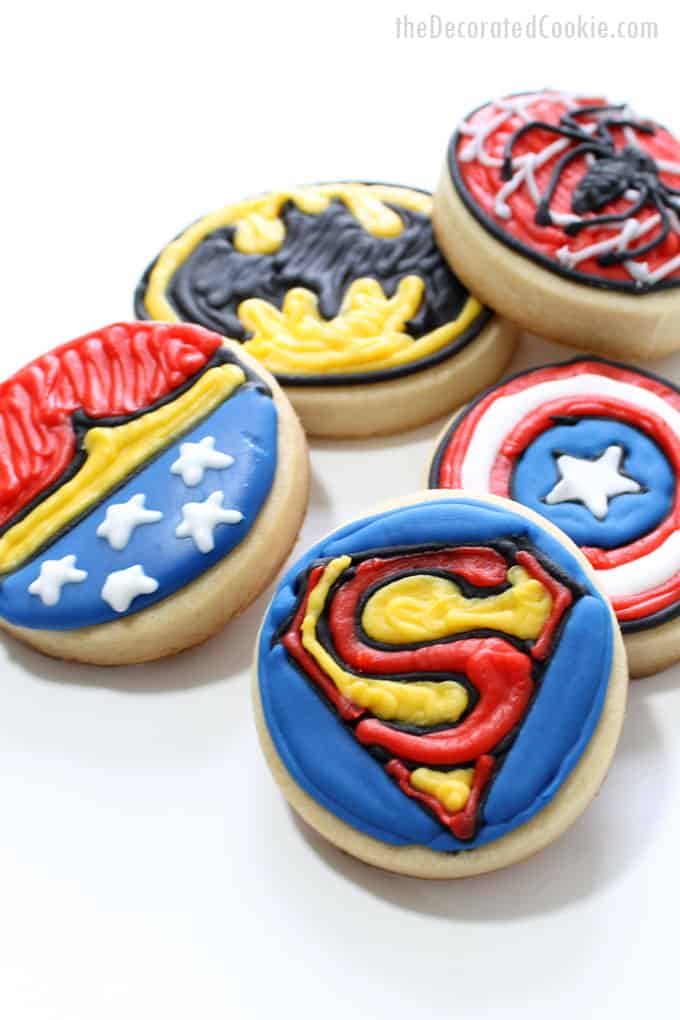 superhero cookies
I'm knee deep in planning lots of Sugarlicious events! But I'm taking a break to share these little superhero cookies.
Even though I pretty much always feel like I'm 13 (in that awkward middle school kind of way), I'm definitely well into grown-up territory where gift-giving becomes difficult. Everyone already has everything they need and if they don't, they tend to buy it themselves. So each year for my brother's birthday, I send him cookies. I think it works out well for both of us.
And it isn't too difficult to pick a theme. Superheroes and Star Wars tend to reign supreme. I'm sure his interests are much more developed and varied, but I don't know what heroes rule the cartoons in the year 2012 and I don't know what modern movie rivals Star Wars (really, can anything?), though my brother surely does. So I play it safe and stick with the more long-standing passions.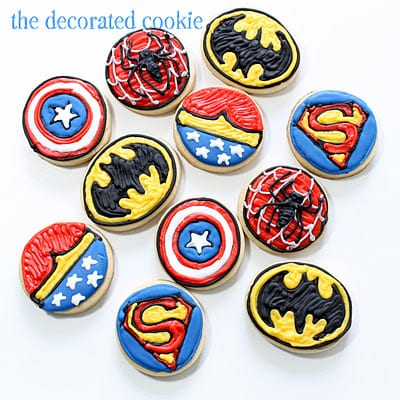 I'm always a fan of bite-size cookies. Something about the cute factor? Or portion control? These shown are only about two inches. And just in case you're not up on your Superheroes, these are supposed to be Batman, Superman, SpiderMan, Wonder Woman (for my nieces) and Captain America. I remember my brother once saying that SpiderMan was his favorite Superhero, of course, because "he's the most realistic." Aah, brothers.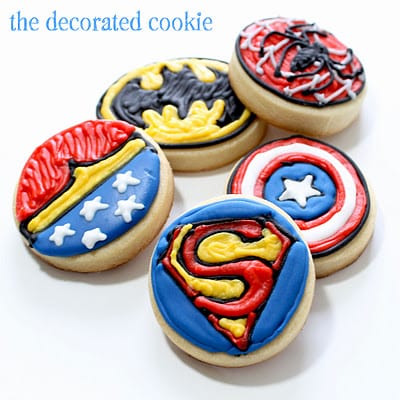 If you like these, you'll love these easy superhero marshmallows. Or check out this roundup of Wonder Woman food ideas.
how to make superhero cookies
you will need:
*For tips on finding cookie decorating supplies, click here. For BASIC COOKIE DECORATING instructions, click here.
what to do:
Prepare cookie dough, chill, cut out circles, bake, and let cool. Prepare the royal icing and divide. Tint red, black, yellow, white, and gray (just a drop or two of black coloring). Prepare decorating bags with couplers and tips, fill with icing, and close tightly with rubber bands.
To decorate the Wonder Woman cookie:
Outline the belt with the black with a 2 tip. Let set. Pipe to fill the top with red, the belt with yellow, and the bottom with blue using size 3 tips. Pipe white stars on top of the blue with a size 2 tip.
To decorate the Bat Man cookie:
Outline the cookie with the black. Pipe and fill the bat with black. Fill in the circle with yellow.
To decorate the SpiderMan cookie:
Outline the cookie with black. Pipe to fill with red. Pipe the web using a 2-tip gray icing. Pipe the spider on top with a black 2-tip.
To decorate Captain America cookies:
Pipe an outline on the circle cookie, another circle in the center, and the star in the center. Pipe two rings with red. Pipe inside the rinds with white and fill in the star. Fill in the rest with blue.
To decorate SuperMan cookies:
Pipe the emblem with black using a 2-tip. Pipe just inside the emblem with a red 2-tip. Fill the "S" with red, and the rest of the emblem with yellow. Fill the rest of the cookie with blue.