Disclosure: *This post may include affiliate links. As an affiliate, I earn from qualifying purchases.


Candy clay Christmas Oreos: Decorating store-bought white chocolate covered Oreos for Christmas with candy clay is the easiest thing ever.
Christmas Oreos
These Christmas Oreos are simple to make using candy clay.
I started with the store-bought white fudge Oreos (unfortunately, only Seasonal, though I'd like to petition Oreo to have them year-round) and added some candy clay accents.
You can add any accents you like, tree-shapes, holly, lights, Santa, whatever. I made wreaths and stripes.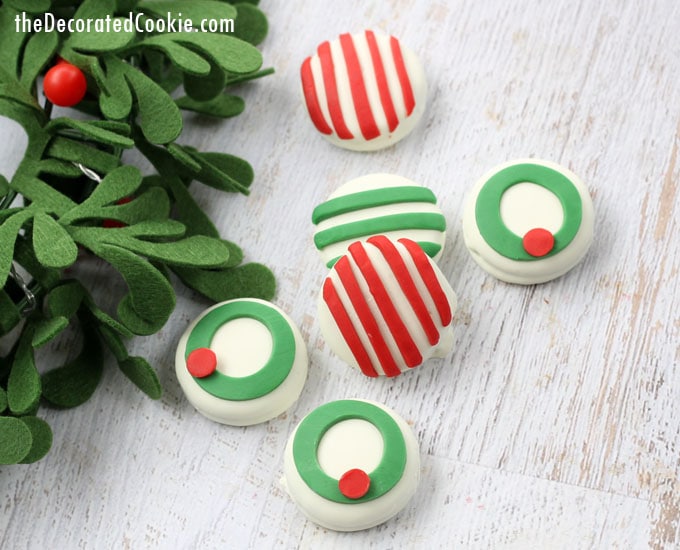 candy clay
OK, so you know how you've been searching for something that looks and acts just like fondant with all its perfect smoothness, malleability and crafting possibility but actually tastes, er, GOOD?
So I have the answer for you. It's CANDY CLAY. It tastes like chocolate and it's kind of like a Tootsie Roll consistency.
And, if you make it right, it's the easiest thing ever to work with. IF you make it right.
A few months ago, I had the good fortune to join Beth of Hungry Happenings in her very own kitchen to make candy clay.
In short, candy clay is a 12-ounce bag of candy melts, melted, with 1/4 cup of light corn syrup. That's it.
And you get edible Play-Doh. To make perfect candy clay, check out this post at Hungry Happenings. But for best results, I absolutely positively recommend Beth's book all about the ins and outs of candy clay.
(By the way, this is NOT a sponsored post. I was not paid at all to write this, I just really like this book and Beth's how-tos on making candy clay.) It goes over every single detail clearly so you make flawless candy clay every time.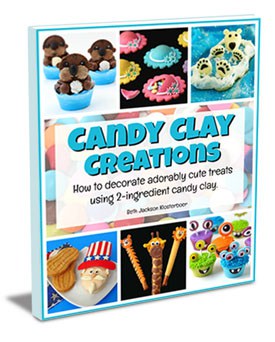 BUY CANDY CLAY CREATIONS HERE. (This, is one of my affiliate links.)
Oreos
But, on to OREOS. I decorated these store-bought white chocolate covered Oreos (limited edition, although I wish they were in stores year-round) very simply with red and green candy clay.
You can also cut triangles for Christmas trees. Or cut any shapes you like to decorate. It's easy peasy.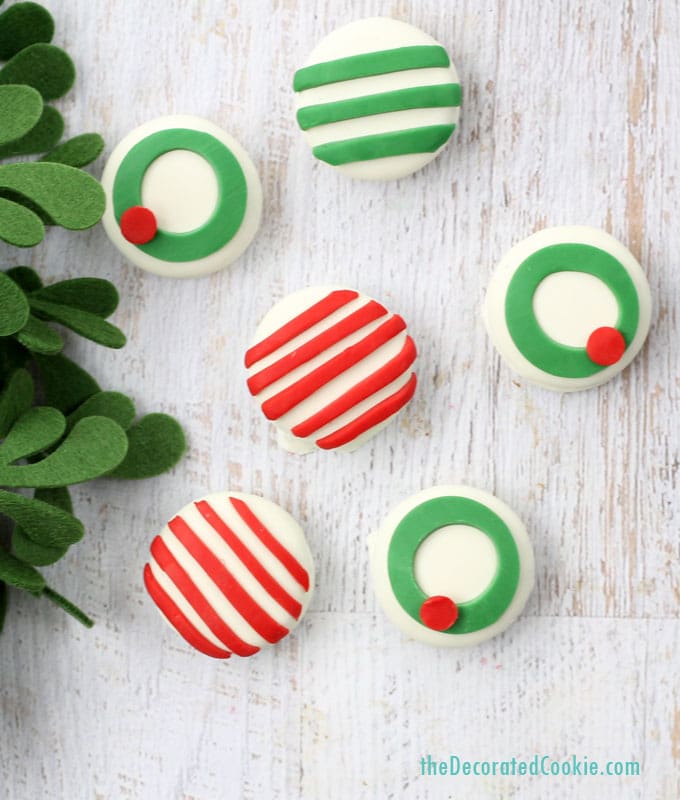 how to make candy clay Christmas OREOS
you will need:*
red and green candy clay
circle cookie cutters
plunger cutter
silicone mat (optional)
rolling pin
light corn syrup
what to do:
Roll out the candy clay on the silicone mat. If you don't have a mat, get one, they rock.
But if you don't get one, you can roll between wax paper or use confectioner's sugar to prevent sticking.
Cut out your shapes and adhere to the Oreos with dabs of light corn syrup.
For the wreaths, I used a 1 1/2 inch circle to cut out green candy clay, then used a 1-inch circle to cut out the inside. I used a circle plunger to make a red dot.
For the stripes, I cut out 2-inch circles and used a pizza cutter to make stripes. Just don't use the pizza cutter on the silicone mat as it can damage it.