Disclosure: *This post may include affiliate links. As an affiliate, I earn from qualifying purchases.


How to decorate carnation flower cookies on a stick with fondant, a fun food idea for spring.
carnation flower cookies
As I've mentioned before, I have little luck with growing things.
Cut flowers I can manage, as their fate has been determined before I put them in my vases.
And I almost always have cut flowers in vases, it's one of my indulgences. So I was thrilled to be a part of the Let's Smell the Flowers collection of cookie flowers created by cookie genius Haniela.
Scroll to the end of this post to see the collection of 19 incredible cookie flowers by 19 incredible cookie decorators.
As you can see, I made carnation flower cookies.
carnation flower cookies
I chose carnation flower cookies. Why? Because carnations get a raw deal.
I suppose because they are seen as common, ordinary. The general presumption is if a man gives you carnations then he is clueless (think of that Sex in the City episode when Carrie is on the rocks with Berger).
But carnations are such full flowers, inexpensive, durable and pretty. I think it's time to reevaluate the carnation.
I buy them all the time to fill the vase on my cabinet and I put them there with pride, dagnabbit.
So I chose to glorify the carnation.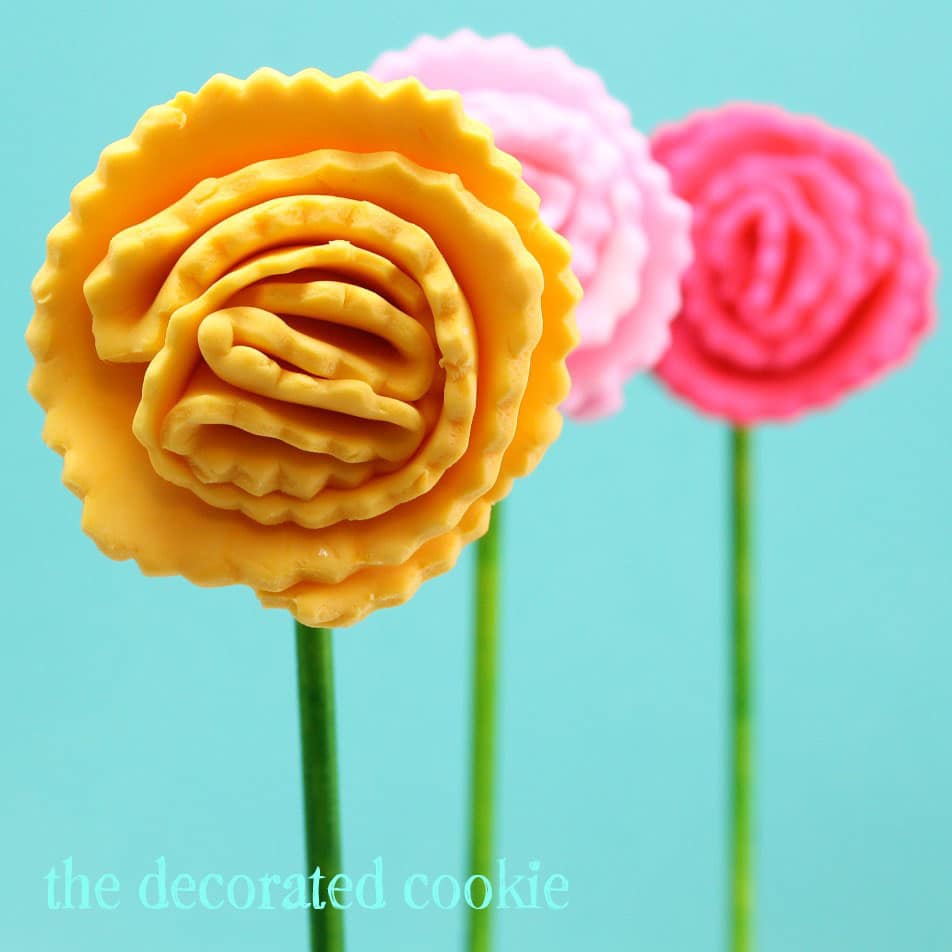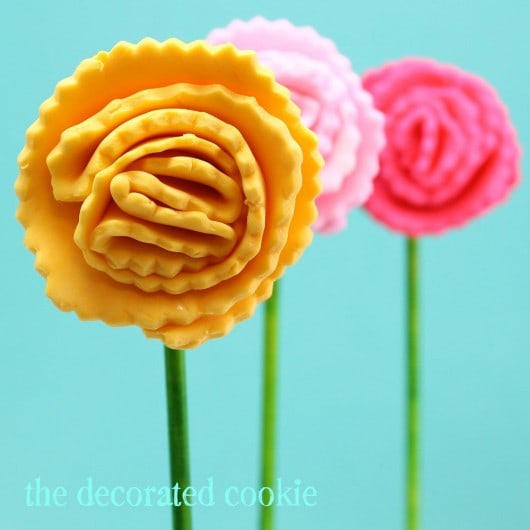 To make these I used the same method I used to make these gerbera daisies cookies.
And as I mentioned in that post, a big flower made of fondant on a little cookie is a whole lotta sugar, so I think I'll pick off the flower and hand it to my sugar-starved kid and eat the cookie and icing part myself.
It took a good bit of fiddling to come up with the signature ruffle look of a carnation, and my end result is still a bit too rose-like, perhaps. But alas, I like them anyway.
And these are also comically top-heavy, so arrange them with caution.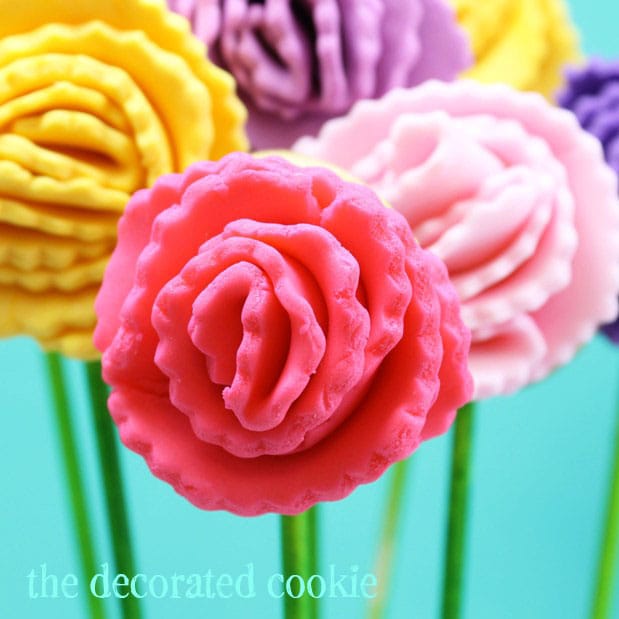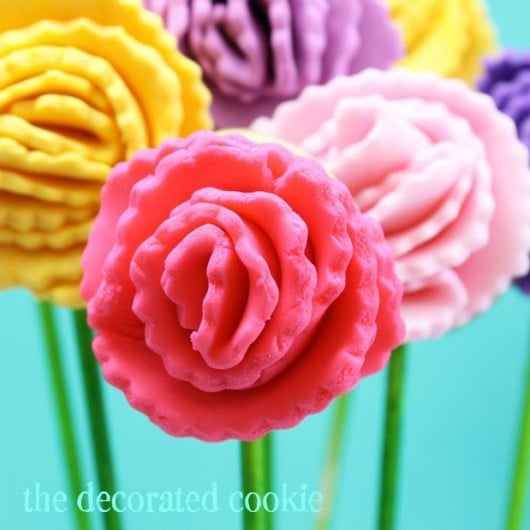 how to make carnation flower cookies
you will need:*
fondant

1 1/2-inch cookie cutter

lollipop sticks

food coloring

wax paper

rolling pin

pinking shears

light corn syrup

small paintbrush

decorating bag

coupler

size "4" decorating tip

rubber band
cookie decorating tips
*For fondant, use store-bought or make your own fondant.
For the food coloring, I suggest Americolor Soft Gel Pastes (Electric Green, Electric Pink, Electric Purple and Egg Yellow used here).
Find the cookie cutter, lollipop sticks, paintbrush, pinking shears, decorating bag, coupler, and tip at the craft store.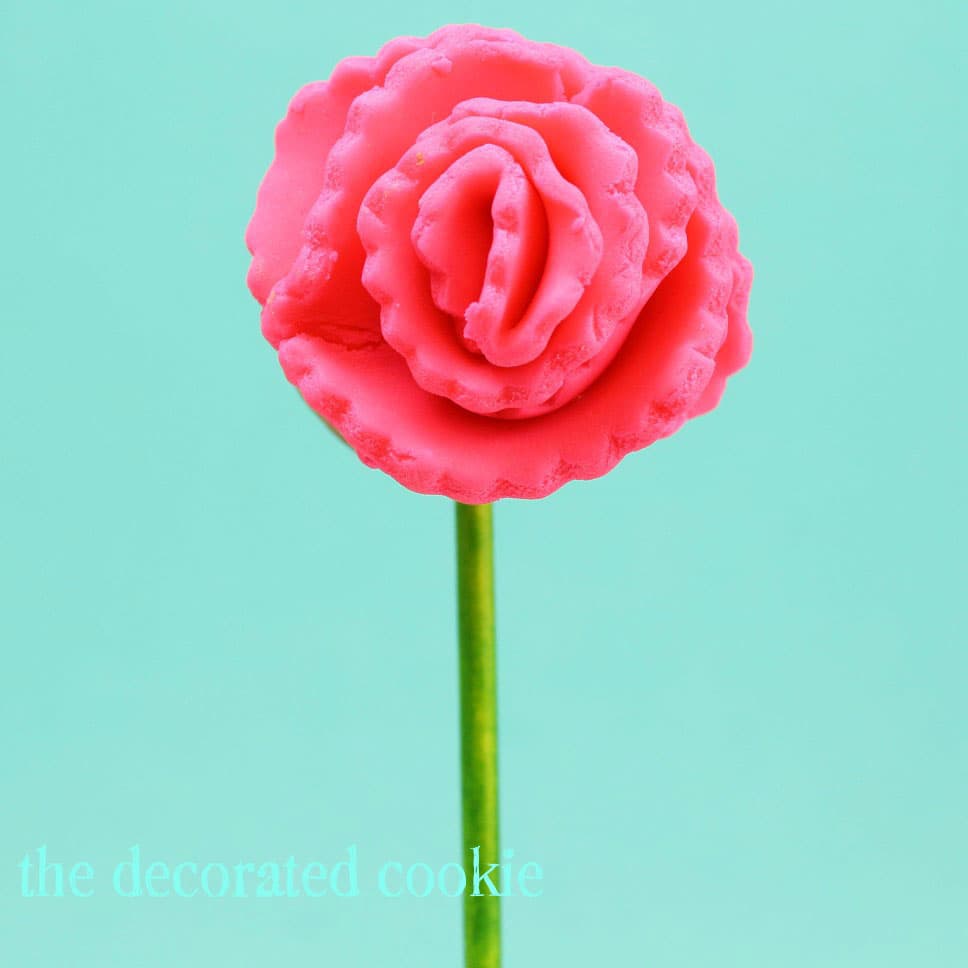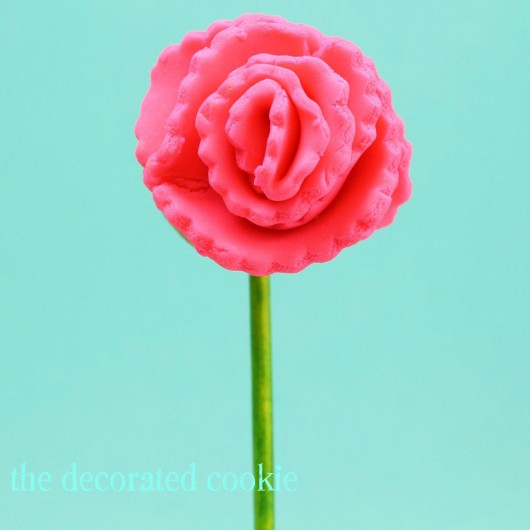 step one: make your fondant carnations.
You can make these the day before, if you prefer. Prepare fondant, divide and color.
Choose any colors you like for carnations.
To tint fondant, add a drop or two of food coloring to a palm full of fondant and knead well until desired color is reached.
For darker colors, add more coloring. The fondant should be easily pliable. If it becomes sticky when kneading, let rest at room temperature uncovered for 15 minutes until easily pliable.
To prevent drying, wrap unused fondant well in plastic wrap.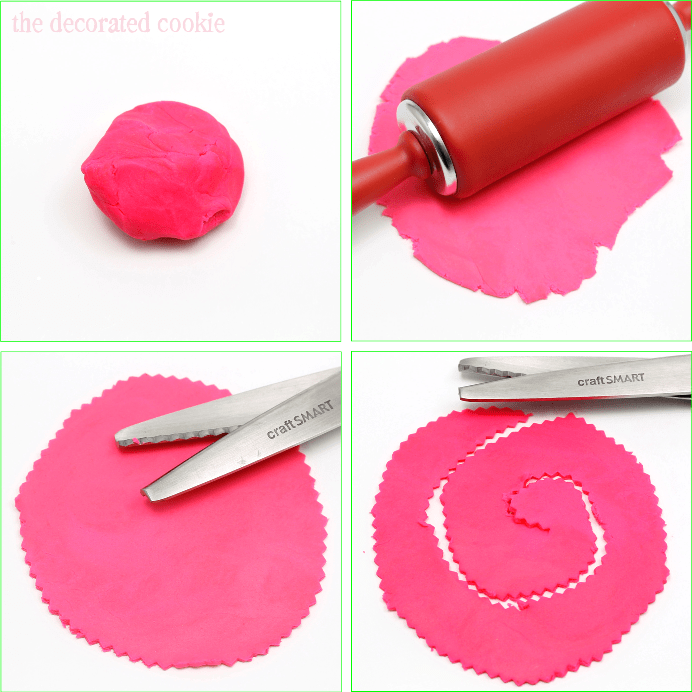 Take a ball of fondant about two-inches across.
Roll the fondant thinly between two pieces of wax paper, about 1/8-inch thick. Cut out a circle (about 3 inches in diameter) with pinking shears.
Next, cut a spiral in the circle with the pinking shears.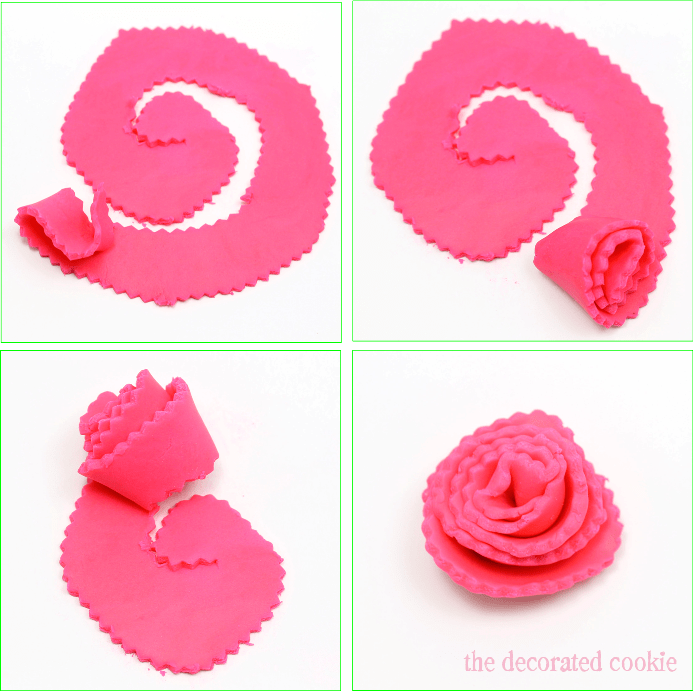 Starting at the outside, roll the fondant around the spiral to the center, using dabs of light corn syrup as glue.
When you first start rolling from the outside, make a few fan-like bends to form ruffles in the center.
Secure the end with light corn syrup and place on a baking tray lined with wax paper.
Use your fingers to gently stretch and pull the layers a bit to form more natural waves and ruffles. Let dry.
step two: make your cookies
Prepare cookie dough according to the recipe, chill, roll out about 3/8-inch thick and cut out circles.
Insert lollipop sticks and bake according to the recipe. Let cool completely.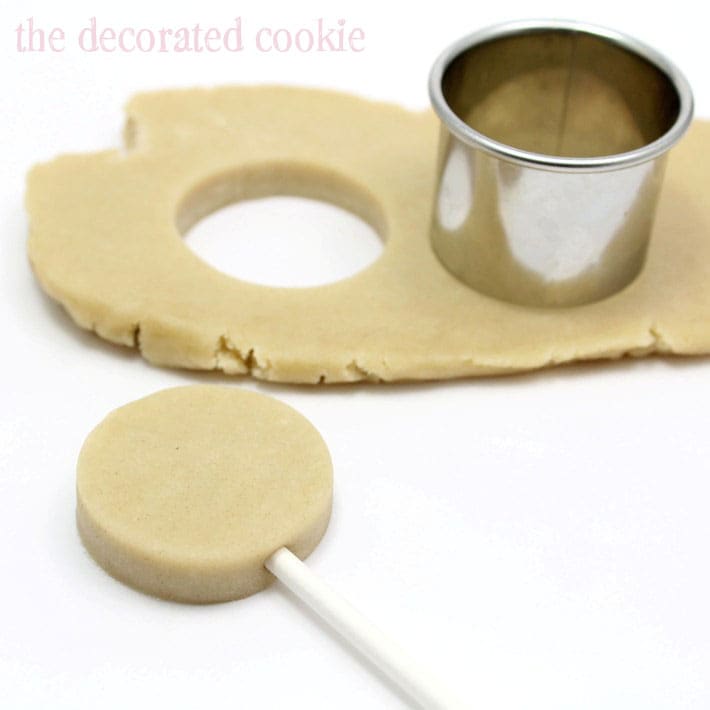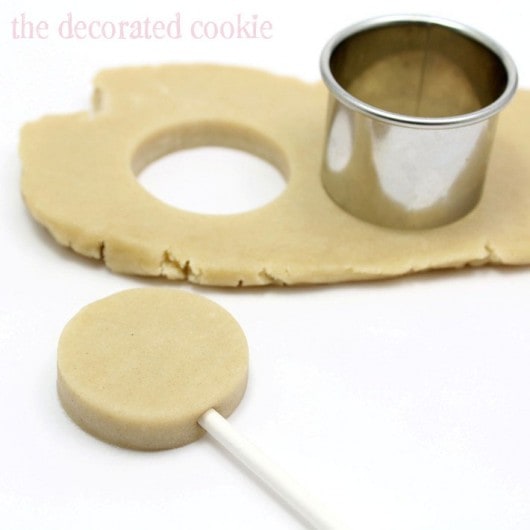 step three: paint the sticks
Mix a couple drops of green food coloring with a drop or two of water on a piece of wax paper. Use a paintbrush to paint the lollipop sticks and let dry.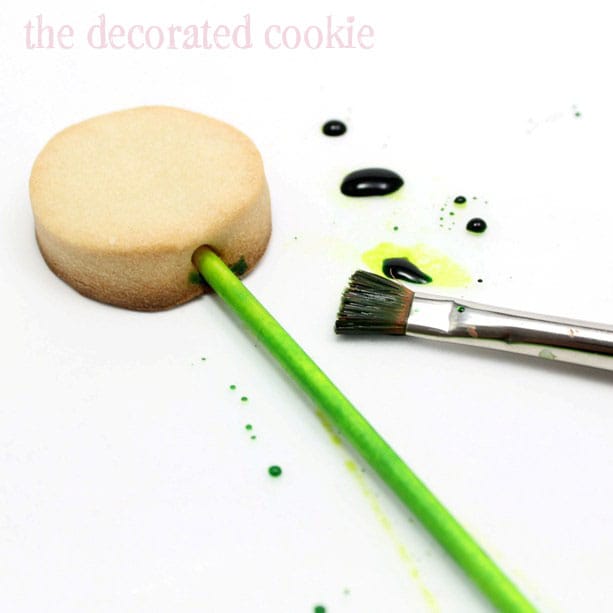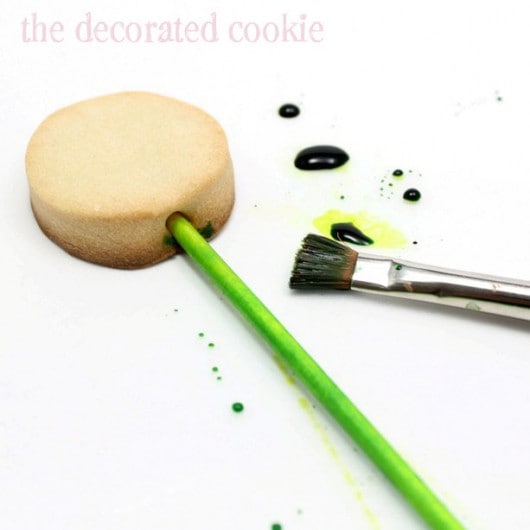 step four: prepare your icing
Prepare royal icing according to the recipe and tint lime green. Prepare a decorating bag with coupler and tip, fill with icing and close tightly with a rubber band.
step five: assemble your flower
Pipe a circle of green icing on a cookie (don't worry about precision since these will be covered with flowers) and place a flower on the icing. Let dry well.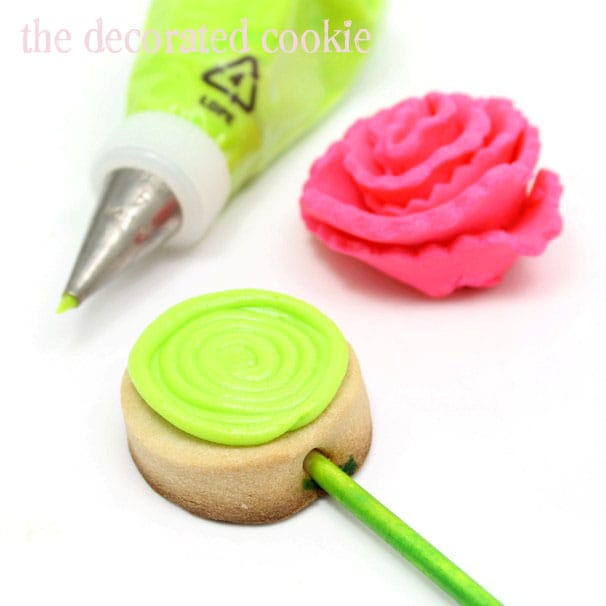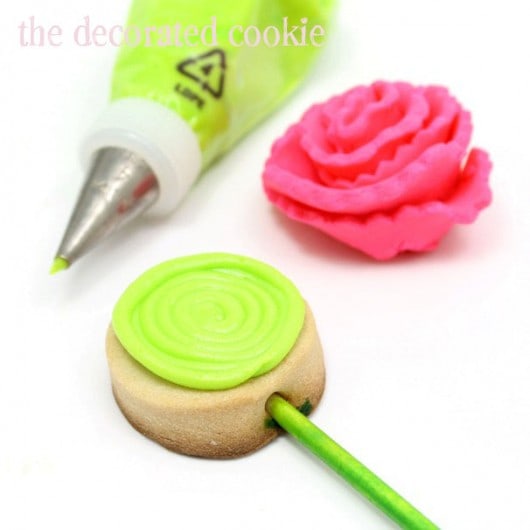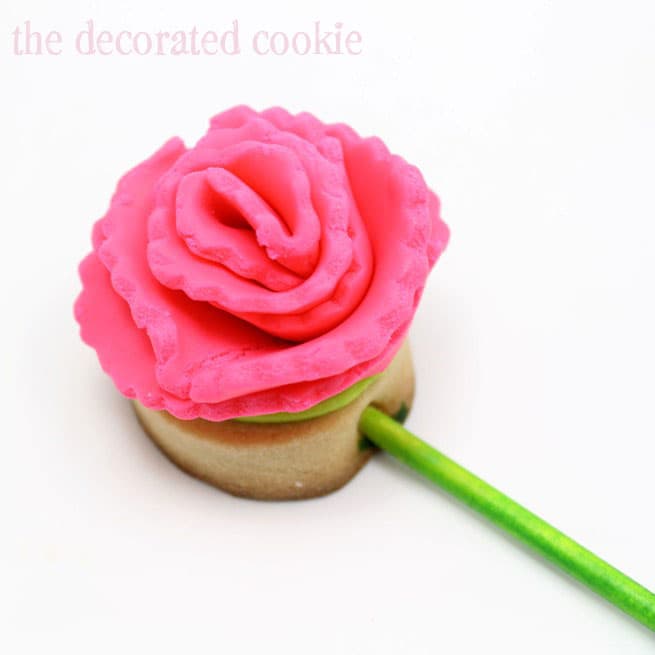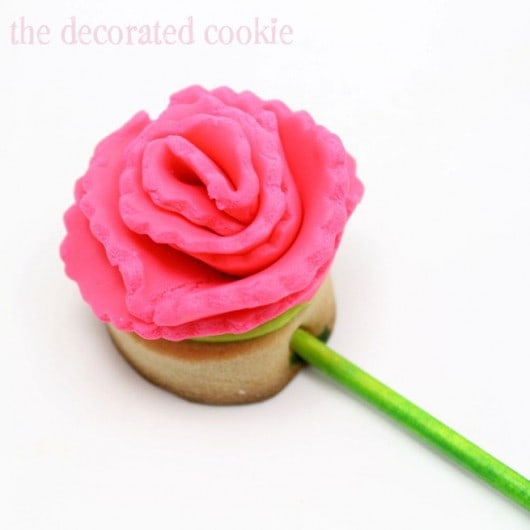 And now, want to see the collection of cookie flowers??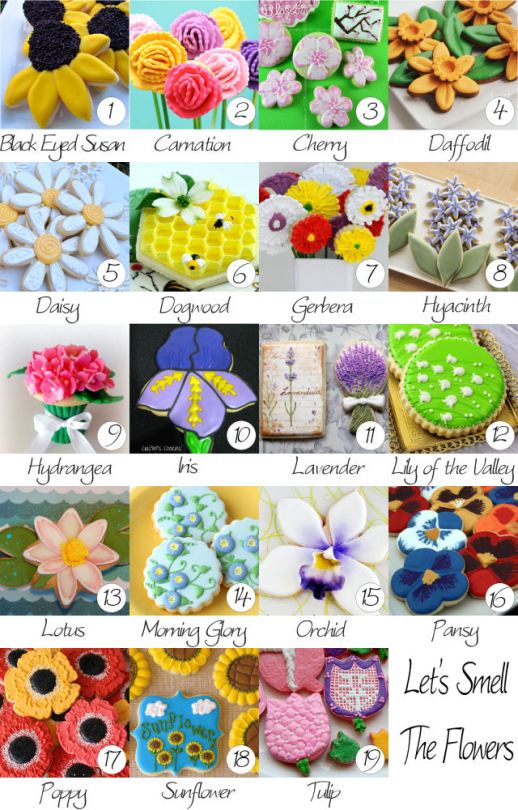 Visit each of these blogs today for the tutorials for each of the gorgeous cookie flowers:
1. Black Eye Susan by Lisa, The Bearfoot Baker
2. Carnation by Meaghan, The Decorated Cookie
3. Cherry Tree Flower by Pam, Cookie Crazie
4. Daffodil by Georganne, LilaLoa
5. Daisy by Stephanie, Ellies Bites
6. Dogwood by Marian, Sweetopia
7. Gerbera by Paula, Vanilla Bean Baker
8. Hyacinth by Amber, SweetAmbs
9. Hydrangea by Kim, The Partiologist
10. Iris by Cristin, Cristin's Cookies
11. Lavender by Liz, Arty McGoo
12. Lily of The Valley by Hani, Haniela's
13. Lotus by Marlyn, Montreal Confections
14. Morning Glory by Glory, Glorious Treats
15. Orchid by Ali, Ali Bee's Bake Shop
16. Pansy Nicole, Life's A Batch
17. Poppy by Callye, SweetSugarBelle
18. Sunflower by Bea, Cancun Cookies
19. Tulip by Lorriane, LorrainesCookies
Thank you, Haniela, for orchestrating such a pretty, fun collection!!