Disclosure: *This post may include affiliate links. As an affiliate, I earn from qualifying purchases.


candy cookies
For those that can't decide between candy and cookies… make candy cookies. The perfect combination. These cookies are decorated to look like candy: Swedish Fish and gumdrops.
Q.
Can you spot the cookies?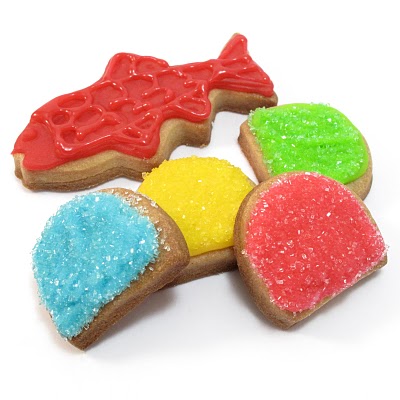 how to make Swedish fish and gum drop cookies
you will need:*
cut-out cookie dough AND royal icing
cookie cutters
food coloring
disposable 12-inch frosting bags
couplers
decorating tips (sizes 2, 3 and 4)
rubberbands
assorted colors of fine sprinkles or sanding sugar
*For the cutters, I used a 3″ goldfish (I think I got it here)and a 1 1/2″ circle. Find tips on finding cutters here. Find the cookie decorating supplies, including the sprinkles or sanding sugar, and possibly the cutters, at most craft stores. You'll need one bag, coupler and tip for each color, plus a few extra decorating bags. I use Americolor soft gel pastes (Red Red, Sky Blue, Egg Yellow, Electric Green, Electric Pink). For the sprinkles or sanding sugar, pick colors that coordinate with the colors you want for your gum drops. You don't have to match exactly, just coordinate (I used hot pink frosting with light pink sprinkles, for example). Find tips on finding cookie decorating supplies HERE.
step one: bake your cookies
Roll out cookie dough according to recipe and cut out fish and circles. For the gum drops, I cut off the bottom 1/3 of a circle.
step two: prepare your icing
Prepare icing and color with the coloring. You'll need red for the fish, white for the button backgrounds and assorted colors for the gumdrops and buttons (make the most, at least one cup each, of red and white. Use the same colors for the gumdrops and buttons to save time. I used blue, lime green, yellow and pink, but you can use whatever colors you like, or to match the sprinkles you find, such as red, orange, purple, etc.) Prepare one frosting bag with a coupler and tip (see decorating instructions for tips on which numbers to use for each color) for each color you have, reserving about 1/2 cup of red and 1/2 cup of white in covered bowls. Tie bags closed tightly with rubber bands.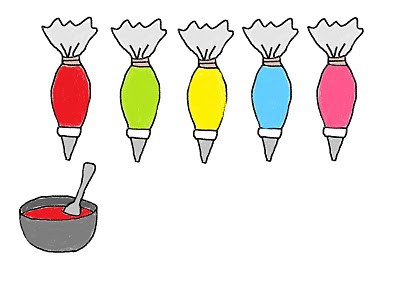 step three: decorate your cookies
For the fish: Outline fish with red using a 3 tip. Let set about 20 minutes. Thin reserved red frosting with water, a few drops at a time, until it's just thin enough to slowly pour from the spoon. With a spoon, squeeze bottle, or an empty frosting bag with about 1/4 inch snipped at the opening, pour the thinned frosting in the center of the fish and let flood to hardened outline, encouraging with the back of a spoon or small knife as necessary. Let stiffen well, at least 2 hours. Switch tip on your bag of red frosting to size "2". Pipe the fish outline on top of the flooded icing.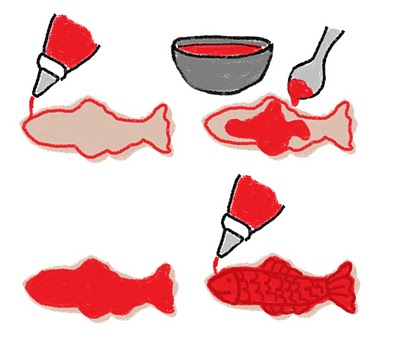 For the gumdrops: Work with one gumdrop at a time. Pick a color of frosting and with a size "4" tip, pipe a gumdrop outline and pipe back and forth to totally fill the gumdrop. Immediately sprinkle a coordinating color of sprinkles generously over gumdrop. Turn over to remove excess.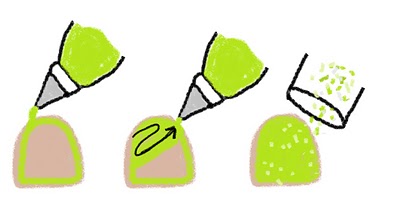 A. In case you really can't spot the cookies: