Disclosure: *This post may include affiliate links. As an affiliate, I earn from qualifying purchases.


pink princess cupcakes
So the other day I ask my daughter, "What do you want to do?" (expecting the response to be along the lines of "playground" or "draw"). "Make pink cupcakes." The specificity of the answer is what readily made me accept this plan to make cupcakes an hour before dinner.
I think they read Pinkalicious in school. And since she's all about princesses, they became pink princess cupcakes.
how to make princess cupcakes
To make the cupcakes,
I found a box of yellow cake mix, added a few drops of Americolor Electric Pink soft gel paste to the batter, and got these toxic pink results.
A few drops of the same to a quick batch of buttercream (blend one stick butter, a few cups of powdered sugar, a bit o' vanilla extract and as much milk as is needed to get your desired consistency), and we had pink frosting. And as she was wearing her Cinderella outfit when she asked me to make said pink cupcakes
(I should note, she's never even seen a Disney princess movie, but adores the Wizard of Oz and emulates Glinda, the Good Witch, aka, a princess) I later had to top the cupcakes with some princess accessories.
how to frost cupcakes
To frost the cupcakes, I put my buttercream in a disposable frosting bag fitted with a coupler and a Wilton star tip (find all those at the craft store), and piped the frosting on top of the cupcake (start in the center, move out to the edge, and pipe round and round, smaller and smaller, to a point on the top).
Add light pink sprinkles right after you pipe, if desired. Then stick in the topper.
how to make princess cupcake toppers
To make the princess toppers, simply roll out some craft store-bought white fondant (or make homemade marshmallow fondant ), cut out shapes (circles, stars, whatever), let stiffen a couple hours, and follow the instructions below for making crowns and wands with sprinkles and food coloring pens. I used hot pink Wilton sprinkles, the sparkling sugars, from the craft store. And I used a black Americolor Gourmet Writer. You'll also need light corn syrup and a toothpick.
To draw the accessories….
For the wand: With your black gourmet writer, draw a star and a stick. Let dry about 10 minutes. Dab some light corn syrup with the toothpick to totally fill inside the star outline. Be careful not to get corn syrup on any other part of the topper! Sprinkle hot pink sprinkles on top of the star generously. Turn over to remove excess and carefully brush off any errant sprinkles.
For the crown: With the toothpick, dab four dots of corn syrup on the fondant topper. Sprinkle with the sprinkles and turn over to remove excess. You should have four dots of sprinkles. With your black gourmet writer, draw the crown. (Click on image to enlarge.)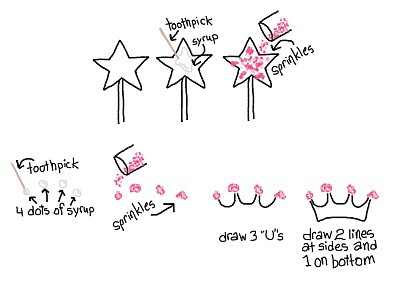 your shopping list to make these (see links above for more details):
cake mix cupcake liners pink food coloring buttercream frosting frosting bag coupler star tip rubber band toothpick light corn syrup light and/or hot pink sprinkles or sanding sugar black food coloring pen box of fondant