Disclosure: *This post may include affiliate links. As an affiliate, I earn from qualifying purchases.


typewriter cupcake toppers
I made these typewriter cupcake toppers to celebrate a writer friend of mine.
The other day I went to a book reading and signing for a friend of mine, Sandra Beasley. Every seat was filled, and I even had to wait in line to get my copy of her new book of poetry, i was the jukebox, signed. A surreal experience to stand shoulder to shoulder with eager admirers of a woman with whom I've shared many drinks and laughs. T
he older gentleman sitting next to me who was new to her work said, "She's quite bright." This is an understatement. She's quite brilliant. And she draws stunning insights with such on-the-spot eloquence, that uber-success is utterly deserved and not remotely surprising. And as any struggling writer out there knows, it is terribly difficult to make a career of poetry. Near impossible. So bravo to Sandra.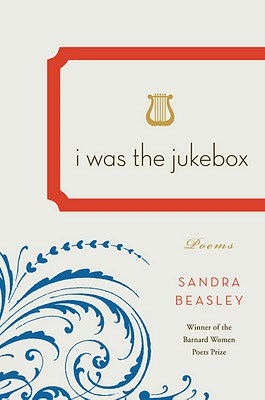 And sitting in the bookstore listening to a dear friend wax poetic (no, scratch that, actually be poetic) stirred parts of my brain that have been idle. For so many years I spent my days writing fiction, reading fiction, researching words and meanings and drawing conclusions, analyzing the Kantian sublime subtly and not-so-subtly hidden in the pages of Moby Dick or the cryptic prose of Virginia Woolf.
And now those tasks are replaced with rolling out cookie dough and watching Sesame Street. Not that there is an hierarchy to these activities, for each gives fulfillment in varying ways. But it simply reminded me that chunks of my brain have been ignored to favor other chunks of my brain.
I've yet to find a way to unite all these pieces in one perfect existence, but my effort to do so was renewed by Sandra's words.
I don't think fondant typewriter cupcakes quite do the trick, but that is why I made these. I put them on top of fondant topped cupcakes, but you can use them for cupcakes, cookies, cakes, anything.
how to make a typewriter fondant topper:
you will need:*
white rolled fondant
black food coloring
rolling pin
lollipop stick
knife
light corn syrup
black edible writer
*find the fondant in the craft store or make your own (homemade marshmallow fondant recipe). You can also find the food coloring and food coloring pen in the craft store, though I prefer Americolor soft gel paste and Americolor Gourmet Writers.
what to do: (click image below to enlarge)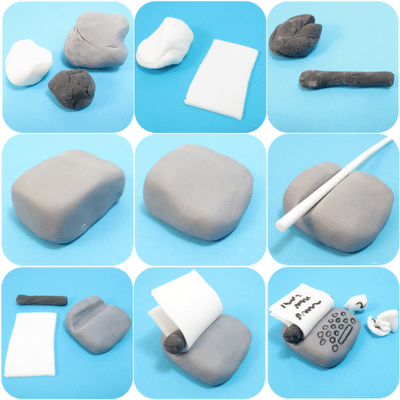 1. You will need three colors of fondant: white, gray, and dark gray. To make gray, add a drop of black food coloring to a piece of fondant and knead very well until fully blended. To make dark gray, do the same, but with two or three drops. Do nothing for the white. (If fondant gets too sticky from overhandling, let sit uncovered for about 15 minutes until easily pliable.)
2. For the paper: roll a piece of white fondant thinly with the rolling pin. You can use powdered sugar to dust the surfaces if the fondant sticks. Cut out a rectangle about 1 1/4 inch wide by 2 inches long with the knife. (Don't worry about precise measurements; you can make these any size you like. Just mush and adjust to make everything fit as needed.) Set aside to stiffen a bit.
3. For the bar: Roll a piece of dark gray fondant on the counter with your palms. Trim a piece about 1 1/2 inches long. Smooth edges and set aside.
4. For the body: Pat a piece of gray fondant the size of 1/2 an egg or so into a box shape about 1 1/2 inch wide, 1 inch high and 1 1/4 inch long. 5. Smush down the front edge. 6. Use the lollipop stick to make a groove in the back.
7. You should now have three pieces: the paper, the bar and the body.
8. Arrange as shown, using light corn syrup on pieces to adhere everything.
9. With the marker, draw on the paper and draw a keyboard.
TIPS: To get he paper to stand up better, rest a pen behind it on top of the bar and let sit until stiffened a few hours or overnight. I didn't wait long enough and the paper started drooping.