Disclosure: *This post may include affiliate links. As an affiliate, I earn from qualifying purchases.


macarons
Either macarons are increasing in popularity lately or I've just noticed them popping up everywhere because they've been on my mind. I've held this curiosity since I posted on macarons HERE on my edible crafts column over a year ago. And having just returned from Paris (what a great sentence to utter) where I bought this macaron kit, L'atelier Macarons, I had to try and make them.
Using my high school French, my dictionary, a metric conversion table, and some macaron-google research, I translated the how-tos. My first attempt failed miserably. My second was edible. They even tasted OK, with a delicate shell and just the right amount of soft and chewy inside. But still not right. I shall try again, but in the interim, here's what I did (and if you know how to make macarons, please feel free to send me tips and corrections).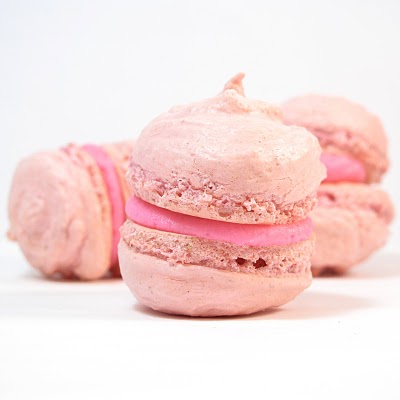 how to make macarons (and not succeed)
macarons (a combo of a poorly translated recipe, by me, from L'atelier Macarons and David Lebovitz's macaron recipe HERE and all the other recipes I found on google)
2 egg whites
1/2 cup almond powder
1 cup powdered sugar
5 Tablespoons superfine sugar
filling*
food coloring*
pastry bag with large, round tip (size 10-12)
*I couldn't find "amandes poudre" here in the US, so I simply bought a bag of almonds and ground them finely in the food processor about 30 seconds. (A coffee grinder also works.) For filling, I just made buttercream frosting and tinted it. For food coloring, I use Americolor soft gel pastes.
Separate eggs and reserve egg whites in refrigerator. (The book says to do this the day before. I forgot, so only chilled them for a few hours.) Place almond powder and powdered sugar in a blender and mix. Sift the mix. (The book says to sift on a baking tray and bake at 300 degrees F for 5-7 minutes and let cool. My first try I did this, I skipped this step the second time around.) Whip egg whites until fluffy and stiff (the book uses the term "en neige," or "snow" which is a good likeness). Add superfine sugar slowly while beating, and continue beating for 2 minutes. Add desired coloring and beat until smooth. Sift in the sugar mixture and fold to mix with a spatula. (Herein is where I run into trouble. And herein is the difficult part. My batter was perfect until the folding in of the sugar mixture. Sigh. I'll keep trying.) Fill a pastry bag with the batter and make 30 small balls on a parchment-lined baking tray. Tap tray on the counter. Let rest in dry place 1 hour to crust. Cook at 350 degrees F for about 16 minutes. Let cookies cool completely. Spread filling on back of one macaron and top with another. Makes 15 macarons.
what macarons should look like (no, these aren't mine, they belong HERE):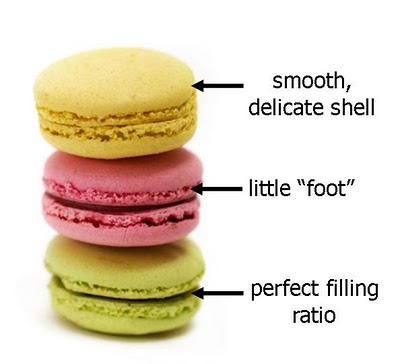 what macarons shouldn't look like (these are mine):