Disclosure: *This post may include affiliate links. As an affiliate, I earn from qualifying purchases.


Paris cupcakes are ooh la la. Top cupcakes with Paris-themed fondant circles.
how to make Paris cupcakes
Yes, Paris is on my mind. These Paris cupcakes with fondant toppers are crazy easy to make and Parisian-ize cupcakes nicely. Since I'm not super keen on the taste of fondant, my cupcake hack is simple: Bake delicious cupcakes, top with delicious buttercream frosting, then use small fondant toppers for the decoration. Everybody wins.
These Paris cupcakes would be great for a travel-themed party, Paris party, Bon Voyage party, French club, whatever.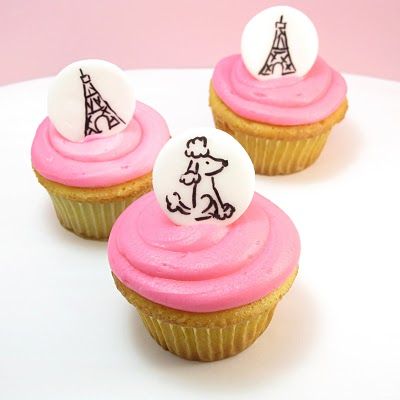 you will need:*
cupcakes
frosting
pink frosting color
pastry bag, coupler, and large circle tip (optional)
white rolled fondant
rolling pin
wax paper
1 1/2″ circle cutter
black gourmet writer
*I used a tinted buttercream frosting (see below for recipe). The pastry bag, coupler and tip are optional, but I used these to pipe the frosting on the cupcake. Find ready-made fondant at the craft store. You can find edible pens there, but I use Americolor gourmet writers. I also use Americolor soft gel pastes for coloring. For a homemade marshmallow fondant recipe, click here.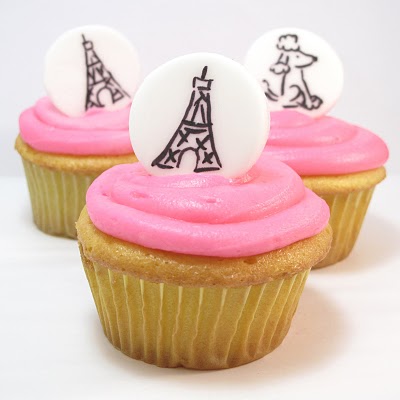 step one: make your cupcakes
Prepare cupcakes and ice with pink-tinted frosting. I used buttercream tinted with a few drops of Electric Pink soft gel paste. To make buttercream, blend 1/2 cup softened butter, a box of confectioner's sugar, a teaspoon of vanilla extract and a few tablespoons milk (to desired thickness). I used a pastry bag fitted with a large tip, but you can also spread the frosting on the cupcake with a spatula.
step two: make your fondant circles
Briefly knead a piece of rolled fondant. (If the fondant gets too sticky at any time, simply let it sit out uncovered at room temperature for 15 minutes.) Roll fondant between two pieces of wax paper about 3/8″ thick. Cut out circles with cutter and let stiffen an hour or two.
step three: draw your designs
When stiffened, draw your Paris designs with the edible pen (see the end of this post for poodle and Eiffel Tower detail). Let ink dry before packaging circles in a sealed container to keep until you serve the cupcakes.


step four: assemble your cupcakes
Before serving, pop the circle on the cupcake. That's it!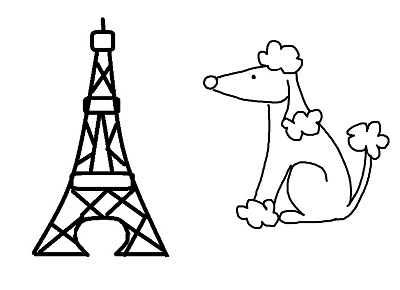 update!! So I can add these yummies to the "how to draw on food" collection up there , I added some step-by-step how-tos:
How to draw the Eiffel Tower
1. draw a small vertical line and three rectangles
2. connect the top and middle rectangles and the middle and bottom rectangles with lines
3. make two more lines between the middle and bottom rectangles
4. make two "L"s on the bottom (one backwards)
5. make an almost-whole circle to connect the two "L"s
6. draw "X"s inside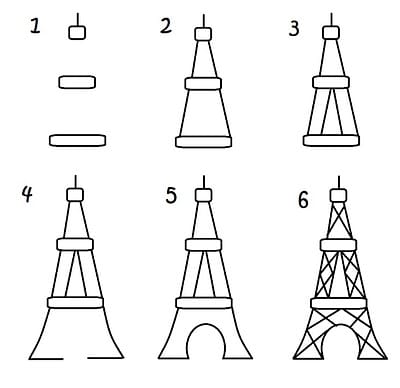 how to draw a poodle
1. draw poof
2. draw another poof and two lines to make ear
3. draw face (a curved triangleish) with a dot for a nose
4. draw a line for the back
5. draw the hind leg (two loops)
6. draw a poof and two lines for the front leg
7. draw a poof and two lines for the tail
8. make a dot for the eye