Disclosure: *This post may include affiliate links. As an affiliate, I earn from qualifying purchases.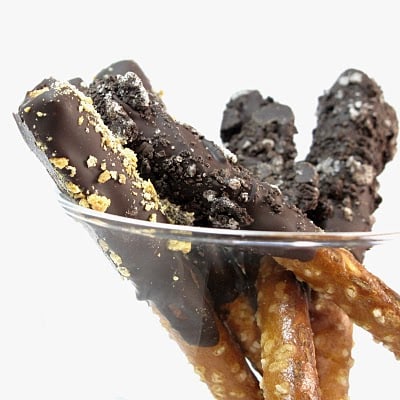 vegan chocolate-covered pretzels
I also served these super easy yummy n0-bake treats at the vegan potluck of one post ago: Vegan chocolate-covered pretzels. For vegan chocolate cupcakes, click here. And for vegan decorated cookies, click here.
how to make vegan chocolate pretzels
you will need:

*

pretzel rods
vegan chocolate chips
rolling pin
sealable bags
Oreos
graham crackers
baking tray wax paper

*From what I've read, Oreos are vegan, but if I'm wrong, feel free to let me know!! Also, I found vegan chocolate chips in my grocery store "natural foods" aisle.

In separate bags, crush Oreos and graham crackers with the rolling pin and set aside in two bowls. Melt chocolate chips in a metal bowl set above simmering water or in the top of a double boiler. Dip pretzel rod in the melted chocolate and immediately roll in crushed Oreos or graham crackers. Set on a baking tray lined with wax paper and refrigerate a couple hours or until the day of serving.