Disclosure: *This post may include affiliate links. As an affiliate, I earn from qualifying purchases.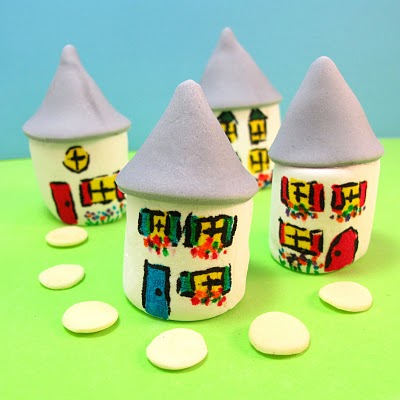 I'm starting to think there is nothing marshmallows can't become… like these li'l houses turned into a marshmallow village. Easy to make, fun to create, and totally edible. For more tips on how to use food writers, click here.
how to make marshmallow houses
you will need:*
marshmallows
edible pens
white rolled fondant
black food coloring
2 1/2 inch circle cookie cutter
wax paper
rolling pin
light corn syrup
*Edible pens are found at craft stores, though I prefer Americolor gourmet writers (harder to find in stores, but more color options and finer tips). Find fondant and food coloring at the craft store.
step one: make your roof
Add one or two drops of black frosting color (to make gray) to a palmful of fondant and knead very well, until fully blended (if fondant gets too sticky from the handling, let sit uncovered at room temperature about 15 minutes to stiffen). Roll gray fondant between two pieces of wax paper thinly, about 1/8 inch. Cut out a circle with the cutter and cut the circle in half. Fold semi-circle into a cone shape and mush edges together to seal. Adjust the cone and the point at the top as needed with your fingers. Set cones aside on wax paper to stiffen about an hour.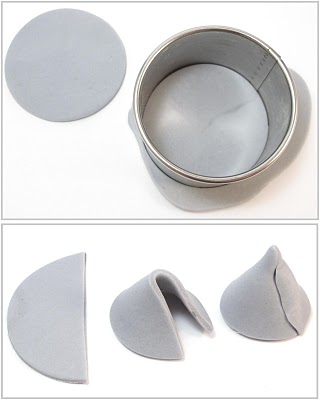 step two: draw your house
Draw the facade of a house on a marshmallow with the edible pens. Some tips: Let the marshmallow sit uncovered for an hour or so to stiffen a bit on the outside. This isn't necessary, but helps control any bleeding from the pens. Also, I used the black marker last, to outline the design I made with the other colors, and I was able to get more detail by drawing with the very tips of the pens.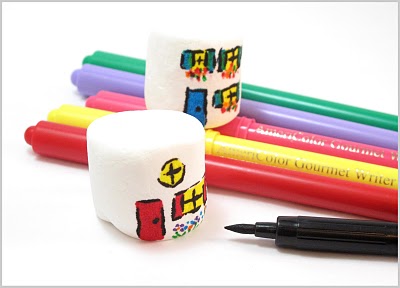 step three: assemble your house
Dab your finger in the corn syrup and rub along the top of the marshmallow at the edges. Gently press cone on top (with the edges that were sealed in the back) and let dry.