Disclosure: *This post may include affiliate links. As an affiliate, I earn from qualifying purchases.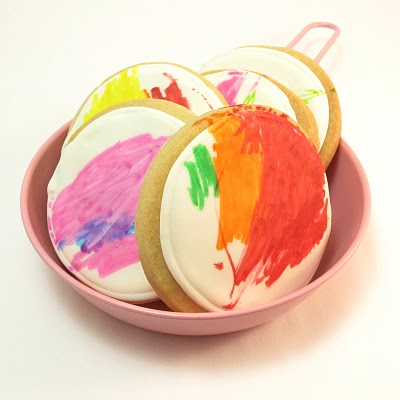 Father's Day cookies
I know exactly what you're thinking. Genius, right? Yeah. I know. Can you believe the hand that made these is not yet three? Just consider the concentration, effort and patience it took to make this blue one … (in case my tone isn't conveyed by blogging, please note I am not sending my daughter to the Institute of Fine Arts quite yet, but I am of course proud of the aforementioned concentration, effort and patience). But the point is… Father's Day cookies decorated by kids all by themselves, for Dad.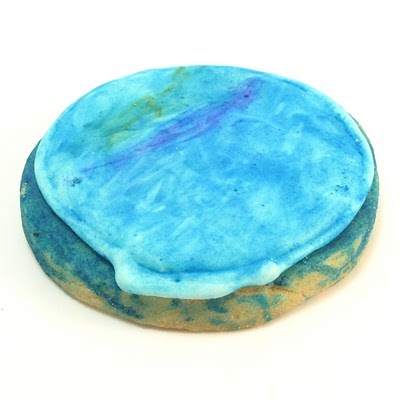 how to make cookies for kids to decorate
you will need:*
cut out cookie dough AND royal icing
cookie cutter
white frosting color
disposable decorating bag
coupler
size 4 decorating tip
rubber band
small spoon, squeeze bottle or disposable decorating bag
edible markers
*For food coloring, I use Americolor soft gel paste Bright White. I used an assortment of Americolor Gourmet Writers for the edible markers. Find the other items in the baking aisle of the craft store. For tips on finding cookie decorating supplies, click here.
step one: bake your cookies
Bake your cookies any desired shape according to recipe and let cool.
step two: flood the background
Prepare white frosting. Fit a frosting bag with a coupler and size "4" tip, fill with half of your frosting and tie closed with a rubber band. Pipe an outline on the cookie and let it set about 20 minutes. Thin remaining frosting with water, about 1/4 tsp at a time, until the consistency of thick glue. (When drizzled, the frosting should fall into itself, but a bit slowly. The frosting shouldn't be so runny it's like water, it should be a bit viscous.) Using a small spoon, squeeze bottle or a disposable frosting bag with 1/8 inch snipped from the corner, pour or loosely pipe a bit of thinned frosting in the center of the cookie. Let spread to edges, encouraging with a butter knife as needed to totally cover the cookie. Let set VERY well, several hours at least, overnight preferred.
step three: let the kids go to town
Open food coloring pens and draw.