Disclosure: *This post may include affiliate links. As an affiliate, I earn from qualifying purchases.


Let's talk about something sticky. Duct tape. My friend, Amanda Formaro, creative genius over at Crafts by Amanda, has published her first two craft books for kids ages 6 to 12 in the Mania series: Duct Tape Mania and Rubber Band Mania. I've already covered rubber bands. Now it's DUCT TAPE that makes me manic.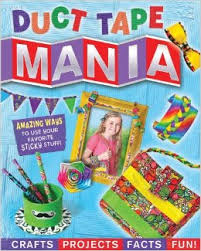 Duct Tape Mania has all kinds of crafts, activities and games. Stuff to wear (bracelets and belts), stuff to carry (like wallets and tablet cases), stuff for your room (like a lamp shade, vase or flowers), stuff for school (decorate your locker, make a book jacket), and stuff for fun (jump rope, play a football game). You can even have a whole duct tape party or make a Halloween costume from duct tape.
Did you know duct tape helped repair Apollo 13? Or that duct tape can heal a wart? Oh yeah, there are lots of fun facts, too.
We made: Duct Tape Flowers! Oh so easy and oh so pretty. Instead of a pencil, I used a cookie stick (available from the craft store) for the stem. I want to make more with that rainbow duct tape I bought that mysteriously disappeared into the depths of my house. It's been sucked into some other dimension with all our missing socks and Legos, I'm just sure of it. But how cool are these?? Duct tape is a miracle.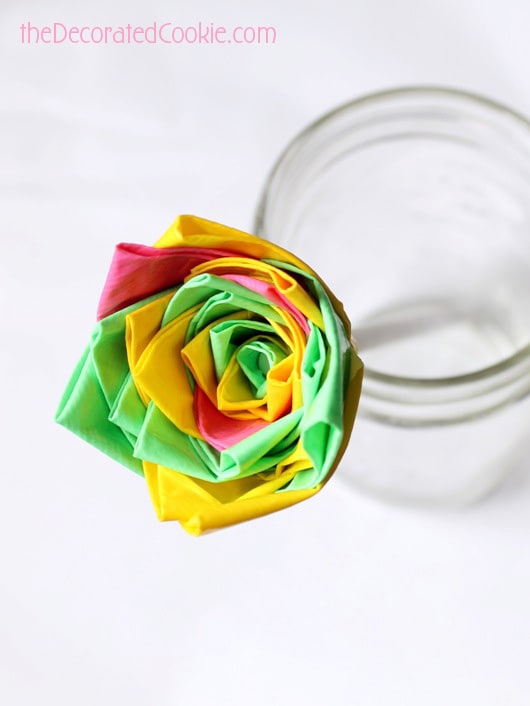 NOTE: I received a copy of Duct Tape Mania, but all opinions are my own.