Disclosure: *This post may include affiliate links. As an affiliate, I earn from qualifying purchases.


Unicorn craft time! This DIY unicorn mug is easy to make, dishwasher safe, and a perfect personalized gift for your unicorn-loving loved ones. This rainbow craft idea is for kids or adults.
unicorn craft: how to make a DIY unicorn mug
Even though my daughter is unicorn and rainbow obsessed, this unicorn mug is mine, all mine. OK, that's not at all true. She's already taken it as her own, sigh.
Maybe she'll let me use it from time to time.
Or I'll just make more, because DIY painted mugs are really quite easy to make. Here, I use oil-based Sharpie paint markers, and they worked really well.
Bonus: You can use the same markers for rock painting.
I show you how to draw a unicorn design on the mug in the video for this post, but you can of course draw anything you like. I'm just partial to the unicorn given all the unicorn food I make here. (And all the unicorn food from around the web.)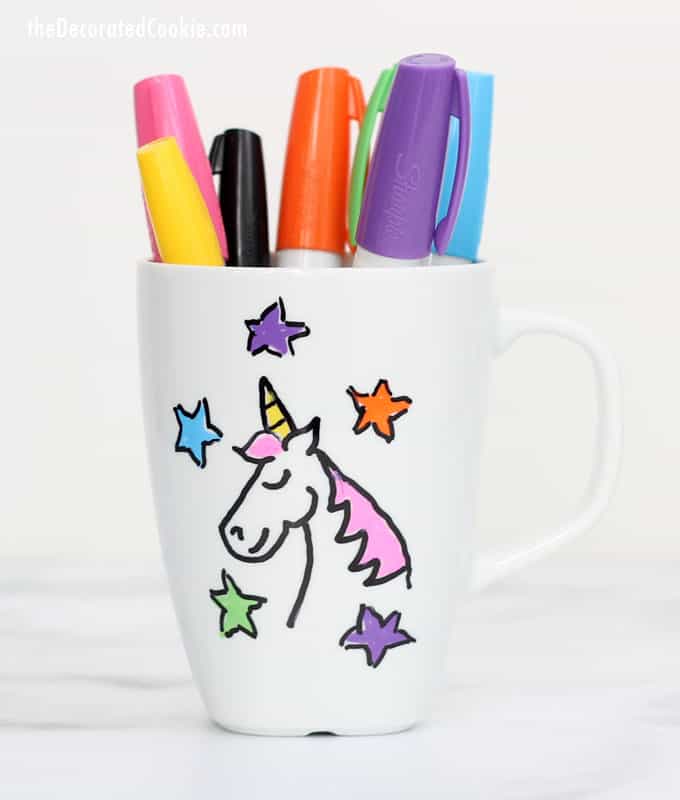 how to make a DIY unicorn mug
you will need:
what to do:
Before you start your unicorn craft, clean with rubbing alcohol first.
After drawing your design, let the mug dry overnight.
To make the mug dishwasher safe, place it in a cold oven and turn the oven to 350 degrees F. Cook for 30 minutes, turn off the oven and open the door to let it cool.
additional tips:
Give the black outline (if you're using one) about ten minutes or so to dry before using another color to fill in, so the new color doesn't bleed.
If you make a mistake, use a Q-tip to wipe it off immediately. (Nail polish remover may help.)
The markers are oil-based and can stain clothes, so use caution and limit the project to older kids.
The baking is optional, and time will help cure the design, however in that case, I would recommend hand-washing.