Disclosure: *This post may include affiliate links. As an affiliate, I earn from qualifying purchases.



Remember that time I made giraffe marshmallows for the children's picture book One Word from Sophia, a collaboration with Danielle of This Picture Book Life? We're at it again, this time with Daisy Hirst's The Girl with the Parrot on her Head, published by Candlewick Press, and these accompanying doodle cookies kids can make.
Danielle has a perfect, in-depth summary and peek-inside of the book in her blog post HERE, along with the journey of emotions our heroine, Isabel (the girl with the parrot on her head) undertakes when her best friend, Simon (who is very good with newts) moves away. Anger, loneliness and coping are deftly illustrated through the parrot's shifting role and the girl's "system" of sorting her belongings into boxes. In an effort to contain what scares her most, the wolf, she meets a new best friend and that roller coaster that is life takes an upturn. And the wolf rides away on a motorcycle.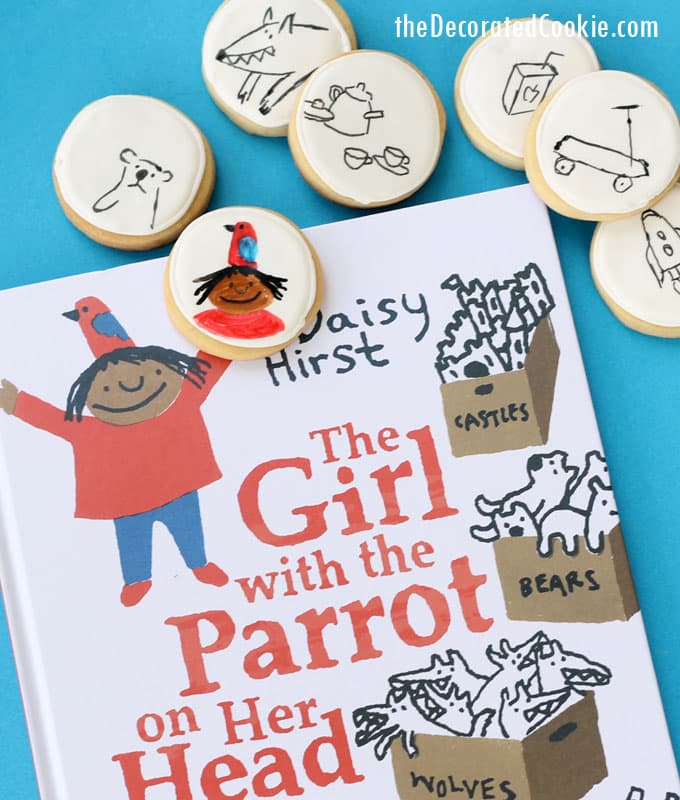 The sorting of her belongings is one of the most meaningful moments in the book, and the illustrations of her stuff (such stuff as broken umbrellas and ducks) look like doodles. Sorting and containment, a way to organize to understand, that is Isabel's coping mechanism. Art functions in much the same way, yes? So these doodle cookies let kids draw and sort on their own. What do they have in their room? How would their toys and belongings be divided? Will they draw anything scary? Oooh, I know, you can draw your fears and then eat them. That'll show those fears.
Gift idea! Package some cookies topped with dried icing in a cellophane bag, add a couple black food pens and a copy of The Girl with the Parrot on her head.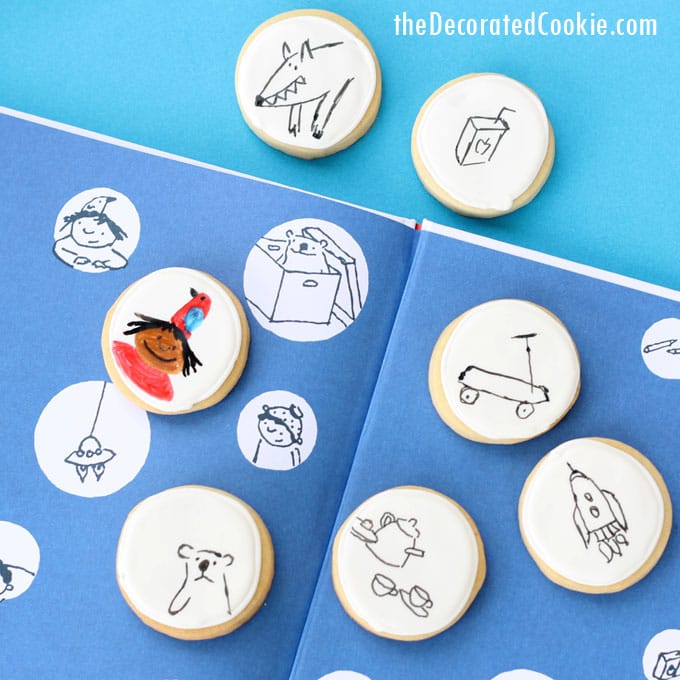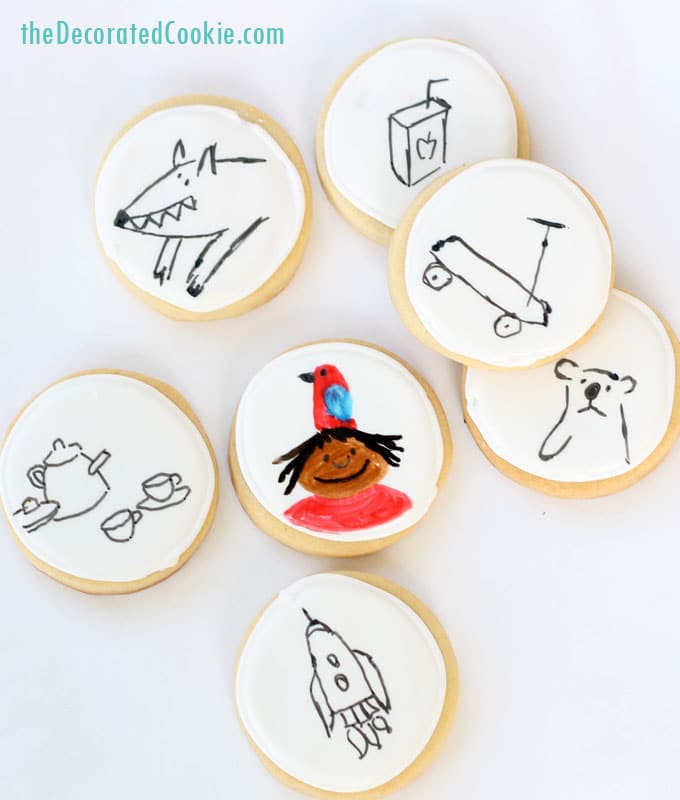 how to make doodle cookies
you will need:*
cut-out cookie dough AND royal icing
circle cookie cutter
white food coloring
disposable decorating bags
size "3" decorating tip
rubber bands
food coloring pens
*Follow the links above for more information. Here are some helpful hints for cookie decorating supplies. Find a detailed how-to for making cut-out cookies here.
Prepare cookie dough according to the recipe, chill it, roll it out, cut out circles, bake and let cool. Prepare royal icing according to the recipe. Tint some icing white. Prepare a decorating bag with the tip and fill it with some of the white icing. Tie closed with a rubber band.
Pipe a white outline on the circle cookies and let set. Thin the remaining white icing with drops of water until it's of flooding consistency (that is, when overturned with a spoon, the icing slowly folds back into itself and the lines disappear). Fill an empty decorating bag with the icing, tie closed with a rubber band and snip the tip. Pipe to fill the circles of cookies with white icing. Let dry OVERNIGHT.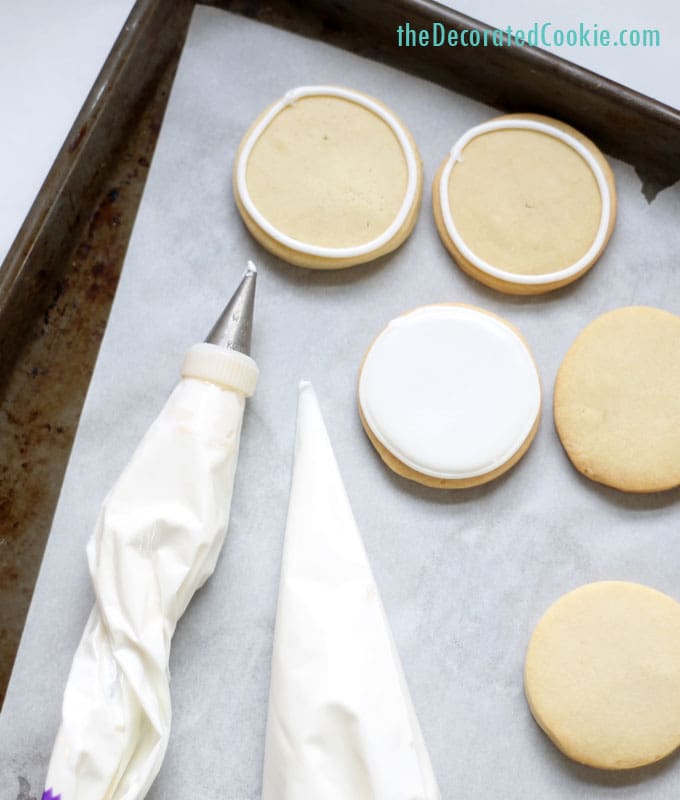 The next day, use food coloring pens to draw designs and doodles.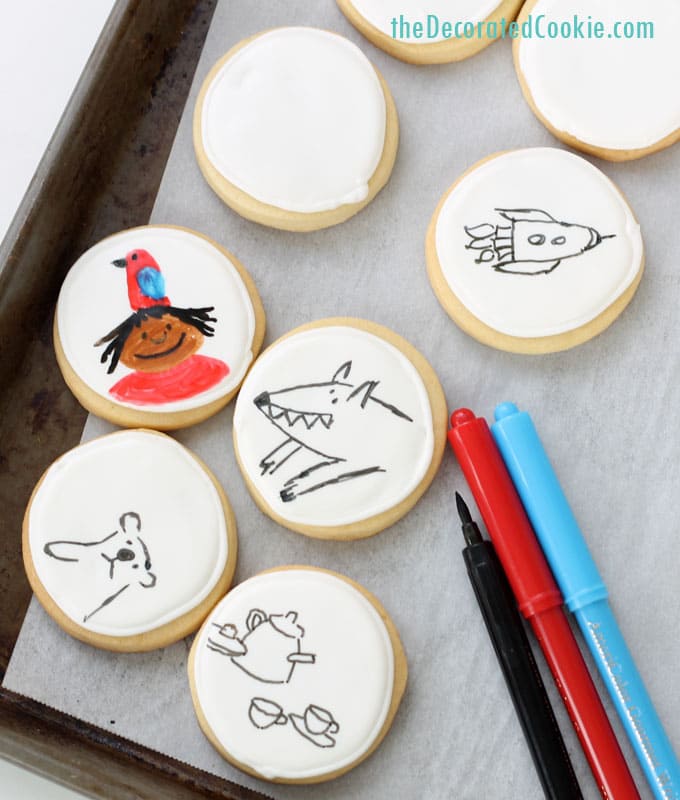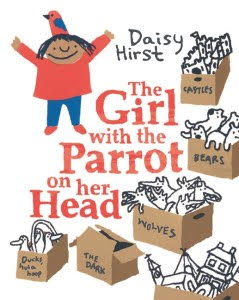 THE GIRL WITH THE PARROT ON HER HEAD. Copyright © 2015 by Daisy Hirst. Reproduced by permission of the publisher, Candlewick Press, Somerville, MA on behalf of Walker Books, London.