Disclosure: *This post may include affiliate links. As an affiliate, I earn from qualifying purchases.


Easy sunflower kissing balls for DIY fall home decor.
fall crafts
I can't believe how quick and easy these sunflower kissing balls are to make, and yet they add such a lovely splash of color.
Yellow wiffle balls and store-bought sunflowers are the heroes in this home decor craft. Use them for weddings, showers, parties, or to just dress up your home or front porch. I chose sunflowers here, in anticipation of fall, but you can use any comparably-sized flower in any color for any theme or season or event.
more fall ideas
But if you're also looking forward to autumn as much I am, try these sunflower decorated cookies. Or, paint pine cone flowers in fall hues. Or, paint some pumpkins! Check out this roundup of painted pumpkins ideas.
sunflower kissing balls
Using pre-cut faux sunflower heads, each sunflower kissing ball takes only minutes to make. No need to paint pesky Styrofoam balls yellow or fiddle with paint that doesn't stick to the porous Syrofoam surface.
Yellow wiffle balls to the rescue! Wiffle balls are as light as Styrofoam, so they won't fall with the added weight of the flowers. And the hot glue works so beautifully on the surface, that attaching the flowers is a cinch.
you will need:
hot glue gun
raffia ribbon or twine
*You can purchase artificial flower heads or, purchase artificial flowers with stems and cut off the stem about 1/2-inch from the head. You will need approximately 25 sunflowers per ball, if each sunflower is about 2 1/2 inches diameter.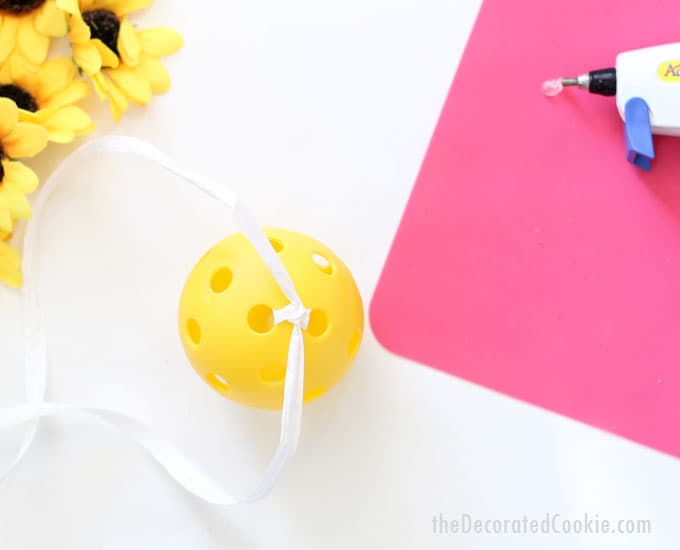 Cut a piece of ribbon or twine. Thread the ribbon through two adjoining holes and tie a double knot.
Have your sunflower heads ready. If your faux flowers have stems, trim the stems 1/2-inch from the head.
Dab hot glue around a wiffle ball hole and press a faux flower over the hole. You should have one flower for each hole in the wiffle ball. You should be able to dab glue around two or three holes at a time. Cover the wiffle ball, including the holes used for the ribbon.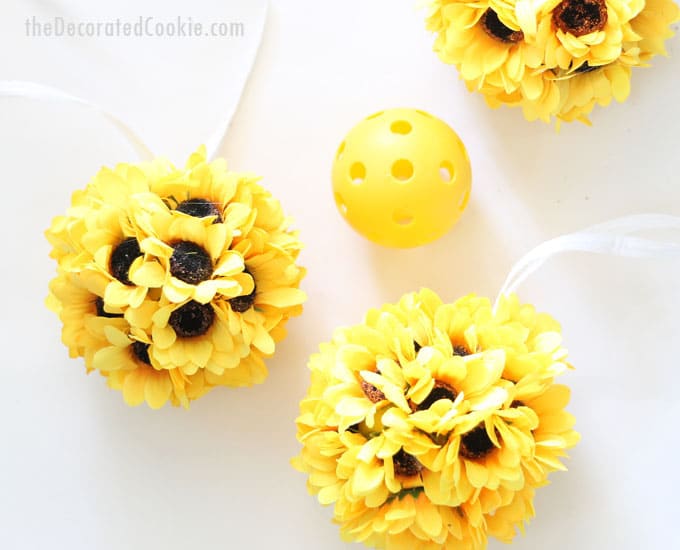 Tie the ribbon the length you need to create a loop and hang where you like!
These super-bright and easy sunflower kissing balls should get me through fall. I'm already thinking of a poinsettia version for winter and bright gerbera daisies for spring!
This post for sunflower kissing balls also appears on Crafts by Amanda.