Disclosure: *This post may include affiliate links. As an affiliate, I earn from qualifying purchases.


Edible marshmallow paint in a rainbow of colors is an easy medium to decorate cookies, marshmallows, and even paper.
This is a fun activity for kids, but even grown-ups can use marshmallow paint for cookie decorating.
Marshmallow paint is the coolest thing ever to a gal like me who makes too much of her life about fun food crafts.
Marshmallows, water, light corn syrup, and food coloring are all you need to make the funnest paint for kids (or grown-ups) ever.
This colorful edible marshmallow paint takes minutes to whip up and can be used to decorate cookies, marshmallows, bread, and even plain old paper.
Need more fun food ideas for kids? Here are the BEST FOOD ACTIVITIES to do with kids.
edible marshmallow paint
Kids and grown-ups alike can use this yummy marshmallow paint to decorate cookies and marshmallows.
Or use the mixture as a kid-safe paint to draw designs on paper.
Now is the perfect time to try out this handy craft for kids. As the hectic holiday season approaches, marshmallow paint is a quick and easy way to let the kids decorate cookies all by themselves.
Host a cookie and marshmallow decorating party, and instead of the harder-to-wield frosting bags, put out marshmallow paint and brushes.
how to make edible marshmallow paint
You will need
1 cup packed marshmallows (about 12 marshmallows)
1/4 cup water
2 to 3 tablespoons light corn syrup
food coloring
Place the marshmallows in a microwave-safe bowl. Microwave for 30 seconds. The marshmallows will puff up a bit.
Stir in the water and continue to microwave for an additional 30 seconds. Stir well to let the residual heat melt the marshmallows fully.
Stir until smooth. If necessary, continue to microwave at 15 second intervals. Stir in the light corn syrup to desired consistency.
Divide the marshmallows among different containers. Stir in a few drops of food coloring (gel paste food coloring used here) until desired shade is reached. Let cool enough for kids to handle.
To paint, use popsicle sticks or clean, unused paintbrushes. Store remaining paint in a sealed container at room temperature for up to three days.
Note that the paint does dry well enough to handle, but it does remain a bit sticky. So you won't be able to stack cookies decorated with marshmallow paint.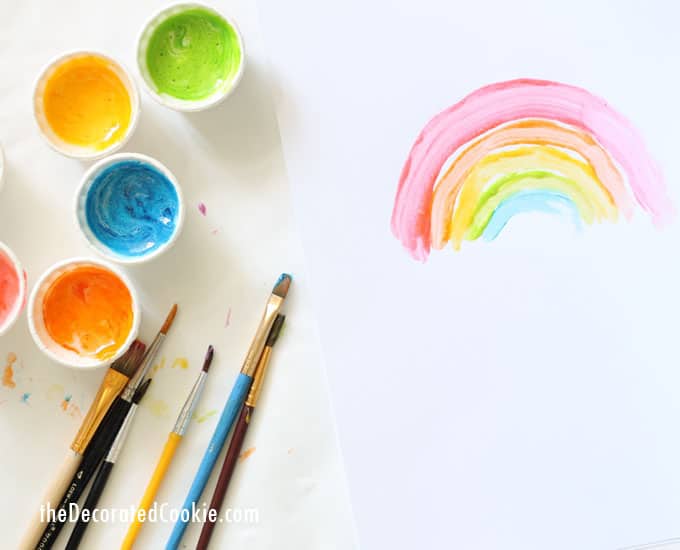 more fun food ideas
Need more ideas for letting kids play with their food? Check out this roundup of fun food activities for kids. If you'd like to try drawing on food with edible writers, check out this post for more information.
While rainbows are run and easy to make with marshmallow paint, next I want to explore more complicated designs with finer brushes. It would also work well on flooded and dried royal icing and on fondant to make decorations. There are so many possibilities to using this sweet, edible, vibrant "paint."
This post for edible marshmallow paint also appears on Crafts by Amanda.