Disclosure: *This post may include affiliate links. As an affiliate, I earn from qualifying purchases.


I was going to title this post "Breaking News…" but this news has been so long in the making, "breaking" didn't feel right at all. I've been bursting at the seams keeping this in, but I have to share the news with all of you.
My new book is underway, and I hope it will be on shelves either late this year or early next year. I've been plugging away at it for months now, and I'm in the home stretch. And so, the next few weeks may be light on the posts, so I'll ask you to bear with me. Between the book, my other gig, my needy kid, a mobilized hubby, and the rest of life, I sleep very very little.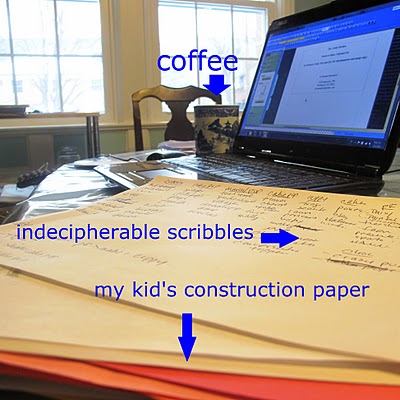 yeah, I take notes on my kid's construction paper
This book will be about more than cookies. I'm including recipes and how-tos for decorating cookies, cupcakes, little cakes, some bigger cakes, treats on sticks and of course marshmallows. You won't believe how much is packed in this book. Incorporating everything I've learned from baking and crafting from my years as a cookie decorator, here on this blog, and from you and your amazing questions, this book is full of ideas for crafty, sweet treats (over 50 of them!) and will be a go-to resource for crafting your own sweet treats. Imagine walking down the baking aisle of the craft store and rather than feeling overwhelmed by the rows of fondant and sprinkles and tubs and tubes, feeling in total control and inspired instead.
I'm very excited to be working with my publisher, Harlequin. Yes, they of the uber-popular romance novels (and no, my husband doesn't have to pose on the cover, I asked). They are a huge operation, and they are expanding their non-fiction section, so I'm already fully wowwed by their enthusiasm for my book and their support.
As anyone out there who has tried to get a book published knows, it can be a long tough road. This book is more than a few months in the making, it's been a couple years really, working with my fantastic agent to develop just the right project. And I appreciate every single one of you, since without you, there would be no blog, no experimenting with crafty sweets and no book. So