Disclosure: *This post may include affiliate links. As an affiliate, I earn from qualifying purchases.


Super simple, sparkly flower cookie pops are great Spring or garden party favors.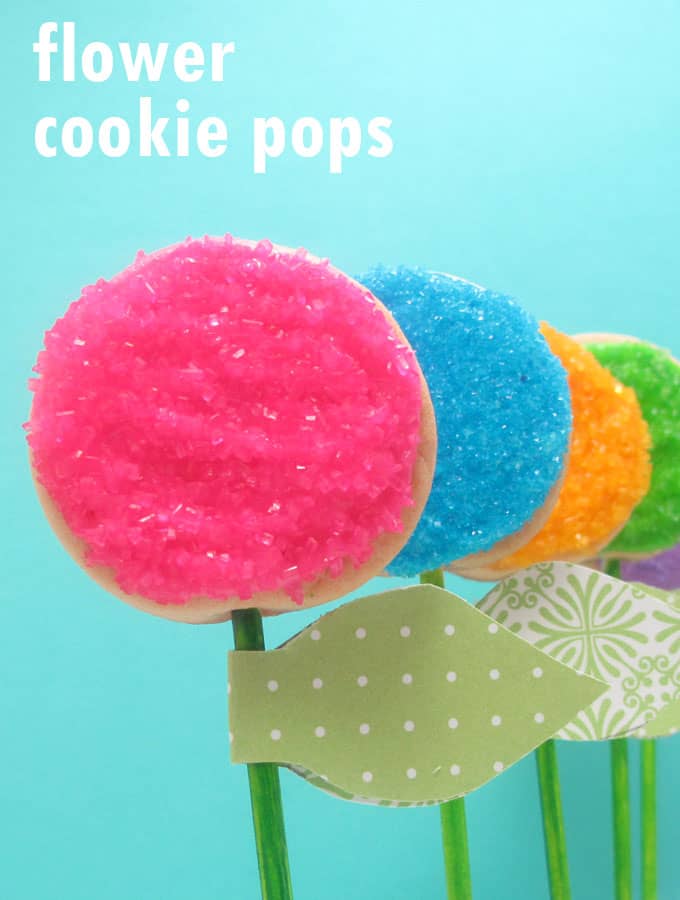 How to decorate easy flower cookie pops using sprinkles.
Perhaps you've heard (me say a million times) that I'm writing a book that's due out (hopefully) by the end of the year. Well, these easy flower cookie pops are sooooort of like something in the book.
Sort of. Inspired by. Similar. But not exactly. Still, it qualifies as a sneak peek.
These simple flower cookie pops are so easy to decorate. The sprinkles cover every icing imperfection, so they are perfect for first-time cookie decorators.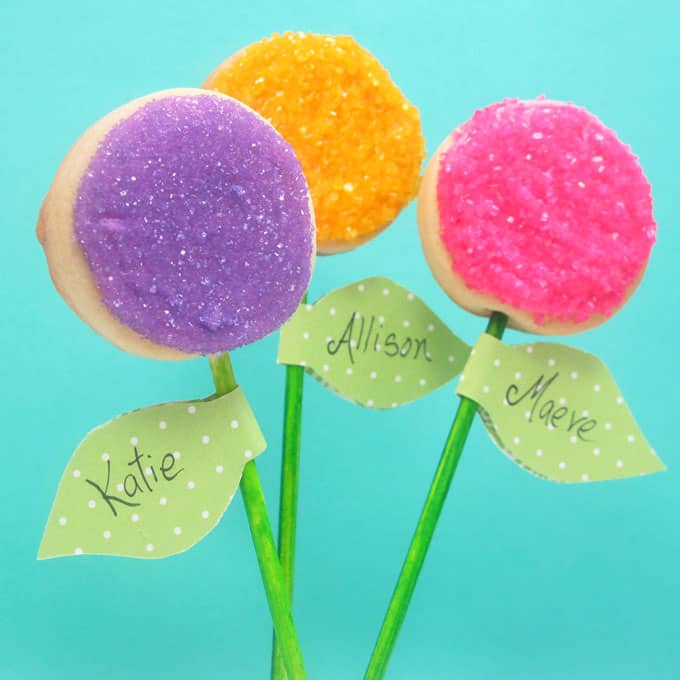 ideas for using flower cookies
Write names on the leaves and use them as personalized party favors or place cards.
Arrange them in a Styrofoam block that has been wrapped with tissue paper. Or prop them in cupcakes to make cupcake toppers.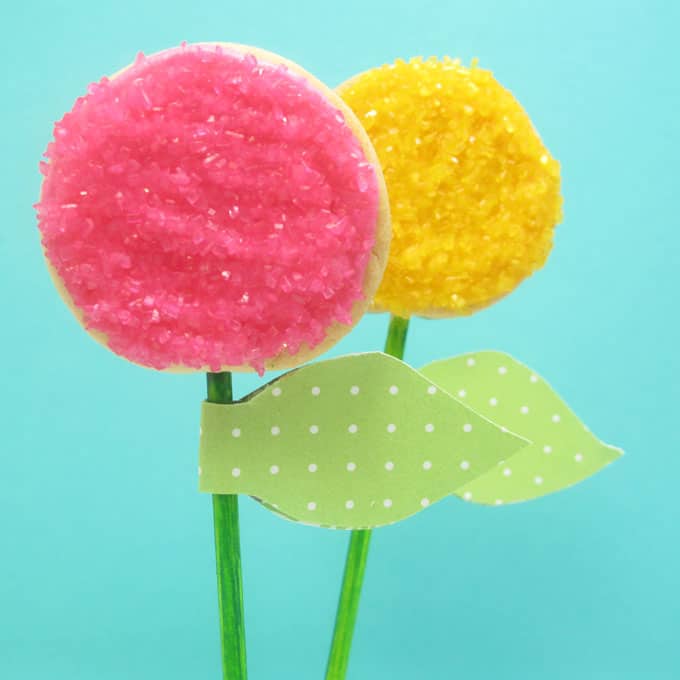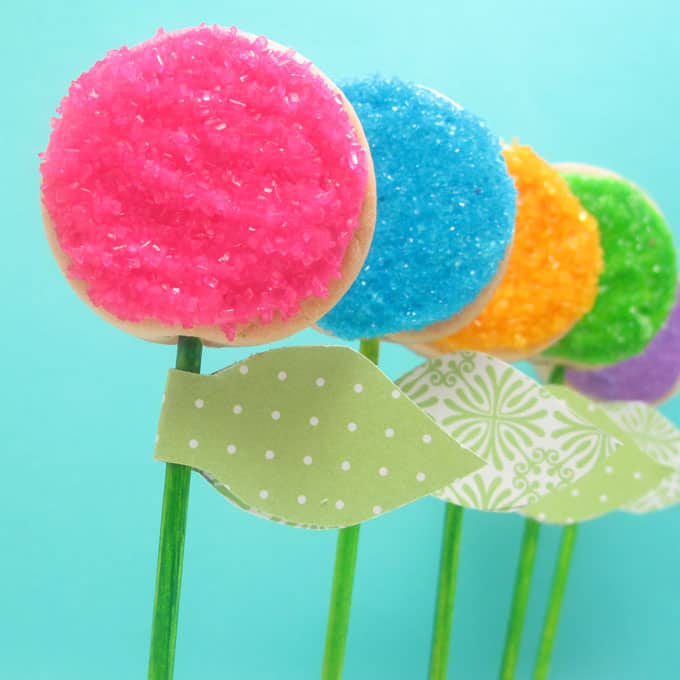 How to decorate easy flower cookie pops
you will need:*
sugar cut-out cookie dough and royal icing
circle cookie cutter
food coloring
disposable decorating bags
couplers
size "5" decorating tips
rubber bands
lollipop sticks
sprinkles or sanding sugar
paint brush
wax paper
green or patterned cardstock
scissors
glue stick
*You may use any recipe for cookies and icing you prefer, but I provided links to my recipes above.
I used a 2-inch circle cookie cutter, buy you may use any comparable size under 3 inches.
You'll need one bag, coupler and tip for each color you choose, and buy sprinkles in each of the same colors.
Find the cutter, decorating bags, couplers, tips, lollipop sticks, sprinkles, paint brush, cardstock, scissors and glue stick at any major craft store.
For food coloring, I suggest Americolor soft gel pastes, available in specialty stores and online (amazon.com carries these). I used Egg Yellow, Sky Blue, Electric Pink, Electric Green and Electric Purple.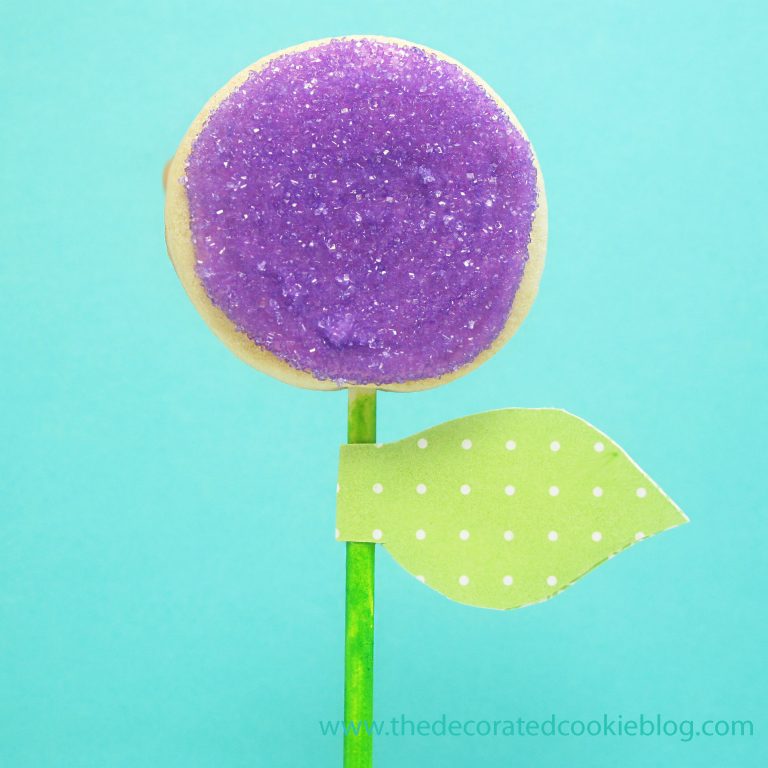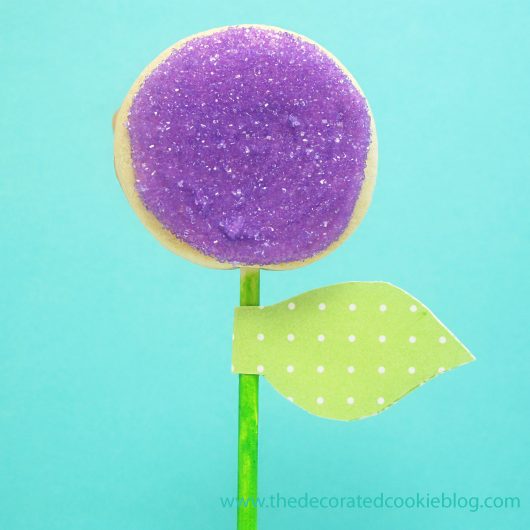 step one: bake your cookies
Prepare dough according to the recipe, chill, roll out about 1/4 to 3/8-inch thick, cut out circles, insert the lollipop sticks and bake according to the recipe. Let cool completely.
Tips: Make sure to chill your dough, as it makes it easier to insert the stick. Insert the stick at the center of the cookie's thickness, about half way into the cookie, and arrange on the tray so the sticks aren't touching.
step two: prepare your icing
Prepare icing according to the recipe, divide and tint your preferred colors. Prepare decorating bags with couplers and tips, fill with the colors and close tightly with rubber bands.

step three: decorate your cookies
Work with one cookie at a time.
Pipe a circle on the cookie, then pipe back and forth to fill the circle completely. Immediately coat the cookie with a generous sprinkling of sprinkles in a coordinating color.
Turn over to remove excess.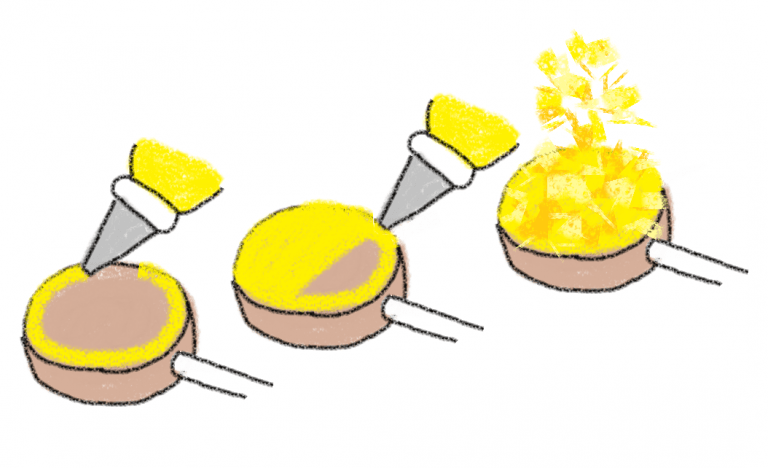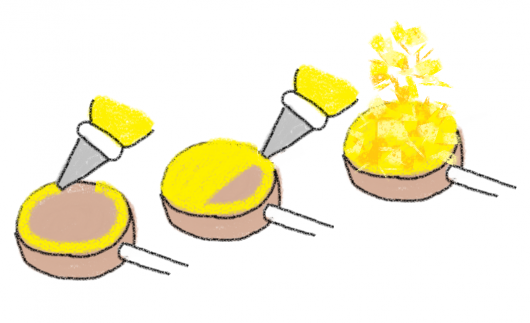 step four: paint the stick and add leaves
Pour a few drops of green food coloring on a piece of wax paper.
Add a couple drops of water and mix. Paint the lollipop sticks green and let dry.
Cut out a leaf shape on a folded piece of green or patterned cardstock so you have two leaves connected with a fold at the center (note I made a little "tab" so they wrapped around the stick more easily).
Write a name on the leaf, if desired, and use the glue stick to attach around the lollipop stick.
Let the cookies dry overnight.