Disclosure: *This post may include affiliate links. As an affiliate, I earn from qualifying purchases.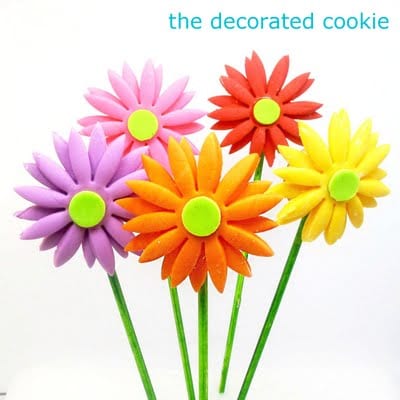 How to make daisy decorated cookies using fondant.
So this is the last post I have from before I got sick. Luckily, I'm about able to get back in the kitchen.
I love a vase full of gerbera daisies.
Cheap as I am, I usually buy my flowers at the local supermarket, and they always have gerbera daisies, so they are my go-to flower.
(Though lately, I've really been into carnations, too, but I'll stay focused on daisies for now.) So these fondant daisy cookie pops honor that love.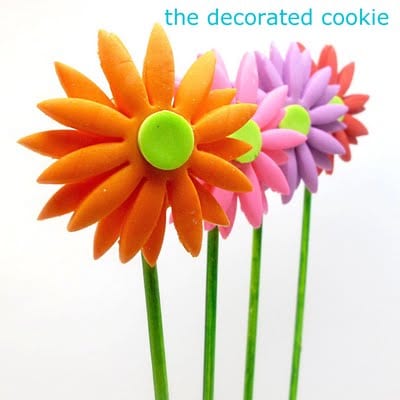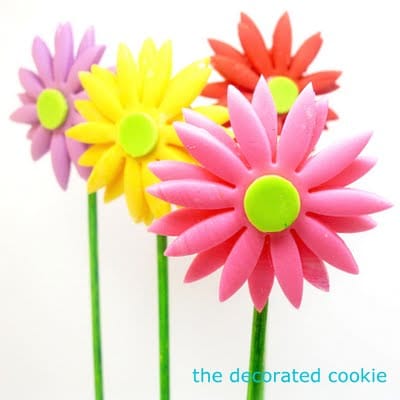 These fondant gerbera daisies can be used to top any dessert, really. I used them on cookie pops, but they would also be great as cupcake toppers or stuck to the side of a cake.
I'm not a super huge fan of the taste of fondant, so as far as cookie pops go, the fondant to cookie ratio is a little too great for my taste.
But gosh, I love the look of 'em.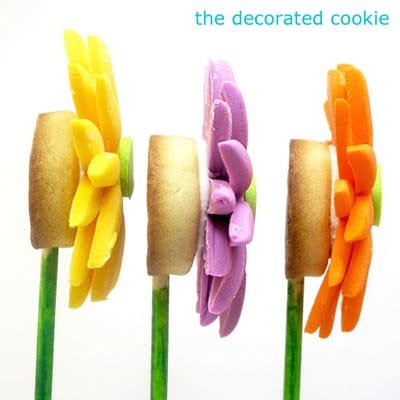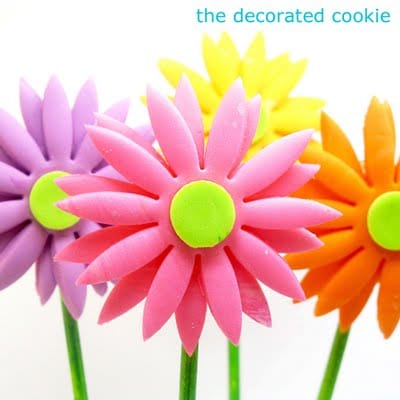 how to make fondant flower cookie pops
you will need:*
rolling pin
confectioner's sugar
food coloring
2 1/2-inch daisy fondant cutter
1/2-inch circle fondant or cookie cutter
light corn syrup
wax paper
*Find the fondant and cutters at the craft store. Or, you may make homemade marshmallow fondant.
For food coloring, I use Americolor soft gel pastes. Red Red, Egg Yellow, Orange, Electric Purple, Electric Pink and Electric Green used here.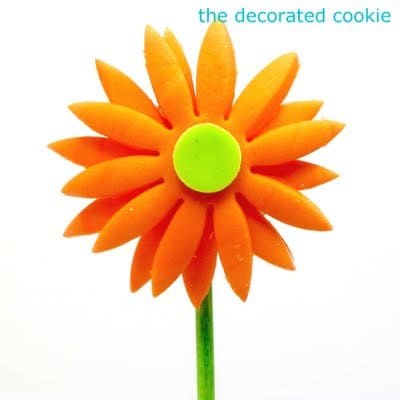 step one: prepare your fondant
Divide fondant and tint preferred colors (I usually color a handful at a time).
Add a few drops of coloring to fondant and knead well, adding more drops to achieve desired color.
If fondant gets sticky from overhandling, let rest at room temperature uncovered about 15 minutes until easily pliable.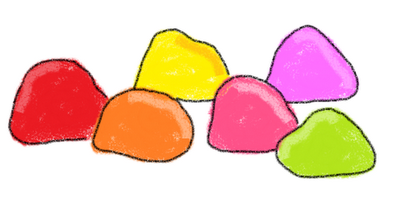 step two: cut out your daisies and circles
Roll your preferred color of fondant on a surface dusted with confectioner's sugar to prevent sticking.
Roll about 1/8-inch thick. For each flower, cut out two daisies and set aside.
Roll out lime green fondant and cut out 1/2-inch circles, one for each flower.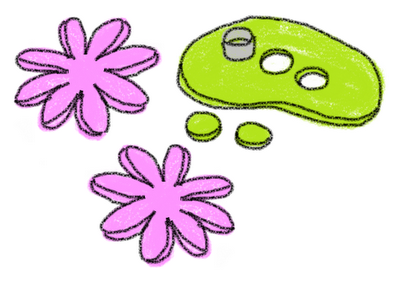 step three: assemble your daisies
Place a dab of light corn syrup on the center of a daisy with your finger.
Place the other daisy on top so the petals are between those beneath. Place a dab of light corn syrup on the center of the top flower and place the lime green circle on top.
Let the flowers sit on a piece of wax paper several hours to overnight to stiffen.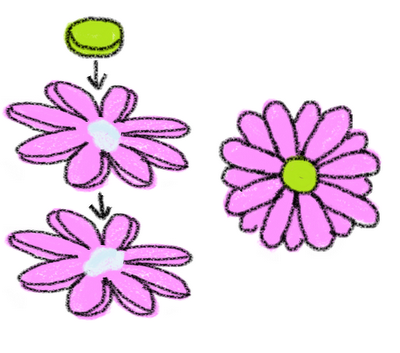 how to make gerbera daisy cookie pops
you will need:*
fondant gerbera daisies
cut out cookie dough and royal icing
1-inch circle cookie or fondant cutter
lollipop sticks
green food coloring (optional)
paint brush (optional)
*Find the cutter and lollipop sticks at the craft store.
step one: bake your cookie pops
Prepare cookie dough, chill, roll out, cut out circles, insert sticks and bake according to the cut out cookie dough recipe. Let cool completely.
step two: assemble your daisy cookie pops
If desired, paint the lollipop stick beneath the cookie using green food coloring and the paint brush. Spread a dollop of icing on the cookie and place the fondant daisy on top.
I had a bag of white icing with a 5 tip handy, so I used that. Let dry completely before handling.