Disclosure: *This post may include affiliate links. As an affiliate, I earn from qualifying purchases.


Icing paper makes decorating Valentine's Day cookie ornaments a cinch.
Valentine's Day cookie ornaments
These Valentine's Day cookie ornaments are made with cookies, fondant or royal icing, and edible icing sheets.
Eek, it's my last giveaway of January before the real fun begins! Because I'm going with the assumption you can't have too much sugar, the entire month of February will be devoted to Sugarlicious.
I'm talking more giveaways (lots), treats, sneak peeks, chats and I'll stop there before I give it all away. Let's just say you won't be escaping Sugarlicious until March at least.
What's icing paper you ask?
Edible icing sheets are sheets of edible paper you peel and adhere to icing, frosting or fondant.
They come in every imaginable design or pattern and help you quickly decorate cookies, cupcakes and cakes.
Used to be the best place to get them was online. Now, thanks to the genius of
Wilton
, they who are always on top of things that are popular, you can buy something similar in the craft store, albeit in more limited patterns than online.
Sugar sheets
. Slightly thicker than edible icing sheets, you can cut them and punch out designs.
Naturally, because Sugarlicious includes everything you need to know—EVER–it also includes some tips and how-tos and crafts that use edible icing sheets.
how to make Valentine's Day cookie ornaments
you will need:*
1 1/2-inch cookie circle cutter
1 1/2-inch circle punch
hole punch
sugar sheets
toothpicks
fondant
rolling pin
clean paint brush
light corn syrup
icing or frosting (optional)
baker's twine or string
*You can use any size cookie cutter as long as it's the same size and shape as the circle punch. Find them in the craft store. Also find white fondant, the paint brush and sugar sheets in the craft store. You can substitute white royal icing for the fondant if you prefer!! See below for tips on this.
step one: prepare your fondant toppers
Carefully peel back part of a sugar sheet and cut out 1 1/2-inch circles with the circle punch.
Use the hole punch to punch a small hole at the top.
Roll out fondant about 1/4-inch thick on a surface dusted with confectioner's sugar to prevent sticking. Cut out 1 1/2-inch circles.
Use the paint brush to brush the fondant circle with a thin layer of light corn syrup and adhere the sugar sheet circle, smoothing with your fingers. Use the toothpick to poke a hole in the fondant, and wiggle it around until it's the size of the hole in the sugar sheet. Set aside.
step two: bake your cookies
Roll out
cookie dough according to the recipe
and cut out 1 1/2 inch circles. Place a fondant circle on the circle of dough and use a toothpick to mark where the hole is. Remove the fondant circle and use the toothpick to make the hole bigger. Wiggle it around so the hole is even bigger than the one on the fondant circle (best to leave some room for spreading). Bake according to the recipe and let cool completely.
step three: assemble your cookies
Using either a dab of icing or frosting or brushing the cookie with light corn syrup, adhere the fondant circle, pressing gently. Thread a piece of baker's twine through the hole and tie closed with a knot.
royal icing substitute
If you prefer royal icing over fondant, prepare icing and tint white. Outline and flood the cookie with white icing (see here for tips on flooding cookies) and let dry very well, preferably overnight. Brush the icing with light corn syrup and adhere the sugar sheet circle, smoothing with your fingers.
now let's get to the GIVEAWAY!!
UPDATE! Giveaway has ended.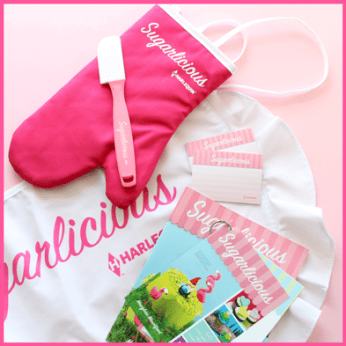 Have you ever used edible paper?
THE GIVEAWAY
So this week I get to give FIVE of you the awesome Prize Pack,
and I'm throwing in some icing paper, too! The store only had three left of the design shown, so I got two with little hearts.
to ENTER to WIN:
a sneak peek booklet AND
the awesome Prize Pack that includes
an oven mitt, spatula, apron, a few recipes, post-its AND
icing paper
(reminder, the sneak peek is NOT the book itself which is available February 7th)

leave a comment here before
Tuesday January 31, midnight, EST
Note I have to moderate all comments with my new blog, so your comment may take several hours to appear!
(Sorry folks, funds are limited so I have to keep this US addresses only!)
UPDATE: Congratulations to Kesha, Kimi, Sue, Elisa and Jennifer! Their comments were drawn by random.org to win the goods! Thank you to all for participating, and check back for plenty more giveaways!! GS Lortsher… they had icing sheets in Holland in the '70s? I had no idea they ever existed before now. Morgan, me too!! Totally Target. And I say "Oh, I got that at Target" about five times a day. Karen, what a lovely tribute to your mom. Rice paper has been on my list to try with edible writers for ages. And Val, yep! I think the picture on the package shows the cake with a round of icing sheet on top and the sides frosted.