Disclosure: *This post may include affiliate links. As an affiliate, I earn from qualifying purchases.


Need a good-for-you snack? Try healthy banana oatmeal chip cookies. Breakfast bar cookies!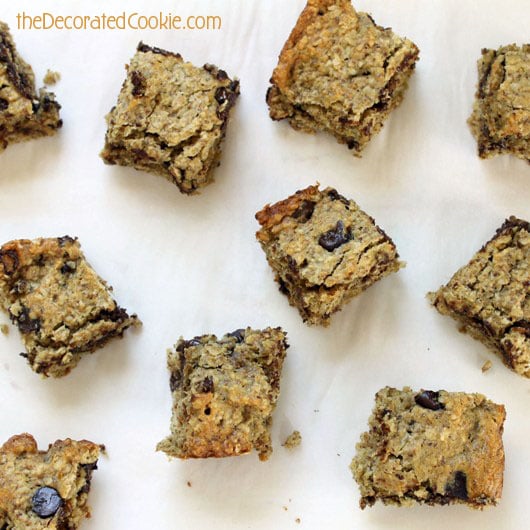 banana oatmeal chip cookies
I'm going to start off listing the good stuff in these: Bananas, oatmeal, flax seed, wheat germ… Did I lose you? I promise these banana oatmeal chip cookies (or bar cookies) are so so very good. See those missing cookies along the edge in the photo below? That's how much I ate before I even finished cutting them.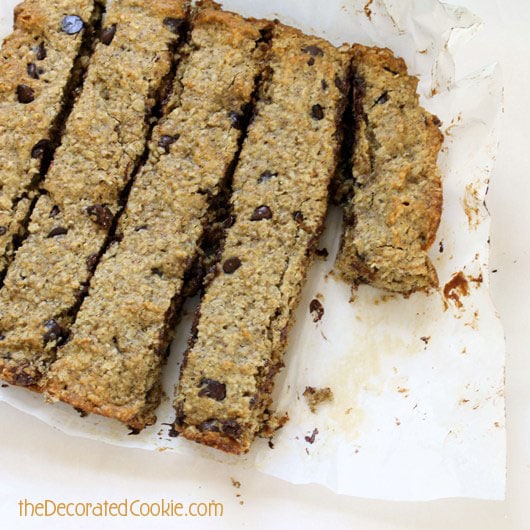 A friend of mine made some of these in drop cookie form. I tasted one. I found them delicious. She told me they were full of good things. She gave me a copy of the recipe. They were breakfast cookies by Crazy for Crust, "Hey," I said. "I know Crazy for Crust. I love Crazy for Crust!" And so I started making them. And then I got a little lazy and started making bars instead of drop cookies. And because I had some wheat germ in the cupboard, I added some of that. Also, I added more chocolate chips to make them less healthy.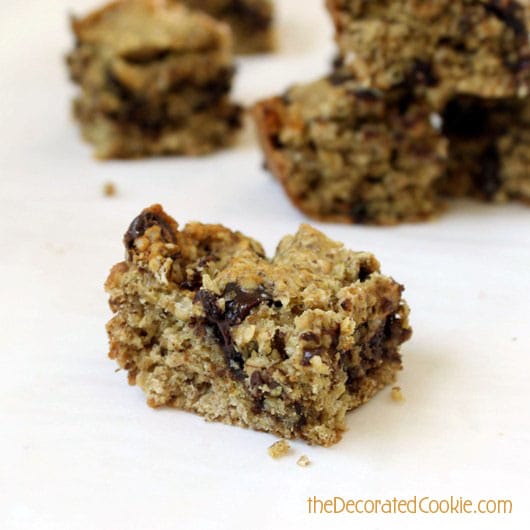 My picky eater even loved these. Until I told her what was in them. Then she decided she didn't want to eat them anymore. I broke a rule of parenting: Never tell them what's in them.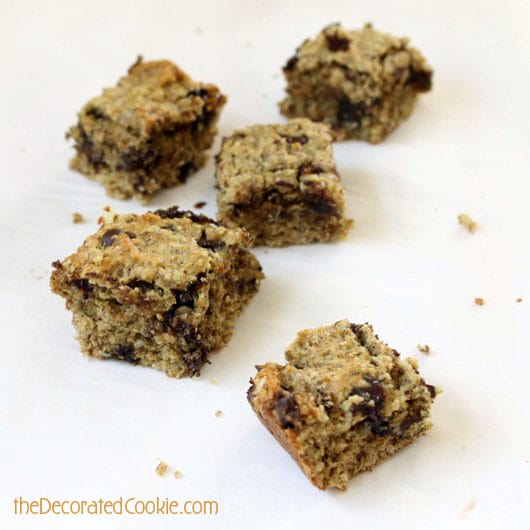 So I'm taking a break from the full-on sugary cookie and icing thing. Here are some…
Good-for-you Oatmeal Chip Cookies
adapted from Crazy for Crust's Breakfast Cookies.
Preheat oven to 350° F. In a bowl or standing mixer, mix together:
2 very ripe bananas
1/4 cup coconut oil, melted
2 tablespoons nut butter (I use peanut butter, cashew butter or almond butter)
Mix in:
1/4 cup sugar
1 egg
1 teaspoon baking soda
1 teaspoon vanilla extract
2 tablespoons ground flax seed
Mix in:
3/4 cup all-purpose flour
1/4 cup wheat germ
1 1/2 cup rolled oats
Stir in:
1/2 cup chocolate chips
Line a 9-inch square baking pan with parchment paper (optional, but I like parchment paper). Lightly grease the paper and sides of the pan with cooking spray. Pour the mixture into the pan and press down until evenly spread.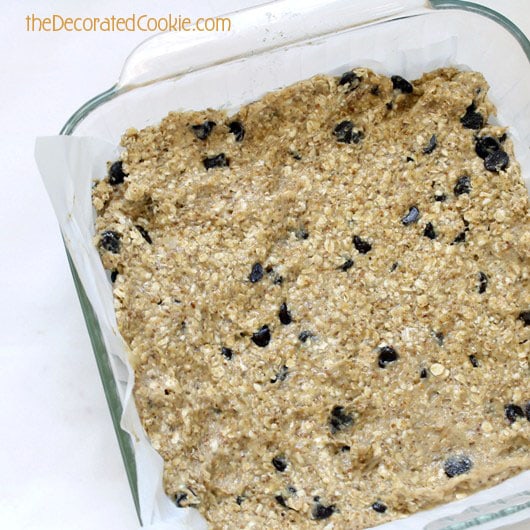 Bake for about 25 minutes, or until the top begins to brown and a toothpick comes out clean. Let cool and cut into squares. Makes 25 squares if you cut them as small as I do. But then I eat five.