Some of you may already know this, but every now and then my friend, Cheryl from Sew Can Do, and I like to switch things up a bit and swap posts. Cheryl is all fabric, I'm all sugar. But sometimes we even like to switch that up a bit, too (though I take baby steps into her world, since needle and thread aren't my friends like they are hers. Seriously, just check out her etsy shop and the crazy cuteness.)
When I spotted these sculptable frosting figures she created, I knew I had to try my own (look for future posts with that experimenting). And these also inspired my casual dabbling with fabric, which I shared with you on Tuesday. Wouldn't these toppers be so perfect for those cupcakes? So now, I'm handing things over to Cheryl of Sew Can Do!!
SCULPTABLE FROSTING BY CHERYL OF SEW CAN DO
With this frosting you can cut and sculpt all sorts of fun shapes and designs, like those made with modeling chocolate or fondant, but with all the flavor and a softer texture of a buttercream frosting. If given a few hours to firm up, sculpted shapes will hold up well and can be stored a few days in an airtight container. Yummy right? Here's how to make some:
1/2 cup unsalted butter, softened to room temperature
1 tablespoon heavy cream
1/4 teaspoon real vanilla extract
3-4 cups confectioner's sugar
Food coloring gels (I use Americolor)
Sculpting Tools – small rolling pin, small paintbrush, nesting circle and flower shape fondant/small cookie cutters, butter knife, waxed paper, standing mixer with paddle attachment
Beat butter & cream in mixer until smooth. Adding a cup at a time, blend in the confectioner's sugar to create a dough consistency. Add vanilla and beat to combine.
Separate frosting into portions for various colors desired and, using a single drop of color at a time, knead food coloring gel into frosting until color desired is achieved. If frosting seems sticky, add a small amount of confectioner's sugar until smooth.
Dust a sheet of waxed paper with confectioner's sugar and get ready to start sculpting!
To make my snail & mushroom vignette (great as a cupcake topper), use rolling pin to roll out some green frosting about 1/4 inch thick and use a large circle fondant cutter to make the base:
Next grab a piece of white frosting and roll with hands to make a rounded mushroom stem that is about 3/4 inch wide and 1 1/4 inches tall. Stand up and push down slightly so base is a bit wider than the top:
Roll out the red frosting to 1/4 inch thick with rolling pin and cut a medium sized circle. Carefully place on top of stem and allow gravity to help mold the cap shape.
To make the snail roll a piece of pink frosting with hands to be about 1/2 inch wide and 1 1/4 inches long and flatten:
Pull up 1/3 of the strip and press down on the short side with the end of the paintbrush to create the antennae, smoothing & pinching with fingers to shape as desired.
Roll out some blue with hands until it is 1/4 inch thick and several inches long to make the shell piece.
Coil shell and trim outer end flat with knife:
Place shell on the snail's back. Add snail & mushroom to base. Remove any excess confectioner's sugar with paintbrush:
Or how about a mini birthday cake made entirely of frosting? Simply change the color of the base circle to make a "plate". Take a bit of white frosting and flatten about 3/4 inch thick, and use a small circle fondant cutter to create the cake shape:
Roll out a bit of pink frosting 1/4 inch thick and cut with a flower cutter and then flatten slightly with the rolling pin to make the shape more uneven and drape over the top of the cake piece to "frost" it.
Add a small piece of white to make a candle and a tiny tapered piece of red for the flame and the cake is complete. Perfect for those kids who only want to eat the frosting off the cake – now they'll eat the whole thing!
And if you really want to get whimsical, how about a little garden gnome?
Roll out pink, white and red frosting to 1/4 inch thick. Cut a medium circle and taper slightly with hands on lower half to make a face shape:
Use knife to make a triangle with the red that is slightly wider at the bottom than the pink circle. Use the cutter to round out the bottom to make the hat shape:
Place hat over top of circle and curve to fit. Cut flower from white to create a beard and place over lower half of face:
Use end of paintbrush to make eye holes and then fill with small dots or blue. Create a mouth with paintbrush in same way and fill with a small strip of red for a nice smile.
Add a pink circle nose and a strip of pink with a pointed end to either side to create ears and place over a large circle of green under the beard for the gnome's body and this little guy will be nice and sweet:
Add creations to decorate cakes, cupcakes, brownies or use as stand alone sweets. The possibilities are endless and incredibly tasty. Hope you enjoy them! Thanks for letting me stop by Meaghan!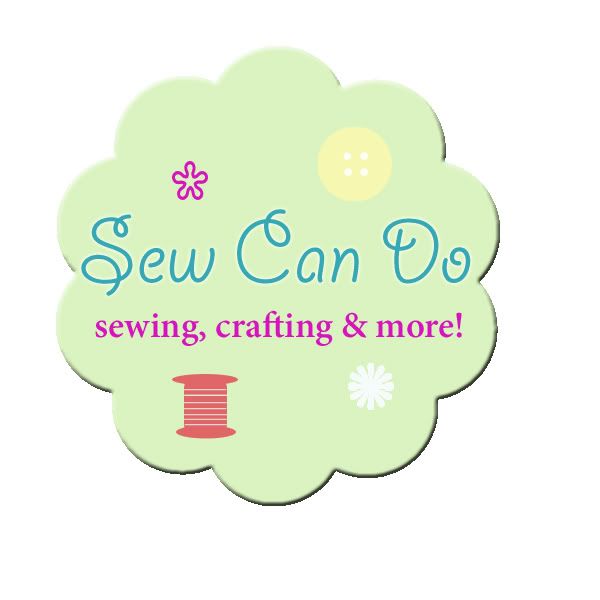 Thanks for visiting, Cheryl! And a REMINDER to ALL: This is a guest post by Cheryl of Sew Can Do. I did not create this super cool sculptable frosting. Rather than leave your questions in the comments here, your best bet to get any questions answered is to visit Cheryl at Sew Can Do.