Disclosure: *This post may include affiliate links. As an affiliate, I earn from qualifying purchases.


mini monster cupcakes
These googly-eyed mini monster cupcakes are crazy-easy to decorate. I made them as a guest Halloween post for Celebrations. More cute than scary, all you need are cupcakes, frosting, sprinkles, marshmallows and a black food pen. That's it!
By the way, you can use this mini cupcake wrapper template I created. Or, just choose decorative mini cupcake liners or the foil ones for UFOs.
Need more Halloween cupcake ideas?
Check out these crime scene cupcakes. Here are some googly-eyed cupcakes. Or try the full moon cupcakes. I even have a roundup of 40 Halloween cupcakes from around the web.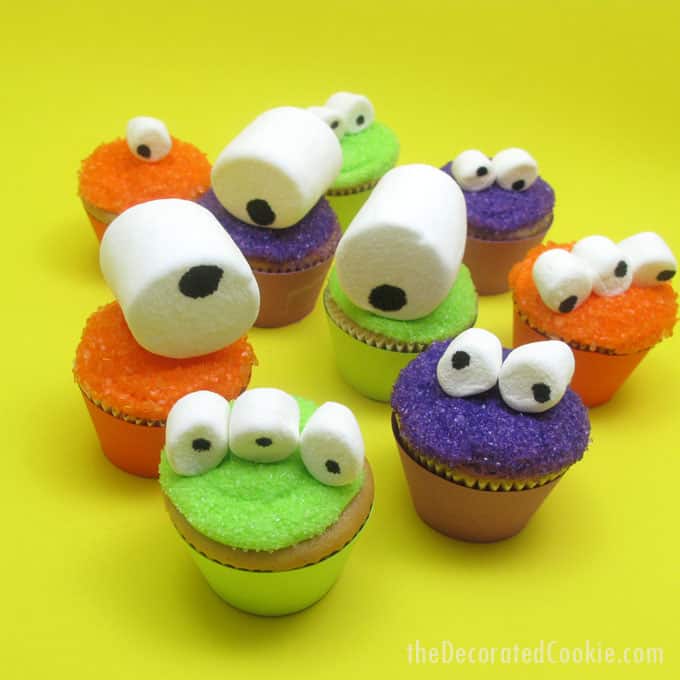 how to make mini monster cupcakes
Mini cupcakes
Frosting (homemade frosting or store-bought)
Mini cupcake liners or wrappers
Food coloring (orange, green and purple)
Sanding sugar or sprinkles (orange, green and purple)
Small, shallow

bowls

Spatula or disposable decorating bags
Mini marshmallows
Regular marshmallows
Prepare your marshmallow eyes by using the black edible marker to make a dot on the flat end of regular size marshmallows and mini marshmallows. You'll need either one regular marshmallow or two to three mini marshmallows for each cupcake.
Set aside. If you are displaying these cupcakes on a table at a Halloween party, draw dots for eyes on both sides of the marshmallows so the cupcakes will watch you from behind, too.
Prepare mini cupcakes according to the recipe and let cool completely.
Prepare frosting according to the recipe. Divide and tint orange, green and purple. If desired, fill a disposable decorating bag with each color and snip about ½-inch from the tip. Otherwise, omit the decorating bag and just use a spatula.
Top your cupcakes with orange, green and purple sprinkles in three separate bowls and set aside.
Working with one cupcake at a time, use the decorating bag or a spatula to pipe or spread frosting on a cupcake. Dip the frosted top immediately in a coordinating color of sprinkles.
Place the cupcake on a tray right side up, then place either a regular marshmallow, or two or three mini marshmallows on top of the cupcake, on their sides so the eyes look forward, pressing the marshmallows into the frosting. If necessary, use a dab of frosting to adhere the marshmallows.
Look, even my four-year old can make them. (And she was only THREE when I wrote this post!) Yep, she made these aaaaalll by herself: