Disclosure: *This post may include affiliate links. As an affiliate, I earn from qualifying purchases.


Frankenstein marshmallow pops — a fun food treat for Halloween
Frankenstein marshmallow pops
Frankenstein marshmallow pops for a fun, no-bake Halloween treat.
Need more Frankenstein food ideas? Check out this Frankenstein chocolate bark. And here I rounded up 20 Frankenstein food ideas from around the web.
Here's a little side tale that is of little significance to anyone but me (so feel free to skip to the end). Frankenstein has a different meaning for me than most. I was given a rare and coveted full scholarship to earn my MFA in Literature at American University back in the early 2000s, or 'aught-years, as I call 'em. But I worked for it. Boy, did I work for it. I was the Research Assistant to a high-ranking, feared professor as she worked on a biography of Mary Shelley.
Sure, I did end up doing some actual research, though less than I anticipated, and for a moment I was voyeur to this 19th century writer, her family and her inner circle. I even adopted a bit of my boss's sense of intimacy with her. But mostly I remember toiling away without break in the professor's basement, one desk away from the click clack of the professor's fast moving fingers (she only worked with DOS, by the way, no modern programs). Oh, the hours and hours of mindless activities like highlighting words, scanning 500 page books one page at a time, and removing staples from documents, all while sneaking bites of a granola bar to stave off hunger.
I dreaded those hours. Dreaded. But gosh dangit, over the months of working together, wouldn't you know it if that professor didn't rub off on me a bit. My respect for her brilliance, strength and wisdom inched upwards once I could overlook the painful work ethos that permeated that basement, and I think she kind of respected that I could wise-crack with her when too often in her presence most minions became instant milquetoasts (for example, she was a firm believer in paper clips and pencils over staples and pens, so I often hovered a stapler or permanent ink over documents, just to rile her up). When she became ill, our bond deepened, as I had experienced years of living with severe illness as well. We spoke on a different level after that.
One thing that I found oddly endearing about the professor was her collection of Frankenstein paraphernalia. She wasn't above the cheesy, green-faced, cartoon versions of Frankenstein so removed from Shelley's view. Anything Frankenstein brought her closer to the woman with whom she spent her days, Mary Shelley. A few years after I served as her assistant, the professor passed away. To this day, I still think of that professor–without an ounce of dread, only fondness–every time I see a Frankenstein in any shape or form.
Marshmallows, with their cylindrical shape and flat tops, are pretty much the perfect canvas for Frankenstein.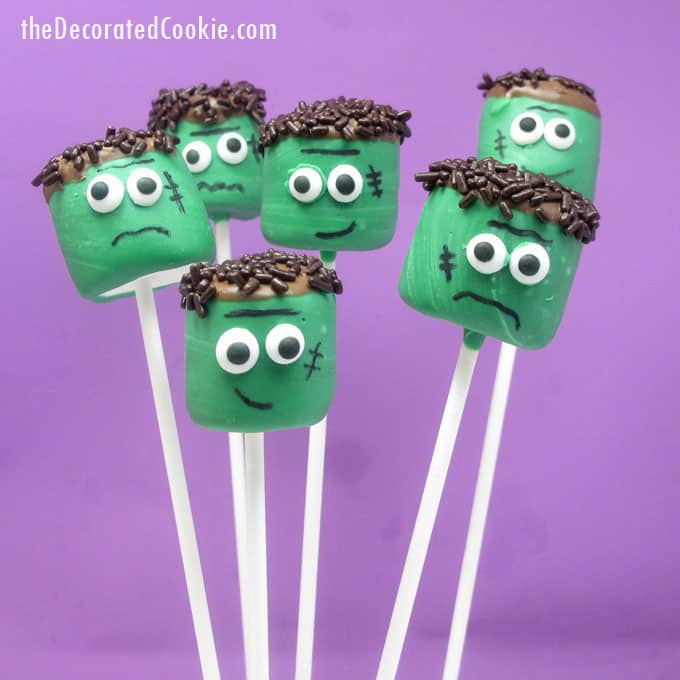 how to make Frankenstein marshmallow pops
Marshmallows
Cocoa candy melts or chocolate chips
Vegetable shortening

Microwave

-safe bowls
Toothpick
Skewer marshmallows with the lollipop sticks and set aside.
Melt green candy melts in the microwave. If necessary, add a teaspoon or more of vegetable shortening and stir well to thin the melts to an ideal dipping consistency.
Hold a skewered marshmallow by the lollipop stick and quickly submerge the marshmallow. Remove from the candy melts, and gently tap the stick against the side of the bowl to remove excess.
Prop the marshmallow in the Styrofoam block and let dry, about 20 to 30 minutes. Reserve the remaining melted candy melts.
Melt cocoa candy melts following the same instructions as above.
Work with one marshmallow at a time, and dip just the top of a green marshmallow in the candy melts, then immediately hold the marshmallow over a bowl or plate and shake chocolate jimmies over the melted cocoa candy melts.
Prop the marshmallow back in the Styrofoam block and let dry completely.
Decorate your Frankenstein by using a toothpick to dab a bit of melted candy melts on the back of candy eyes and adhere to the marshmallow.
Use the edible marker to draw details.
Helpful Hint: Edible markers may have an adverse affect with the fats in candy melts, so make sure your Frankensteins have dried well before adding detail, and try using the tips of the markers for best results.